Report: 'Less Than 1 Percent' Of Massachusetts Residents Are Now Uninsured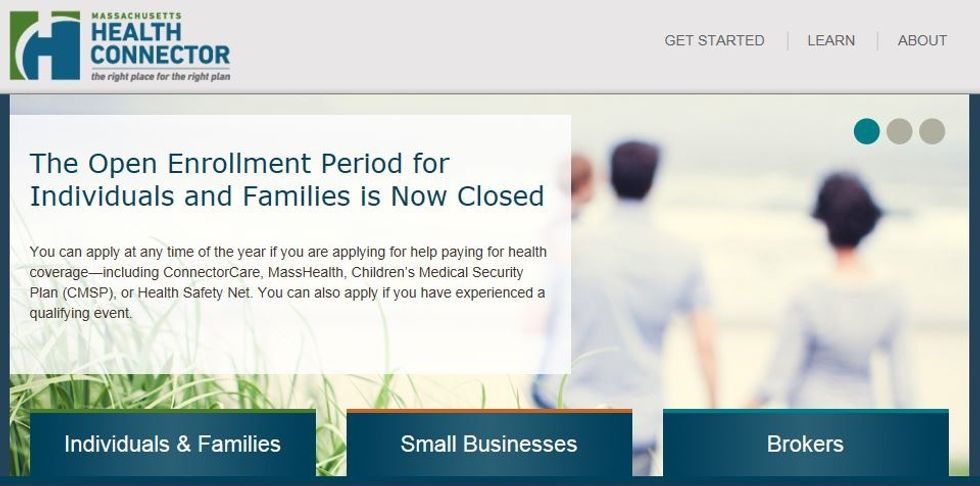 As a number of Republican leaders across the nation continue to demonstrate their opposition to the Affordable Care Act by refusing to expand Medicaid in their states, one state in particular has seen tremendous progress by fully buying into the health care law.
A new report from Massachusetts' Center for Health Information and Analysis reveals that between December 2013 and March 2014, "as key provisions" of Obamacare were implemented, the state-run Commonwealth Care's public programs — first established under the state's 2006 health care reform commonly known as "Romneycare" — and the "largest commercial payers" gained over 250,000 new members. As WBUR's CommonHealth blog points out, "If that number holds, the percentage of Massachusetts residents who do not have coverage has dropped to less than 1 percent."
The increased enrollments — reported just a month after a study published in the Annals of Internal Medicine found that Romneycare was linked to decreased rates in mortality in the state — may be partially attributed to the Obama administration's national campaign in the weeks following the ACA's launch. Although much of the attention that Obamacare received in those weeks was negative, the reform nonetheless dominated politics and called Americans' attention to health care, likely resulting in new enrollments in Massachusetts' health insurance market.
Additionally, as CommonHealth notes, under Obamacare, a greater number of Massachusetts residents are newly eligible for free or subsidized coverage. Others — primarily low-income residents unable to pay the premiums under their employers' plans, but prohibited from enrolling in state-subsidized insurance because their employers provided access to private health insurance — were now able to enroll in the state's public programs or receive subsidized insurance, because the ACA struck down the restriction that had previously not allowed them to do so.
As of the end of March 2014, a total of 5.75 million residents were enrolled in either Massachusetts' commercial health care insurance programs or the public program. This number excludes residents enrolled in Medicare or other federal programs, which means that the total number of insured residents is even higher.
Despite the good news, some in the state fear that the numbers will not hold up.
Lora Pellegrini, president of Massachusetts Association of Health Plans, tells CommonHealth that a majority of the new enrollees are not yet locked into a permanent plan, but rather a temporary coverage plan. This is because the state is still trying to figure out if these people qualify for free or subsidized care — an obstacle that first arose from the failure of Massachusetts' Health Connector website, which is now being replaced by the federal HealthCare.gov site. When transitioning into a permanent plan, some of these new enrollees will learn that they do not qualify for free or even subsidized care. So how many will be willing to pay a premium without any help?
"The real challenge is going to be to move these folks from the temporary coverage into the permanent coverage where they belong, and then see if we're able to retain these numbers," Pellegrini says.
CHIA director Aron Boros agrees, and cautions that though the "numbers are a sign that we are moving in the right direction … there is still a lot of uncertainty about what they will ultimately mean to the total level of health insurance coverage" in the state.
Even so, the numbers are big news for Massachusetts and may just mark the first state in the U.S. able to boast a nearly zero percent rate of uninsured residents. Gail Wilensky, a senior fellow at Project Hope and former health care advisor to President George H.W. Bush, tells CommonHealth that if the "numbers are actually correct – that's a big if – this is good."
Screenshot via Massachusetts Health Connector
Want to keep up with the latest health care news across the nation? Sign up for our daily email newsletter!