Massachusetts Senate Race Turns Ugly As Markey Expands Lead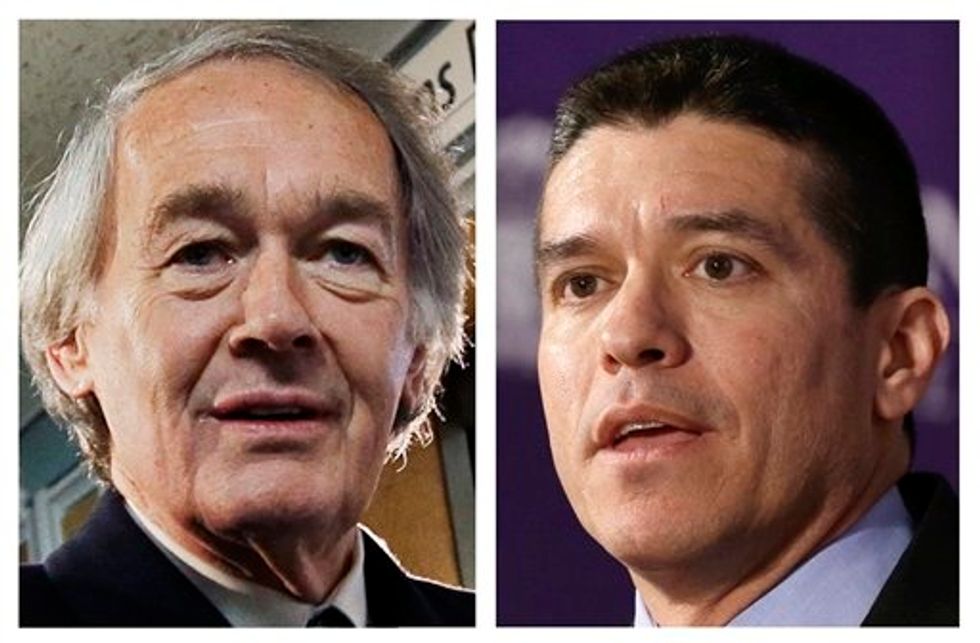 Massachusetts' special Senate election is taking an ugly turn, as new polling suggests that Democrat Ed Markey is pulling away from Republican Gabriel Gomez in the race to fill the seat once held by Secretary of State John Kerry.
According to an Emerson College poll released Thursday, Markey now leads Gomez 45 to 33 percent. That 12-point margin is up from Emerson's May 1st poll, which found Markey leading by 6 percent. Including Thursday's result, the Real Clear Politics average of polls of race shows Markey ahead by 10.3 percent — which may be an insurmountable deficit for Gomez in the deep-blue Bay State.
As election day nears, both candidates are getting reinforcements from out of state. The National Republican Senatorial Committee reportedly committed at least four staffers to help Gomez, while Markey is benefitting from the support of the NextGen Committee, a liberal SuperPAC that promises to sharply attack Gomez. According to a strategy memo obtained by Politico, the group plans to launch a campaign painting Gomez as "simply a lightweight version of Mitt Romney … but without the experience."
"When it comes to issues that the people of Massachusetts look at when they decide to vote, Gomez is in the mold of Mitt Romney — simply someone who will not fight for Massachusetts and who cannot be trusted," the memo reads. "Gomez is Romney Lite — More Conservative … Less Experience."
The pro-Markey PAC is not alone in its negativity, however. Gomez has also gone on the attack, referring to Markey as "dirty," "low," and "pond scum" in an interview on Thursday.
Gomez was reacting to a Markey video which juxtaposed Gomez with an ad from OPSEC — a group for which Gomez served as a spokesman — that criticized President Obama for "politicizing" Osama bin Laden's death. In Gomez's opinion, this tactic effectively compares bin Laden to himself. As Greg Sargent points out at his Plum Line blog, the "pond scum" comment is one of several questionable attacks that Gomez has leveled against Markey.
Massachusetts voters will head to the polls on June 25th; until then, expect the negative tone of the race to continue intensifying.
AP Photos, File