Massive Water Main Break Floods Area Near UCLA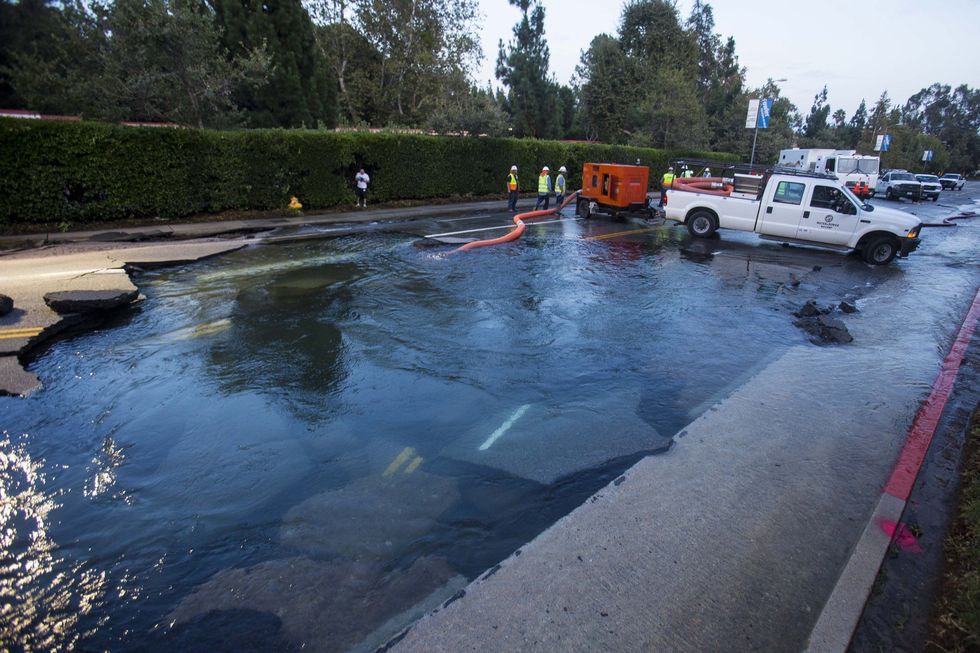 By Robert J. Lopez, Caitlin Owens, and James Queally, Los Angeles Times
LOS ANGELES — A massive water line break sent a geyser shooting 20 to 30 feet into the air and flooded part of busy Sunset Boulevard and the University of California, Los Angeles, campus.
The water had been raging for nearly two hours when Los Angeles Mayor Eric Garcetti said at 5:15 p.m. PDT that it would take crews at least another hour to shut down the line.
Thousands of gallons of water trapped at least three people in cars, flooded underground parking lots on the UCLA campus, and sent a dramatic cascade pouring down the stairs into Pauley Pavilion, according to officials and television news footage.
The water was also flooding campus athletic fields, the Los Angeles Fire Department said.
Water was seen inside the J.D. Morgan Center, which houses athletic staff and administration offices, the George Kneller Academic Center, and UCLA's Athletic Hall of Fame, and water has also been spotted inside the John Wooden Center.
The water flooded Pauley Pavilion, which underwent a $136 million renovation in 2012. Water covered the entire floor in the arena. There were also reports that the water got into the high-end club, which is on the first floor.
Tractors on campus were dropping dirt to create embankments to try to channel torrents of water away from buildings.
In messages on Twitter, Garcetti said the pipe involved is from 1921. The pipe is being "shut down now, but will take an hour to prevent shock to the system and further damage."
The water main ruptured shortly before 3:30 p.m. in the 10600 block of Sunset Boulevard, fire officials said.
Sunset was closed in both directions from Marymount Place to Westwood Plaza, complicating the rush-hour commute for scores of drivers.
"This is the same thing you would have in any flash flood," Los Angeles Fire Department Capt. Jaime Moore said.
He said that "thousands and thousands of gallons" of water had flooded the area from a 15-foot-wide hole on Sunset just a few yards from the UCLA campus.
People were evacuated from Parking Lots 4 and 7, Moore said.
An LAFD swift-water rescue team with four inflatable boats was at the scene, standing by in case people were stranded.
Students took off their shoes and waded across rivers of ankle-deep water on campus. Other people were showing up with boogie boards — a move discouraged by firefighters.
"That is probably one of the most dangerous things you can do," Moore said. "For somebody to try and boogie board in this, it's just going to be an asphalt bath."
Water was as high as wheel wells shortly after the flooding began. Firefighters assisted at least three motorists.
Photo: Los Angeles Times/MCT/Jabin Botsford
Interested in national news? Sign up for our daily email newsletter!