'Florida Man' Gaetz Announces Re-Election Bid With Illiterate Tweet
@LaurenSue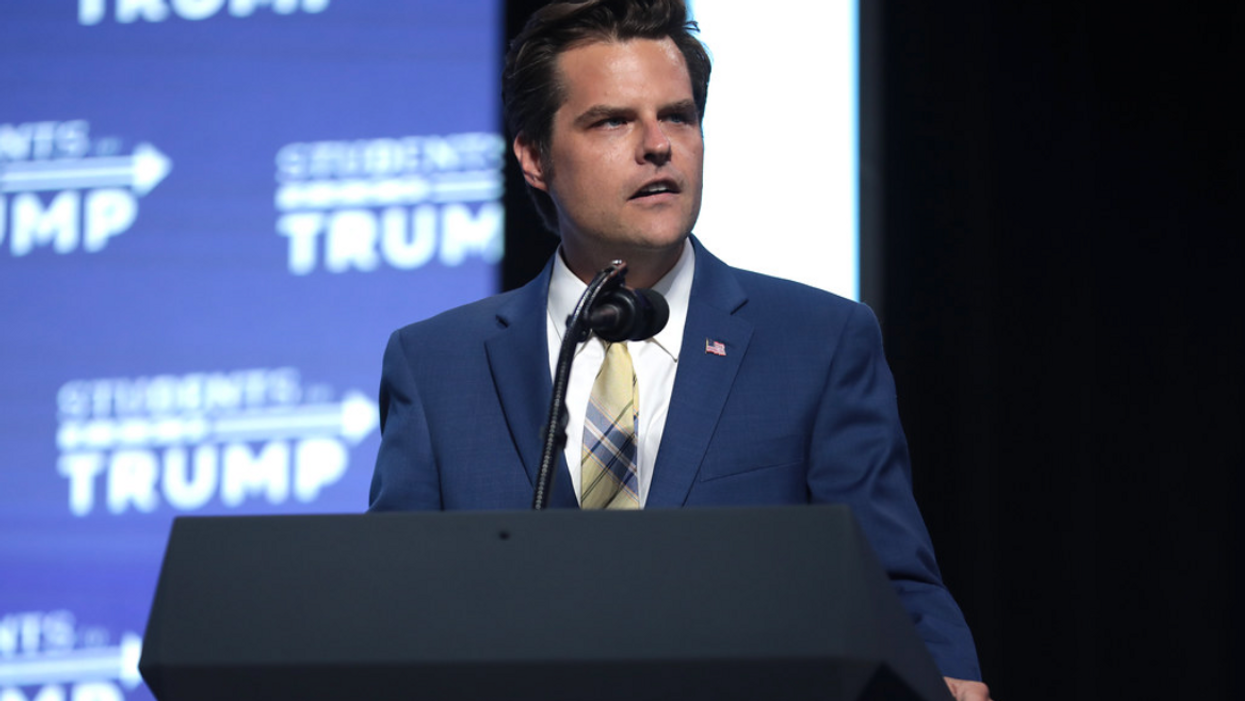 Photo by Gage Skidmore is licensed under CC BY-SA 2.0
With a single tweet, Rep. Matt Gaetz of Florida proved once again why there are few men more qualified than he to embarrass the Sunshine State. He couldn't just let a well-trained journalist announce that he would be seeking reelection this year. He had to try and add a little razzle dazzle. "It's chose your fighter time," Gaetz tweeted on Saturday with a link to a Northwest Florida Daily Newsarticle. "I'm you're [sic] Florida Man!"
And with that, the mockery began.
"Stay in school kids," one Twitter user, Amy Lou, cautioned. "You won't embarrass yourself with 3rd grade grammatical errors, and could earn your way to a Congressional seat instead of having your dad buy your way there 😃"
Steven Specht, a Democrat who attempted unsuccessfully to unseat Gaetz in 2016, told Mother Jones in a 2019 interview that Matt, a third-generation politician, "would be an assistant manager at Walmart if it weren't for his father."
Don Gaetz, Matt's father, sold his hospice company for $400 million in 2004 and had a net worth of $25 million by the time he ran for Senate in 2006, Mother Jones reported. When it was Matt Gaetz's time to run for office, he raised almost $480,000, nearly five times more than his rivals raked in. "Many people who had backed Don Gaetz donated to his son that year, including the biggest monied interests in the district: local real estate developers, health care companies, and a Pensacola beer baron," writer Stephanie Mencimer said in the Mother Jones piece.
Mencimer laid out exactly what the younger Gaetz has to offer his constituents. The short answer is nothing.
The longer answer: After less than a year on the job at a law firm, he was pulled over for speeding in his dad's BMW on the way home from a nightclub on Okaloosa Island. Allegedly smelling of alcohol, he refused a breathalyzer and was arrested. All charges against him were later dropped.
"Gaetz's driving record is the subject of many jokes in his district," Mencimer wrote. "In 2014, he rear-ended one of his constituents while talking on his cellphone."
Ken Russell, a Democrat hoping to challenge Sen. Marco Rubio this year, reminded Twitter users that also on Matt Gaetz's political resume is a history of denying best efforts to prevent the spread of the COVID-19 pandemic.
Russell tweeted: "BREAKING NEWS: Florida man goes on 3 year tirade denying science and pretending that we live in 1950's America."
Majid Padellan, a blogger and influencer who goes by "Brooklyn Dad" on social media, added to the list spotlit allegations that Gaetz is guilty of statutory rape involving a 17-year-old girl—allegations that the congressman has, of course, denied.
"BREAKING: Matt Gaetz will be running for reelection on a 'Florida Man who uses Venmo to pay for sex with underaged girls' platform," Padellan tweeted.
Matt Gaetz is also the subject of a Justice Department investigation in which he is accused of paying a teen to travel out of state with him, The Washington Post reported.
RELATED: Matt Gaetz took trip to Bahamas where flight, hotel, and women were provided by 'ganjapreneur'
Padellan said in another tweet: "Matt Gaetz shouldn't be in Congress voting against measures to hold (Vladimir) Putin accountable. He should be in prison."
Reprinted with permission from Daily Kos