McCain Speaks Against Torture Advocacy Of Trump, Other GOPers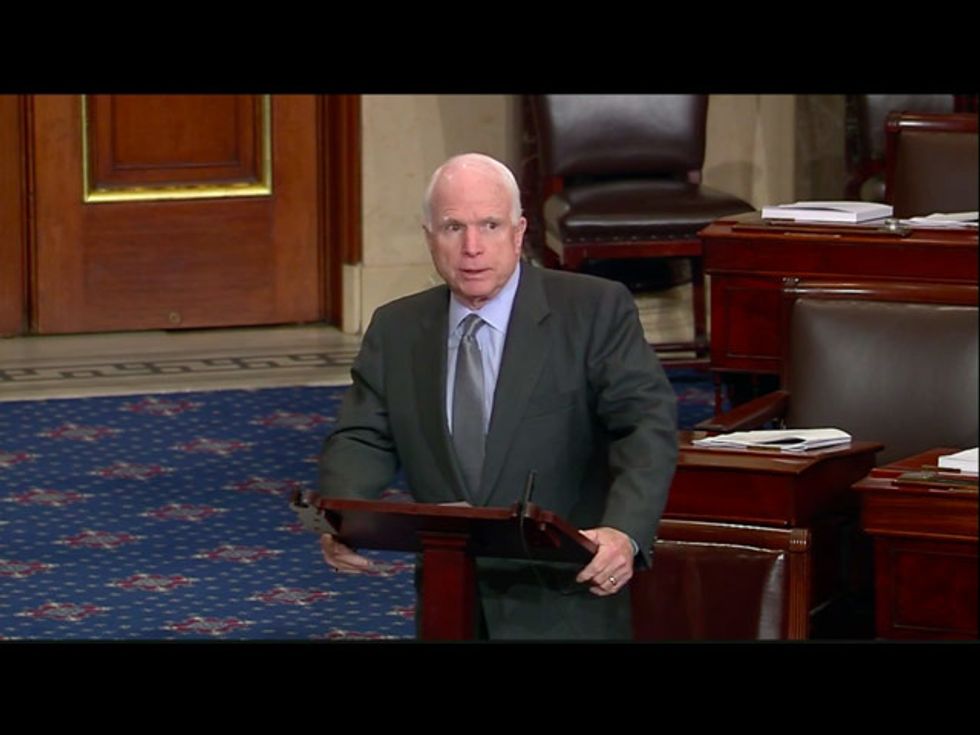 Sen. John McCain (R-AZ) delivered a vigorous speech on the Senate floor Tuesday, lambasting calls by Republican presidential candidates in last Sunday's debate to bring back waterboarding.
McCain did not directly name any single candidates (or even specify that they were in his own party), but instead referred to "loose talk on the campaign trail about reviving waterboarding and other inhumane interrogation techniques."
At the debate, Donald Trump declared: "I would bring back waterboarding, and I'd bring back a hell of a lot worse than waterboarding." Ted Cruz said that waterboarding was not torture, and Marco Rubio didn't give a clear answer.
"It might be easy to dismiss this bluster as cheap campaign rhetoric," McCain said Tuesday. "But these statements must not go unanswered, because they mislead the American people about the realities of interrogation, how to gather intelligence, what it takes to defend our security, and, at the most fundamental level, what we are fighting for as a nation."
He continued:
"It is important to remember the facts: that these forms of torture not only failed their purpose to secure actionable intelligence to prevent further attacks on the U.S. and our allies, but compromised our values, stained our national honor, and did little practical good.

"While some have shamefully sought to minimize the practice of waterboarding, it is clear to me that this practice, which is a simulated execution by drowning, amounts to torture as a reasonable person would define it. That's why the United States has tried, convicted, and executed foreign combatants who employed methods of torture, including waterboarding, against American prisoners of war. The use of these methods by the United States was shameful and unnecessary. And contrary to assertions made by some of its defenders, it produced little useful intelligence to help us track down the perpetrators of the September 11th attacks or to prevent new attacks and atrocities.

"I know from personal experience that the abuse of prisoners will produce more bad than good intelligence. I know that victims of torture will offer intentionally misleading information if they think their captors will believe it. I know they will say whatever they think their torturers want them to say if they believe it will stop their suffering. Most of all, I know the use of torture compromises that which most distinguishes us from our enemies, our belief that all people, even captured enemies, possess basic human rights, which are protected by international conventions the U.S. not only joined, but for the most part authored.
McCain's full prepared remarks are worth a read.
(Side note: McCain opened his speech by saying, "Today is the 100th New Hampshire presidential primary." What he should've actually said is that this is the 100th anniversary of the New Hampshire primary.)