McEnany Briefing 'Off The Rails" As She Defends Trump's Racist Tweet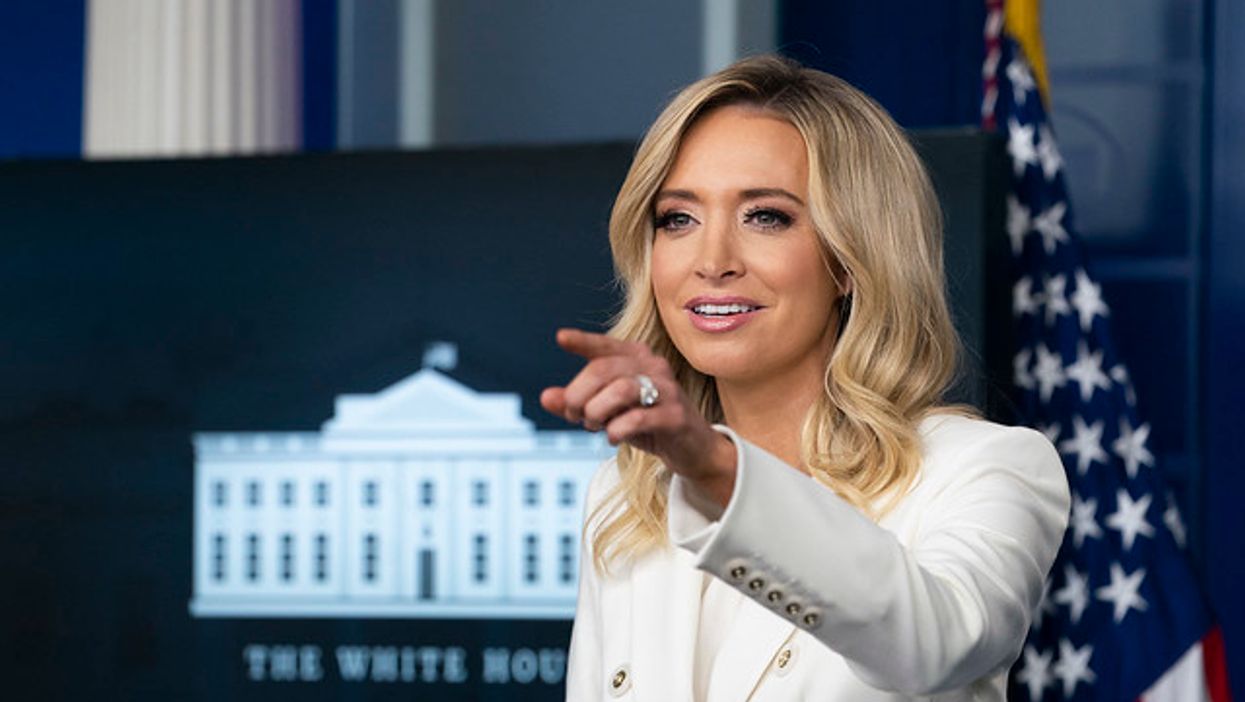 Reprinted with permission from Alternet
At her first appearance before the White House press corps, Press Secretary Kayleigh McEnany promised reporters that she would never lie to them. She's clearly broken that promise many times since, but perhaps never as blatantly and egregiously as she did on Monday when defending President Donald Trump's morning tweet attacking a Black NASCAR driver.
---
When asked multiple times about the following tweet, she dodged, deflected, and denied the obvious facts of what it said:
The basic facts of the incident are these: Bubba Wallace, a Black NASCAR driver, was alerted that there was a noose in his garage stall. Many believed it was meant to intimidate Wallace, who had pushed for NASCAR to bar use of the Confederate flag. But the FBI investigated and found that the rope had been in the garage for months and there was no reason to believe it was a message targeted for Wallace. It wasn't a "hoax," but from all appearances, a misunderstanding. (ESPN also noted that, in contrast to Trump's claims, NASCAR's ratings are up.)
It's not clear, then, why the president would think Wallace needed to apologize. The president was also clearly casting himself in support of the Confederate flag, a notoriously and brazenly racist symbol.
But when pressed by reporters about the tweet, McEnany refused to acknowledge the basic facts.
She said the intent of the tweet was to attack the media and defend NASCAR fans — but in fact, as anyone can see, the tweet mentioned neither of them. It only mentioned NASCAR drivers and officials and Wallace himself.
When ABC reporter Jon Karl pushed her on the president's position on the flag itself, she offered nonsensical hedging of the president's claims.
"Does he think it was a mistake for NASCAR to ban [the flag]?" Karl asked.
"The president said he wasn't making a judgment one way or the other," McEnany replied. "You're focusing on one word at the very bottom of a tweet. That's completely taking it out of context and neglecting the complete rush to judgment on this."
This made no sense and was an obvious lie. The only way to make sense of Trump's tweet in context is to assume he's denouncing NASCAR's decision on the flag. McEnany added an entirely different context by talking about a supposed "rush to judgment" by the media.
Another reporter pressed McEnany further on the issue, asking why Trump singled out Wallace when he didn't even find the noose or have any blame in the confusion.
"Well, look, the FBI, as I noted, concluded that this was not a hate crime," McEnany said. "And [Trump] believes it would go a long way if Bubba came out and acknowledged that as well."
"He has!" the reporter shot back. "In interviews, he's been very clear that the FBI found this was not intentional. Why is he directing this at Wallace?"
McEnany ignored the direct question and barreled forward. Later, when pressed again on the same topic, she blatantly misrepresented what the president had said.
"In aggregate, what he was pointing out was this rush to judgment to immediately say there was a hate crime, as happened in this case, as happened with Jussie Smollett, as happened with the Covington Catholic boys, and in aggregate, those actions made it seem like NASCAR men and women were racist individuals who were roving around and engaging in a hate crime," she said. "The president's intent was to say: 'No, most American people are good, hardworking people. We should not have this rush to judgment, knee-jerk reaction before the facts come out.'"
This answer was also largely nonsensical, wrapping up several different incidents into one and claiming they all had to do with the NASCAR fan base. There's also no reason to think that a hate crime in this instance, had one occurred, would reflect on all other NASCAR fans. A reporter pressed McEnany again on why Trump though Wallace needed to apologize, and again, she lied.
"There was no hate crime, the FBI concluded, that, and President Trump was merely saying that Mr. Wallace should agree with that consensus," she said.
Of course, he didn't. He said Wallace should apologize, which is a demand above and beyond "agreeing" that there was no hate crime, as he has done:
McEnany clearly grew agitated as reporters kept trying to pin her down on an actual explanation for Trump's words.

"I'm not going to answer a question a sixth time," she said.
White House reporters commented on her conduct:
Watch the video below:
WATCH LIVE: White House press secretary Kayleigh McEnany gives news briefingwww.youtube.com