McSally Concedes, Sinema Wins In Arizona
@FAWFULFAN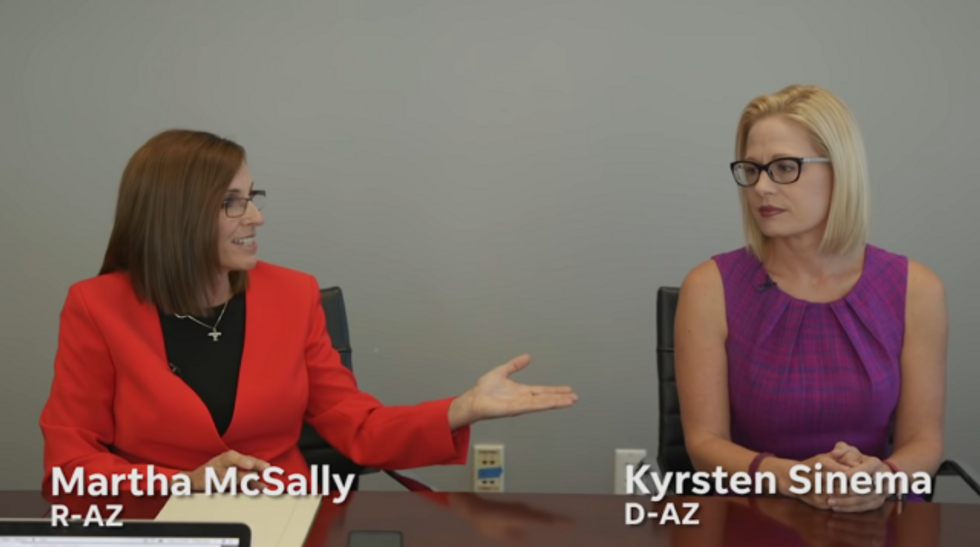 Reprinted with permission from AlterNet.
One of the last major races in the 2018 midterm elections was just called for Democrats.
On Monday evening, the Associated Press called the Arizona Senate race for Rep. Kyrsten Sinema in her race against GOP Rep. Martha McSally. The win brings the Senate totals in the next session of Congress to 53 Republicans and 47 Democrats, assuming Florida GOP Gov. Rick Scott wins the recount for his race against Democratic Sen. Bill Nelson and Mississippi GOP Sen. Cindy Hyde-Smith wins the runoff against Democratic former Secretary of Agriculture Mike Espy.
Sinema's election is historic for a number of reasons. She will be the first openly bisexual senator in history, as well as the first woman to ever serve as a senator from Arizona. She will also be the first Democratic senator elected in Arizona since 1988, when Sen. Dennis DeConcini won a third term.
Sinema has lived a colorful life. Impoverished and homeless in early childhood, the young Sinema spent time squatting in a vacant gas station in Florida. She went on to get a job as a social worker, and earned a Ph.D. and a law license. She is an accomplished triathlete, with two Ironman finishes. In her early political career, she was a Green Party activist who protested the Iraq War, although in Congress she joined the bipartisan Problem Solvers' Caucus and developed a reputation as a staunch centrist.
McSally, a former Air Force combat pilot did everything she could to drag down Sinema in the race. She ran unflattering ads of Sinema wearing a pink tutu from her activist years. At a debate, she called Sinema a traitor to America. On the other hand, McSally was hurt by her vote to strip people of coverage for pre-existing conditions, something she tried to deny. McSally also claimed that health care is not one of the "things that matter," something voters sharply disagreed with her on.
On Election Night, the vote favored McSally, but as the mail-in votes started to be counted, Sinema slowly took the lead, and then built it up.
Democrats' win in Arizona is a positive sign for the party in 2020, when the state's electoral votes will help decide whether or not President Donald Trump wins a second term. Democrats still proved they are capable of winning in Michigan, Wisconsin, and Pennsylvania, but the more mixed results in Ohio and Florida show Democrats have to put more states in play to give themselves cushion — and a competitive Arizona is exactly what they need.
Now that Sinema has won, Democrats have a way forward, and hope for the future.
Matthew Chapman is a video game designer, science fiction author, and political reporter from Austin, TX. Follow him on Twitter @fawfulfan.