Medal Of Honor Awarded To 2 Men Who Served In Vietnam War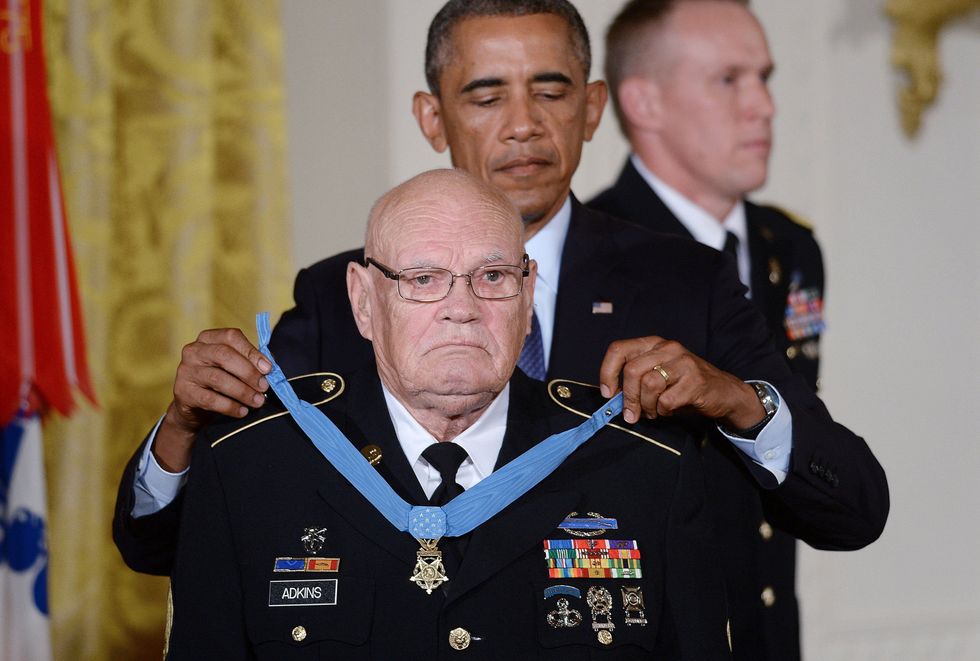 By Christine Mai-Duc, Los Angeles Times
President Barack Obama awarded two men the Medal of Honor on Monday afternoon for their bravery during the Vietnam War.
In a ceremony at the White House, Obama bestowed the nation's highest military recognition on Army Command Sgt. Maj. Bennie G. Adkins and posthumously to Army Spc. Donald P. Sloat.
"You served with valor, you made us proud, and your service is with us for eternity," Obama said at the ceremony. "No matter how many years go by, we will continue to express our gratitude for your extraordinary service."
Adkins was on his second tour of duty in Vietnam, at an isolated camp along the Ho Chi Minh Trail, when the camp came under attack by North Vietnamese forces.
Adkins ran into enemy fire several times, retrieving ammo, supplies, and helping his fellow injured soldiers to safety.
Sloat was killed in action when he shielded other soldiers from a hand grenade blast on Jan. 17, 1970. Sloat, who was 20 at the time, was patrolling with his squad near the Hawk Hill Fire Base, south of Da Nang, Vietnam, when one of the other soldiers triggered an enemy hand grenade trap.
The grenade rolled down the hill toward Sloat, and he picked it up, intending to throw it away.
But when he realized it was about to explode, he shielded it with his own body, saving three of his fellow soldiers.
His brother, Dr. William Sloat of Enid, Oklahoma, accepted the award on his behalf.
Photo:/Abaca Press/MCT/Olivier Douliery
Interested in national news? Sign up for our daily email newsletter!