The American Media's Endless Search For A "Presidential" Trump
@EricBoehlert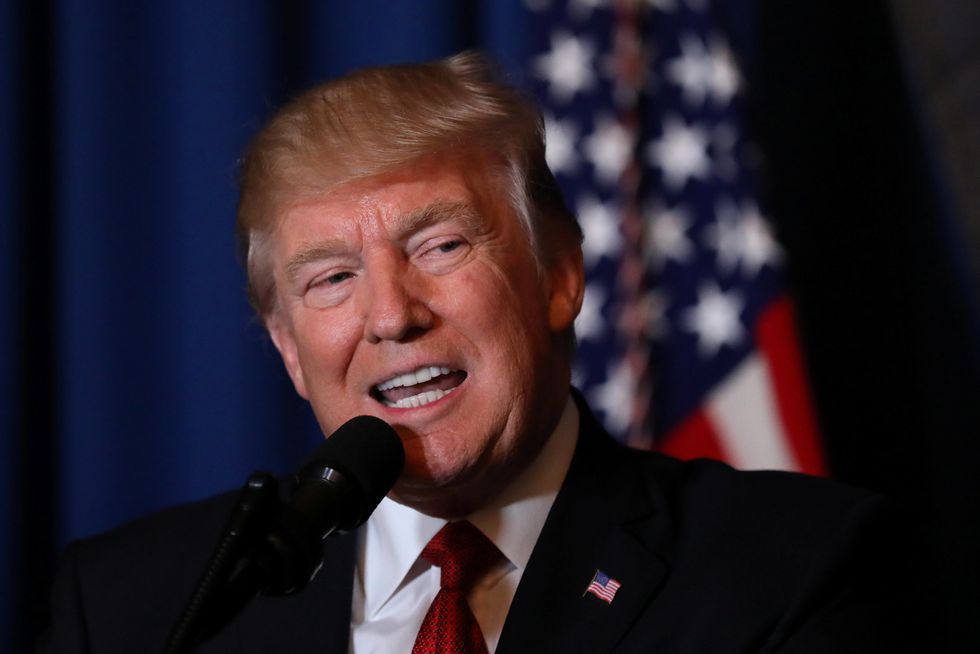 Like Captain Ahab spotting a breaching Moby Dick in the distance, there seemed to be palpable pundit excitement last week about the prospect of the elusive "presidential" Donald Trump finally being sighted in the wake of the United States' bombing mission in Syria.
Eager to bestow a mantle of seriousness and normalcy upon him, some commentators rushed to proclaim the U.S. military strike on an airfield to be a defining moment for the still-new president; to stress how the bombardment meant that Trump had elevated himself in stature and was now conducting himself in a somber, statesmanlike manner.
We've seen this excited commentary regularly with Trump, perhaps most notably when a portion of the pundit class was eager to announce that a serious, "presidential" Trump had finally emerged following his address to a joint session of Congress in February. (It was yet another false sighting.)
Media declarations late last week about how Trump "became President Of The United States" with the Syria attack and "turned the page" on his troubled presidency presented the brief military incursion as a sweeping demarcation line for Trump's presidency in terms of grading his seriousness.
We were told Trump had experienced an epiphany of sorts and suddenly understood how to use Oval Office power for good around the world. Indeed, Trump led with his "heart," The New York Timesannounced in the wake of the strikes.
But the "presidential" spin isn't based on fact. It's well-established that Trump is an Olympic liar who pushes falsehoods about topics large and small alike. So why would journalists suddenly assume that Trump's telling the truth about the motivation for the bombing attack on Syria?
The "presidential" narrative seems more like it's the media projecting into the news cycle how they think the President of the United States should act during a time of crisis. But Trump is not normal, and his relentlessly strange behavior cannot be explained away, let alone normalized.
In its page-one analysis of the Syria bombing, the Times stressed Trump had been moved to action out of sympathy for Syrian victims of a chemical attack that authorities believe was ordered by President Bashar al-Assad.
Suddenly able to read Trump's mind and peer into his heart (or listening intently to White House spin), the Times claimed unequivocally that the bombing raid was "an emotional act by a man suddenly aware that the world's problems were now his — and that turning away, to him, was not an option." (The Times also excitedly concluded the one-day bombing raid would "change the course" of Trump's presidency.)
The Associated Press stressed that "the weight of world's problems" had sunk in and forced Trump to act. Like the Times, the AP tried to read Trump's mind and concluded that there's "a growing awareness that an American president — even an unconventional one like him — is looked to as [a] defender of human rights and a barometer of when nations have violated international norms."
TheWashington Postsuggested, "The Syrian chemical weapons attack seemed to awaken Trump's sense of moral responsibility as leader of the world's sole remaining superpower."
But other than launching some missles at an airfield, where's the evidence that Trump did any of those things? Where was the evidence he had suddenly transformed himself into a "defender of human rights," or that a "moral responsibility" seemed to "awaken" in him?
If, according to one preferred media telling, the gruesome pictures of children being gassed to death last week represented an epiphany of sorts for Trump, why didn't Trump simultaneously lift his proposed travel ban and welcome suffering Syrian refugees into America?
Trump relentlessly used the victims of the Syrian civil war as political punching bags during the presidential campaign. Yet parts of the Syria bombing coverage last week politely set that aside in order to suggest Trump had become more "heartfelt" and "presidential."
He can't have it both ways.
And this has been part of the on-going riddle for the press: How to treat seriously someone like Trump who is categorically un-serious. And how to treat seriously a president who seems to be profoundly uninterested in the details of policy. Or telling the truth.
This is why the pursuit of "presidential" Trump often seems like wishful thinking: Journalists desperately want Trump to meet them halfway. Lots of journalists seem completely willing, if not eager, to uniformly lower the bar for Trump in terms of acceptable behavior for a sitting president. They're willing to rewrite the rules for him, which includes consciously looking away for very long periods of time in order to pretend he falls within the mainstream of American politics and our history of Oval Office inhabitants.
But if they're going to craft new rules for Trump, the least he could do is alter, or improve, his behavior and meet them halfway.
But Trump's going to keep doing what he wants to do, which is to often act abhorrently.
Still, when there appears to be even the slightest glimmer of normalcy emanating from this president, journalists overreact and pronounce that The Change, or The Pivot, has finally occurred and Trump is now ready and willing to act like an adult while serving as president.
He's not, and he hasn't. Yet the media's "presidential" pursuit continues.
IMAGE: U.S. President Donald Trump delivers an statement about missile strikes on a Syrian airbase, at his Mar-a-Lago estate in West Palm Beach, Florida, U.S., April 6, 2017. REUTERS/Carlos Barria