Medicare Advantage Payments Won't Be Cut Next Year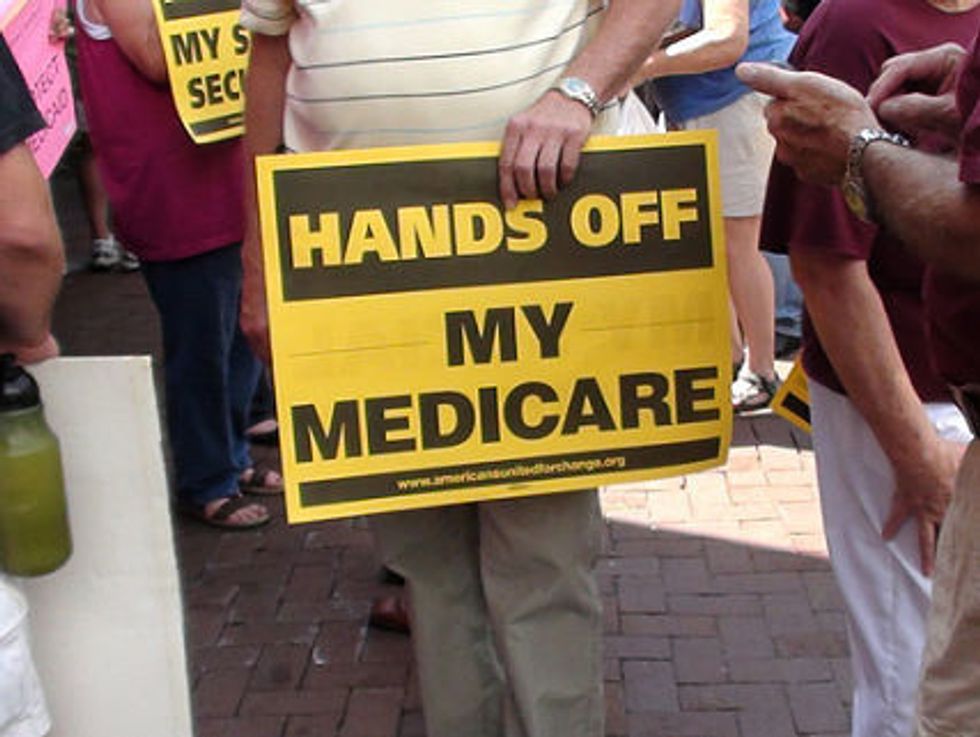 By Tony Pugh, McClatchy Washington Bureau
WASHINGTON — The Obama administration reversed itself on Monday, announcing that private health plans that provide Medicare benefits will receive a slight increase in government payments next year, rather than the reduction that was proposed earlier.
Congressional Democrats, many facing tough re-election campaigns, recently joined Republicans in asking that the private health plans, known as Medicare Advantage, be spared from payment cuts next year, even though they receive an average of 6 percent, or $8 billion, more this year to cover their enrollees than it would cost under the traditional Medicare program.
The administration had proposed a 2 percent cut in Medicare Advantage payment rates in February under the Affordable Care Act, to help bring the payments more in line with the regular Medicare program.
The reduced payments would cause some plans to reduce benefits, but they would still have to provide all the benefits covered by traditional Medicare.
A February report from Barclay's projects that advantage plans "have ample room to adjust benefits downward while maintaining benefit levels that are better for their members than the traditional (Medicare) fee for service program."
But a series of attack ads by the insurance industry and Republican-backed groups claimed that the Medicare Advantage cuts would reduce benefits for seniors, cause premiums to increase and force some plans to pull out of certain markets altogether, making access to coverage more difficult.
The ads helped Republican David Jolly narrowly defeat Democrat Alex Sink in a House race in the Tampa, Fla., area last month that was largely viewed as an early test of how health care could affect the November mid-term elections.
Senate Democrats, including Al Franken of Minnesota and Chuck Schumer of New York, joined House Democrats like Reps. John Barrow of Georgia and Patrick Murphy of Florida in asking that Medicare Advantage payment rates remain untouched next year.
They got their wish on Monday when Jonathan Blum, principal deputy administrator at the government's Centers for Medicare and Medicaid Services, announced an average payment increase of about 0.4 percent next year. Actual payment rates will vary by plan based on location, a plan's quality rating and other factors, Blum said.
Many Democrats expressed relief.
"This proposed cut would have been disproportionate, hurting seniors who would lose doctors or pay more," Schumer said in a statement on Monday. "We're glad the administration heeded our call and reversed the policy."
Not everyone, however, was pleased with the decision. Max Richtman, president and chief executive of the National Committee to Preserve Social Security and Medicare, called the move "bad policy and bad economics for the Medicare program."
"Since 2003, all seniors in Medicare (including those not even enrolled in Medicare Advantage) have paid higher premiums to help fund the billions in government overpayments to private Medicare Advantage insurance companies," Richtman said in a written statement. "This annual drama with private insurers in Medicare proves, once again, that when private Medicare Advantage plans are unwilling to compete on a level playing field with traditional Medicare, seniors will ultimately pay the price."
House Speaker John Boehner said the policy change does little to address ongoing conerns about the Affordable Care Act.
"We have called on the president and his Cabinet to develop a plan to help American seniors deal with the consequences, both now and in the future, of this destructive law. Thus far we've seen no such plan," Boehner said in a written statement.
Nearly 16 million seniors, about 30 percent of Medicare's 52 million beneficiaries, are enrolled in Medicare Advantage plans, up from 14.6 million enrollees in 2013, according to Avalere Health, a health-care consulting firm.
The Medicare Advantage program allows private managed care plans, typically HMOs and PPOs, to provide hospital coverage and physician services for Medicare enrollees. Rather than bill Medicare for each medical service, the plans receive a flat monthly sum to cover each patient and a separate payment to provide prescription drug benefits. The plans typically provide extra benefits like coverage for eyeglasses, hearing aids and gym memberships.
The extra benefits have helped fuel the funding disparity between Medicare Advantage plans and the traditional Medicare program.
To address these concerns, the Affordable Care Act, passed in 2010, changed the formula for paying Medicare Advantage plans, with the goal of saving more than $130 billion over 10 years. The law phases in payment reductions to the Medicare Advantage plans that bring them more in line with payments for services under the traditional Medicare program.
That plan has worked. Medicare Advantage used to cost 14 percent more to care for enrollees than the traditional program. That payment disparity is now down to 6 percent, according to the Medicare Payment Advisory Commission, an independent congressional agency that advises Congress about Medicare.
Blum said the trajectory of lower payments will continue in spite of the slight payment increase next year. He said overall program costs won't rise as quickly in coming years as healthier, less costly baby boomers continue to join the program.
Photo: joetta@sbcglobal.net via Flickr