Meet The American Oligarchy: The Koch Brothers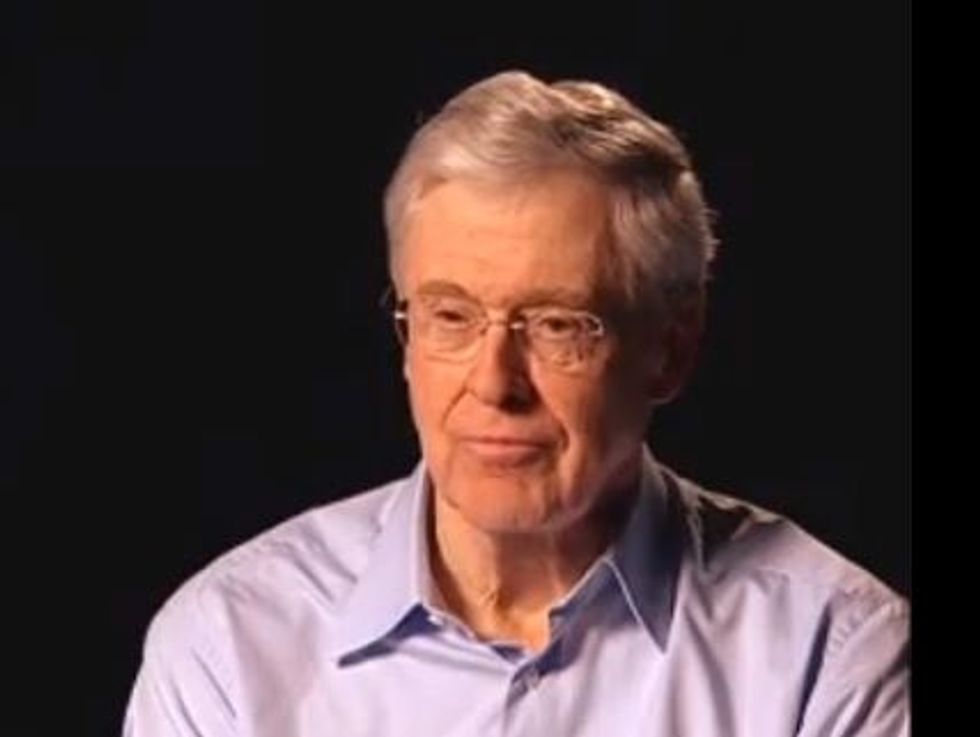 Let's put it this way: If the Koch Brothers were Russians, we'd call them oligarchs: grasping barbarians exercising crude political power.
But this is America, where tycoons can buy respectability by throwing money at their wives' favorite ballet companies and museums. Also by funding "think tanks" staffed by "resident scholars" keen to enhance the boss's fondest delusion: that great wealth invariably conveys great wisdom.
Hence "Americans for Prosperity," the group funded by billionaire brothers David H. and Charles G. Koch that's spending untold millions in 2014 on TV commercials attacking the Affordable Care Act as a government boondoggle that "just doesn't work."
The deeper strategy, AFP president Tim Philips told the New York Times, is to present the law as "a broader cautionary tale" crafted "to change the way voters think about the role of government for years to come."
Or as the sloganeering sheep in Orwell's Animal Farm might have put it, "Big government bad, big business good!"
Elsewhere, however, big business hasn't been looking entirely benign of late. Consider three episodes currently in the news: General Motors, the Toyota Motor Corporation, and Duke Energy, the nation's largest electrical utility.
As so often happens with corporate malfeasance, the details can be hard to believe. Documents turned over to the National Highway Traffic Safety Administration by General Motors show that company engineers knew about problems with an ignition switch in Chevy Cobalts as long ago as 2001.
That it could be a fatal flaw wasn't immediately recognized.
The problem appears to have been a defective part manufactured by a GM supplier. Sometimes triggered by a too-heavy keychain swinging from the ignition, it caused the engine to shut off while driving — resulting in immediate loss of power steering, power brakes, and the failure of the vehicle's air bags to deploy.
By 2009, however engineers concluded that the faulty switch played a causal role in several fatal accidents — although some drivers had been drinking, texting or otherwise distracted — and that while Cobalts were going out of production, hundreds of thousands were still rolling.
Nevertheless, GM did nothing, while company lawyers fought off or stonewalled lawsuits alleging product liability.
Twenty-three fatal accidents and 26 deaths later, GM finally issued a recall notice for 1.6 million vehicles last month. The company's recently-appointed CEO Mary Barra has been doing public penance and vowing to do everything possible to restore consumer confidence in the GM brand, which will definitely take some doing.
Published accounts of how separate divisions of GM's giant bureaucracy communicate badly or not at all read like episodes of Catch-22. Customer complaints and warranty claims aren't shared with safety engineers, who in turn have no communication with company lawyers. Meanwhile, nobody was talking to the National Highway Traffic Safety Administration, the federal agency that belatedly promises a criminal investigation.
Meanwhile, the auto industry press contrasts GM's "unusually proactive and candid approach" to Toyota's, which last week admitted criminal guilt and paid a $1.2 billion fine—the largest against an automaker in U.S. history.
Announcing a settlement, Attorney General Eric Holder said the company had "intentionally concealed information and misled the public" and shamefully showed "blatant disregard for systems and laws."
At issue were faulty accelerator pedals which caused the cars to rocket out of control. Toyota has recalled as many as 10 million vehicles worldwide, and has been forced to pay tens of millions in fines and lawsuit settlements. Hundreds more civil lawsuits await litigation. What the settlement makes clear is that Toyota's top management deliberately lied to government investigators both about the mechanical issue and their knowledge of it.
Which brings us to the Tea Party paradise of North Carolina and Duke Energy's massive coal ash spill into the Dan River—spreading as many as 82,000 tons of toxic sludge along 70 miles of scenic river bottom. According to the Associated Press, "coal ash contains arsenic, lead, mercury and other heavy metals highly toxic to humans and wildlife."
In addition to the "accidental" spill, caused by a collapsed corrugated pipe seemingly uninspected since 1986, environmental activists photographed Duke employees pumping an estimated was 61 million gallons of coal ash-contaminated water into the Cape Fear River further east.
The resulting uproar has persuaded GOP governor Pat McCrory, a 28-year Duke Energy employee (and recipient of some $1.1 million in Duke-sponsored campaign donations) to change his mind about burdensome federal regulation. His state's toothless regulators will now "partner" with the U.S. Environmental Protection Agency to pursue joint enforcement against the utility.
Previously, McCrory had scorned the feds as an impediment to efficient business practices, and made a great show of turning down EPA grant money. Meanwhile, arguing strenuously against stricter regulation of coal ash has been an industry front group called ALEC (the American Legislative Exchange Council) largely financed by — you guessed it — those well-known philanthropists, David and Charles Koch.
Americans for Prosperity, indeed.
Screenshot: YouTube