Meet Mitt's JP Morgan Pals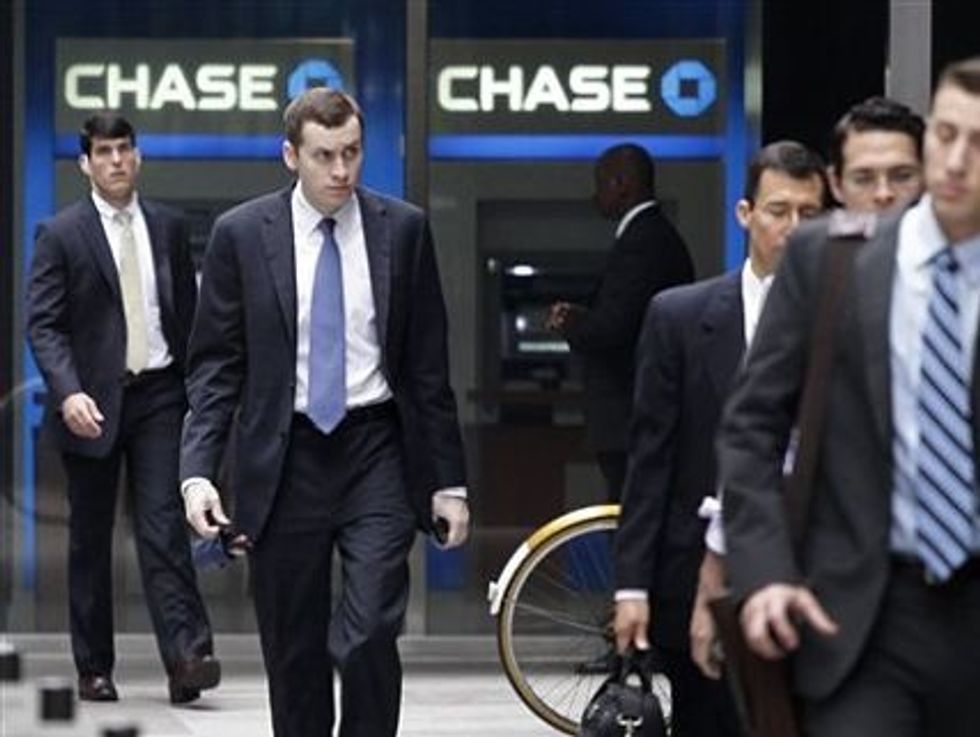 Not so long ago, President Obama enjoyed a blossoming relationship with JPMorgan Chase CEO and chairman Jamie Dimon. But now that the bank no longer needs the federal government's bailout money, Mitt Romney seems to be JPMorgan's new best friend.
More than three years and 
$25 billion
 in bailouts later, Dimon and his colleagues are wooing the GOP candidate with fundraisers and campaign contributions. What is the difference between then and now? In 2008 the bank was lobbying for attention; this year it prefers to be left alone. And despite the bank's embarrassing loss of $2 billion in a single bad trade, now under investigation by the Justice Department and Congressional leaders, Romney remains supportive of the bank's deregulatory agenda, promising to repeal the Dodd-Frank reforms.
The banking behemoth's 
courtship
 of Obama seemed to be ending last fall when the bank's CEO and Romney were spotted in Manhattan having a private, one-on-one discussion before a fundraiser for the GOP candidate hosted by Highbridge Capital, a JPMorgan hedge fund.  
Then in December, JPMorgan Vice Chairman James B. Lee, Jr., and three other Republican donors who work for the bank hosted a Romney 
fundraiser
 at the Waldorf Astoria in Manhattan.  Lee solicited potential donors by email, asking for $2,500 contributions to the Romney campaign and noting that he's known Mitt for almost his "entire career" and "made one of his first loans when he came to Bain Capital."  
The party's
other hosts included Frank Bisignano, the bank's chief administrative officer; Mary Callahan Erodes, its chief executive officer of asset management; and Mel Martinez, a former US Senator from Florida and former Secretary of Housing and Urban Development under President George W. Bush, who now serves as the bank's chairman for Florida, Mexico, Central America, and the Caribbean.  Martinez is also 
chairman
 of Romney's National Advisory Council.  Meanwhile, William B. Harrison Jr., Dimon's predecessor at JPMorgan, hosted a mid-December fundraiser for Romney as well.
In 2008, Harrison was a member of Romney's Global Competitiveness Policy Advisory Group.
All of this hospitality has added up nicely for Romney. According to Federal Election Committee records, two weeks before and after both December fundraisers, JPMorgan employees donated
 $60,000
 to Romney. So far in this cycle, the bank has contributed 
$400,675
 to Romney and $76,675 to Obama. In 2008, the bank contributed 
$808,799
 to the Obama campaign.
William K. Black
, associate professor at the University of Missouri-Kansas City and author of "The Best Way to Rob a Bank is to Own One," told The National Memo that JPMorgan's push for Romney grows out of
the "fear element." 
"The only thing that can interfere with the bank's power is effective regulators or prosecutors, and so they want to make sure the power will be kept with those who will give them impunity," Black said.
Asked about the relationship between Romney, Dodd-Frank and JPMorgan's campaign contributions, campaign spokeswoman Andrea Saul said: "People who support Mitt Romney support his pro-growth, pro-jobs agenda for the country." 
Prominent in Romney's platform for domestic economic policy is to "deregulate and repeal Dodd-Frank," Black said, which fits nicely with JPMorgan's desire to "discourage effective regulations and enforcement" as signified by its "political contributions and lobbying."
Besides Dimon's ten 
visits
 to various government agencies to discuss Dodd-Frank, other executives at the bank have been vocal about repealing the bill. Barry Zubrow, the bank's head of corporate and regulatory affairs wrote a letter to Congress last February implying that both the Volcker Rule restricting bank investments and the Dodd-Frank reforms will harm JPMorgan when they take effect.  
"Ultimately, we believe that the statute is so flawed that it will be impossible to implement in a way that does not impose unacceptable costs on our economy and financial system," wrote Zubrow — who gave $2,500 to the Romney campaign days after he 
testified
 before Congress that "the regulatory pendulum clearly has now begun to swing to a point that risks hobbling our financial system and our economic growth." 
On NBC's "Meet the Press" last Sunday, Dimon said he supports "70 percent" of Dodd-Frank,
but has long opposed the Volcker Rule, which would have prevented his firm's $2 billion loss if enacted and enforced. That rule limits risks in what lawmakers call "proprietary trading," or the kind of investments the bank makes on its own behalf.  In a February interview with Fox News, Dimon said JPMorgan takes issue with Volcker because it hinders what he calls "market making." He went on to add: "We don't make huge bets, so I understand the goal to make sure these companies don't make huge bets on the balance sheets….Every trader would need a lawyer, compliance officer, a doctor… a shrink."
The rule's author, former Treasury Secretary Paul Volcker, offered a tart 
response
 to Dimon: "Don't mix up proprietary trading in market making." 
Yet Romney is determined to repeal Dodd-Frank even though Dimon and the bank's executives would be $2 billion richer if they had heeded Volcker's advice. In March, the Republican candidate told a crowd of supporters in Ohio that when he gets "rid of Dodd-Frank," 
he will make new "laws or regulations."
 The description he offered may have been sufficiently vague to please all of his friends at JPMorgan:
 "It means I want to make sure it's modern, it's updated, it goes after the bad guys, but it also encourages the good guys."