Meet The Dangerous Crowd Trump Is Bringing To Cleveland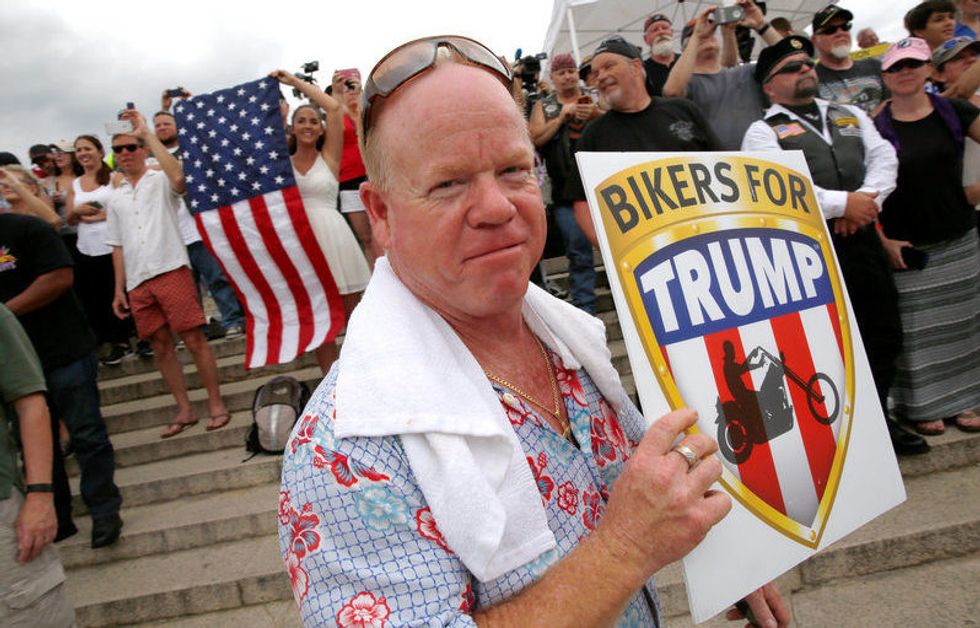 There's a new Republican Party coming to town — specifically, to Cleveland, Ohio.
As Donald Trump prepares to take the stage at the Republican National Convention in Cleveland, a mass of grassroots militant groups will be following him there. True to Trump's crusade against "establishment politics," the convention will mark these fringe conservatives' entrance onto the mainstream political stage.
After riots broke out between some of these groups and anti-Trump protesters outside a rally in San Jose in early June — and safety concerns cancelled another campaign stop in Chicago — tensions are expected to run high this weekend.
One prominent group of Trump advocates already drawing attention is the white nationalist Traditionalist Workers Party, whose members were involved in the San Jose brawl but blamed anti-Trump protesters for the violence.
"We're essentially just going to show up [at the convention] and make sure that the Donald Trump supporters are defended from the leftist thugs," the group's spokesman, Matt Parrott, told McClatchy Washington Bureau.
The party's platform advocates an end to "discrimination against whites" and racial integration and counts Matthew Heimbach, who shoved a protester while calling her "leftist scum," among its more prominent figures.
"White Americans are getting fed up and they're learning that they must either push back or be pushed down," Heimbach wrote online regarding his attack on the black protester, according to The Washington Post.
Despite the Traditionalist Workers' violent track record, Parrott told McClatchy that he didn't anticipate violent incidents during the convention, not counting "a couple of isolated skirmishes." Meanwhile, a member of another group, Citizens for Trump, said the city's government — not these militia groups — would be responsible if there were incidents.
As speculation rises over the possibility of a Republican mutiny against Trump, many of his supporters are also traveling to Ohio to ensure that Trump does in fact secure the nomination. Two organizations expected to be in full force next week are named "We Will Walk" and "Stop the Steal."
Roger Stone, a friend and advisor to Trump and an organizer, said in April that he would leak the hotel room numbers of convention delegates who broke commitments to vote for Trump.
Chris Cox, founder of Bikers for Trump, known for serving as vigilante security at his rallies, said in a Reuters interview that the group's "role will change" if Trump is denied the nomination — or if protesters on the other side get out of line.
"The moment that we are assaulted the tone will definitely change," Cox said in an April Politico article on the Bikers' security efforts. "We're certainly not going to get punched and back down."
The group, which expects to bring thousands to Cleveland, encourages its motorcycle-riding supporters not to act violently, but alleges on its website that "paid protestors" who rally against Trump are being fed "untruthful propaganda."
As Politico noted, the Trump campaign is aware of their "security" efforts — Cox is close with Trump's head of security — suggesting that these groups are not as independent from the main operation as they may seem.
The first expected appearance for these militia Trump supporters will be at a demonstration on the first day of the convention, the "America First Unity Rally." Speakers at the event lack the same violent track record but seem to hold the same racist beliefs.
Organized by former Trump adviser Roger Stone and a white nationalist group, "America First" will feature individuals such as Jan Morgan, a self-proclaimed Second Amendment advocate who boasts about banning Muslims from her shooting range and calls Islam a theocratic "terrorist organization."
Morgan won't be the only Islamophobe in attendance. Another headliner, Guido George Lombardi, co-founded Citizens for Trump and posted on Twitter that the organizer of the Dallas Black Lives Matter rally is an "Islamic agent." Fellow speaker Wayne Dupree, meanwhile, suggested that Alton Sterling and Philando Castile were killed because they wanted to "show off for their friends with disrespect."
So far, the Trump campaign has not publicly commented on any of these efforts.
Photo: A man carries a sign for Republican U.S. presidential candidate Donald Trump at the Rolling Thunder motorcycle rally to highlight POW-MIA issues on Memorial Day weekend in Washington, U.S. May 29, 2016.  REUTERS/Jonathan Ernst