Meet The Republican Telling Speaker Boehner To Compromise On Taxes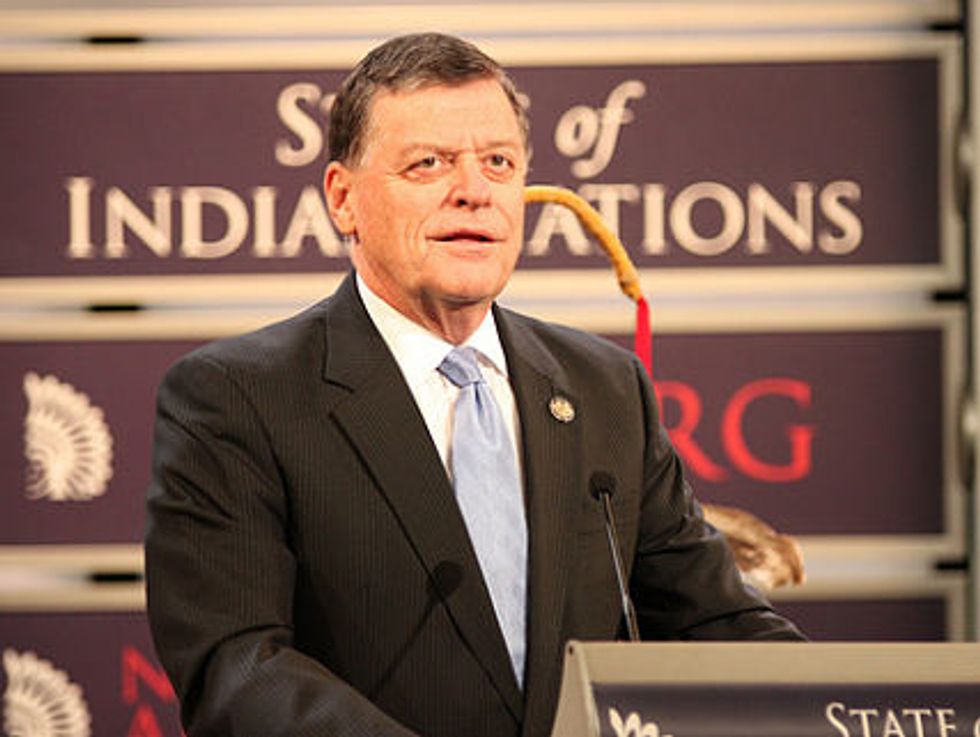 In a potential sign of progress in the "fiscal cliff" negotiations, Republican congressman Tom Cole has endorsed President Barack Obama's plan to immediately extend the Bush-era tax cuts on the first $250,000 of income — and Cole is now claiming that the deal would have enough votes to pass in the House of Representatives.
Cole, a five-term representative from Oklahoma who has served as deputy whip and chairman of the National Republican Congressional Committee, told Politico on Tuesday night, "I think we ought to take the 98-percent deal right now." Although Cole stressed that he doesn't want to raise tax rates on the top 2 percent of earners, he argued that siding with Obama would make it easier to protect those tax cuts by preventing the president from attacking the GOP for holding the country hostage to benefit the rich.
"Some people think that's our leverage in the debate," Cole told Politico. "It's the Democrats' leverage in the debate."
When asked about Cole's proposal, House Speaker John Boehner shot it down.
"I told Tom earlier in our conference meeting that I disagreed with him," Boehner told reporters on Wednesday. "He's a wonderful friend of mine and a great supporter of mine, but raising taxes on the so-called top 2 percent — half of those taxpayers are small-business owners that pay their taxes through their personal income tax filing every year. The goal here is to grow the economy and control spending. You're not going to grow the economy if you raise tax rates on the top two [percent]. It'll hurt small businesses; it'll hurt our economy."
Still, Cole seems undeterred. According to The Huffington Post, when Cole was asked if his proposal would pass the House, he replied "My opinion is yes." He noted that "a lot" of his colleagues agree that the GOP should make an immediate tax-cut deal with the White House, although he qualified his statement by pointing out that "I'm not the chief whip. I'm just a deputy whip."
If Cole and his colleagues are really ready to make a deal, they will have a willing partner in President Obama. During a brief speech at the Eisenhower Executive Office Building, Obama reiterated that tax cuts on the first $250,000 of income should be extended immediately, warning that "It's too important for Washington to screw this up."
Obama made an oblique reference to Cole — and several Senate Republicans who have suggested that they would accept revenue increases — noting that "I'm glad to see, if you've been reading the papers lately, that more and more Republicans in Congress seem to be agreeing with this idea that we should have a balanced approach."
"So if both parties agree we should not raise taxes on middle- class families, let's begin our work with where we agree. The Senate's already passed a bill that keeps income taxes from going up on middle-class families," Obama continued. "Democrats in the House are ready to vote for that same bill today. And, if we can get a few House Republicans to agree as well, I'll sign this bill as soon as Congress sends it my way."
Video of Obama's speech is below:
Photo by NCAI via Flickr.com