Meet The Tea Partier Who Could Ruin Nikki Haley's Career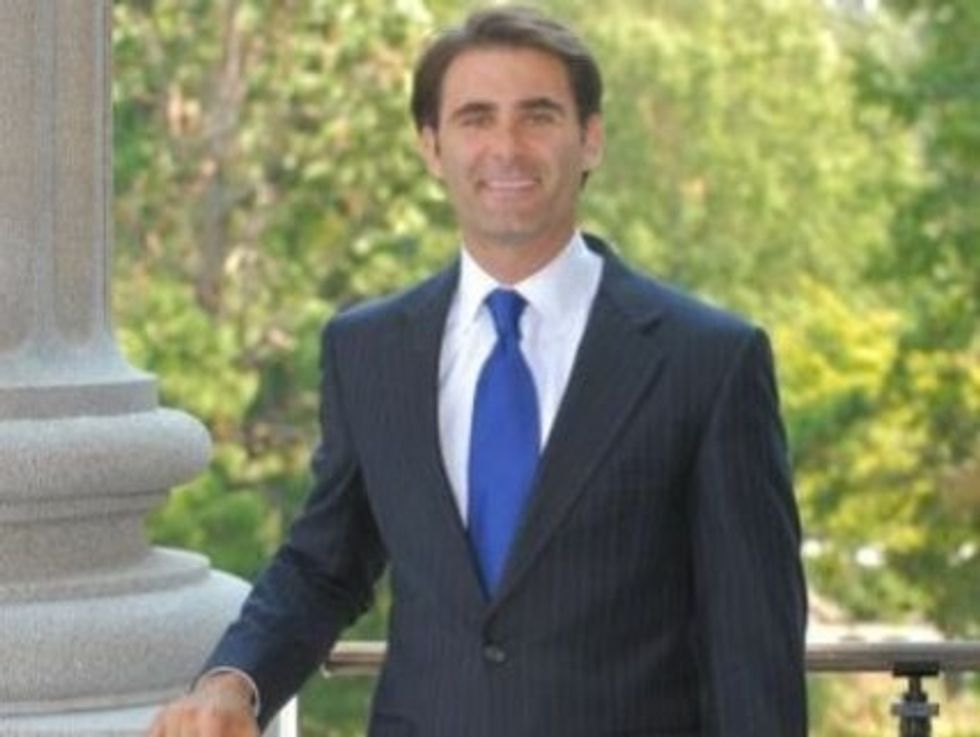 When Nikki Haley was elected as governor of South Carolina in 2010, many thought she'd be spending 2014 laying the groundwork for a historic presidential campaign. Instead, she may be fighting for her political life. What was already expected to be a difficult re-election campaign may be getting significantly more complicated, as former lieutenant governor (and longtime Haley rival) Andre Bauer is now considering entering the race.
Speaking to South Carolina newspaper The State over the weekend, Bauer hinted that he could launch a third-party challenge to Haley's re-election:
"I'm hearing more and more people say they are fed up with the two-party system," the former Republican officeholder told The Buzz. "And they have asked me about running."

Asked if a third-party run would end up siphoning enough votes away from Republican Gov. Nikki Haley to give the race to Democrat state Sen. Vincent Sheheen, Bauer shot back: "You don't think a third-party candidate (can) win?"
There is significant reason to doubt Bauer's chances of winning as an independent candidate. Third-party governors are incredibly rare (there have been just 28 since Reconstruction). and Bauer is a particularly flawed candidate. He ran for governor as a Republican in 2010, and finished last in the four-candidate primary with just 12.4 percent of the vote (Haley won with 48.9 percent). Bauer also ran for Congress in South Carolina's 7th district in 2012, and lost a Republican primary runoff by 12 percent to Haley ally Tom Rice.
Bauer's right-wing positions and rhetoric have attracted a good deal of controversy throughout his career, which should hurt him in a gubernatorial campaign. His 2010 argument that the government should make it harder for families to access food aid, for example, is tailor-made for a devastating attack ad:
My grandmother was not a highly educated woman, but she told me as a small child to quit feeding stray animals. You know why? Because they breed. You're facilitating the problem if you give an animal or a person ample food supply. They will reproduce, especially ones that don't think too much further than that. And so what you've got to do is you've got to curtail that type of behavior. They don't know any better.
While Bauer has no chance of winning, however, his entrance into the race could pose a major problem for Haley. The freshman governor has struggled through much of her first term, leaving her with approval ratings in the low 40s. Additionally, some of the Tea Party groups that helped her rise to the governor's mansion have groused about her administration, potentially leaving an opening for a right-wing challenger. Bauer, who won a good deal of Tea Party support during his failed 2012 campaign, could take advantage. And given Bauer's notoriously icy relationship with Haley — the governor stumped for his opponent in the 2012 primary, saying, "I don't trust Andre Bauer" and "[Y]ou can say this is personal. I've been against him. I know what he's like. I've seen him up close" — Bauer could be safely expected to launch some vicious attacks at the woman who has long helped to block his political ambitions.
He would not have to overwhelm to have a major impact in the campaign. In 2010, Haley defeated Democratic state senator Vincent Sheheen by just 4 percent, a surprisingly close margin given the GOP's overwhelming advantage in South Carolina and the Republican wave that swept the country during that election. Sheheen is running for governor again in 2014, and early polling of the race suggests that it will be another tight election. An October 22 poll from the Democratic Governors Association found Haley leading Sheheen by just 4 percent, while an October 29 poll by Republican firm Harper Polling pegged her lead at 9 percent. If Bauer can capture even 5 percent of the vote with an insurgent third-party bid, it could turn the race on its head.
The Tea Party's strength in South Carolina directly led to Haley's quick political rise. If Bauer can tap into its strength in 2014, it may lead to her undoing.
Photo via Wikimedia Commons