Meet The Wildly Bigoted Pastor Trump Sent To Jerusalem To Open The New Embassy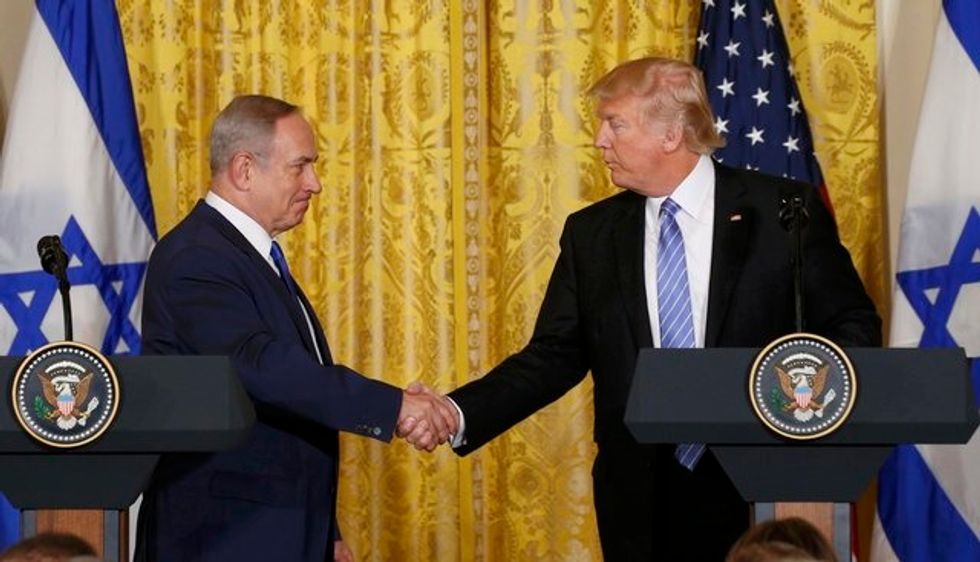 Reprinted with permission from AlterNet.
President Donald Trump selected Southern Baptist Pastor Robert Jeffress to speak at the opening of the new U.S. embassy for Israel in Jerusalem, apparently disregarding — or perhaps because of — his intensely bigoted beliefs about Mormons, Jews, Muslims, and the LGBTQ community.
The opening of the embassy was accompanied by the mass killing of more than 50 Palestinian protesters and the wounding of at least a thousand more, according to reports. The White House's casual disinterest in Israel's responsibility for these deaths is congruous with Jeffress' bigotry toward Muslims and non-Christians.
Leeanne Naramore of Media Matters for America posted a video showing a compilation of some of Jeffress' most degrading comments.
In multiple clips, Jeffress classified the whole of Islam as a "cult" — a label he likewise applies to Hinduism and Buddhism. He also declares, "You can't be saved being a Jew!" and he says Mormons are not Christians.
On the topic of gay people, he says, "Homosexuality is degrading, it's a degenerative practice."
"Such a religious bigot should not be giving the prayer that opens the United States Embassy in Jerusalem," said Gov. Mitt Romney on Twitter. Romney, a Mormon, is currently running for U.S. Senate in Utah.
Watch the clip of Jeffress below:
Fox News contributor and pro-Trump pastor Robert Jeffress spoke at the opening of the US embassy in Jerusalem. Here's a brief 2 minute sampling of Robert Jeffress' beliefs: pic.twitter.com/bKv4tbVymu

— Leanne Naramore (@LeanneNaramore) May 14, 2018
Cody Fenwick is a reporter and editor. Follow him on Twitter @codytfenwick.