Melania Touts Return To White House -- And Grudge Over 'Vogue' Snub
@next2godwin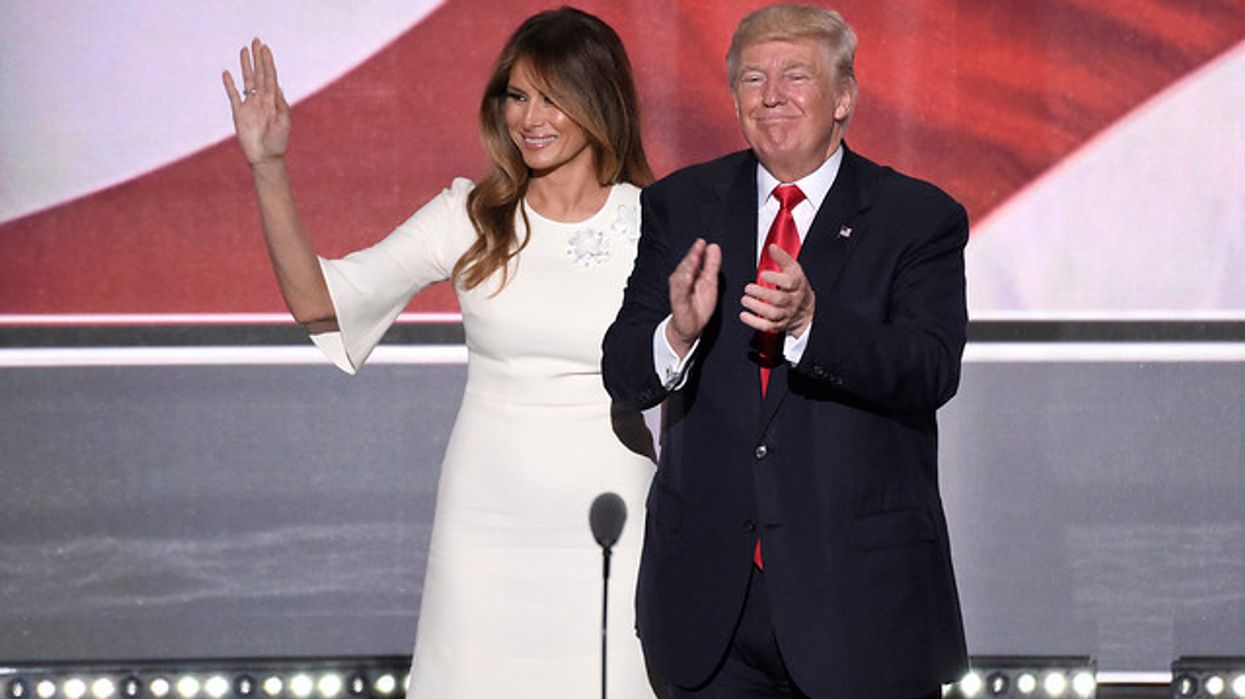 Melania Trump teased a return to the White House in her first interview since Trump vacated the Oval Office for Joe Biden, echoing her husband's repeated suggestions of a 2024 return to the political scene.
In a sit-down with Fox Nation's Pete Hegseth, an interview that aired Sunday morning, the former first lady discussed her post-White House activities, said she believed the White House could be her home again, and lashed out at Vogue for putting Jill Biden on its cover.
"I like Washington, D.C. I know it operates completely different[ly] than any other city. To be the First Lady of the United States was my greatest honor, and I think we achieved a lot in the four years of the Trump administration," she said, responding to Hegseth's question about the possibility of her becoming the First Lady again.
"Never say never," Trump added.
The former first lady said she enjoyed her time in the White House despite the wave of criticism she faced, especially in one instance in 2018 when she visited immigrant kids at a border detention center with a jacket emblazoned with the words "I really don't care, do u?"
Trump also discussed at length her NFT projects, which have been subject to controversy since their inception last year. Trump's items can only be purchased with cryptocurrency, and nothing in her first lot of items, which was put up for sale earlier this year, met the $250,000 opening bid threshold, according to CNN.
In January, Trump held an auction for her "Head of State Collection, 2022," with a minimum opening bid of $250,000 on the Solana blockchain. A portion of the proceeds, according to her website, would go towards securing "educational opportunities and scholarships" in the foster care system.
Things quickly went south when Vice, soon followed by other news outlets, reviewed the blockchain records and reported that the auction winner received funds for their winning bid from the auction's creators themselves. "The winner of Melania Trump's first NFT auction appears to be the former first lady herself," according to Fortune.
Trump denied the allegations in a statement. "The nature of Blockchain protocol is entirely transparent. Accordingly, the public can view each transaction on the blockchain. The transaction was facilitated on behalf of a third-party buyer."
However, Trump declined to say who bought the NFT or why the NFT creator gave the auction winner crypto for the winning bid and seemingly got the funds back, per Vice. The former first lady has also refused to elaborate on what portion of her NFT proceeds has gone to charities, nor did she say which charities received the donations. "They need our resources, support, [and] empowerment to achieve that American dream," Trump told Fox Nation, referring to purported contributions.
Trump also attacked Vogue for not featuring her on its cover during her husband's tenure as president of the United States, a grudge she's held onto tightly, despite exiting the White House over a year and a half ago.
"They're biased and they have likes and dislikes, and it's so obvious," Trump said. "And I think American people, and everyone sees it."
"I have much more important things to do—and I did in the White House—than being on the cover of Vogue," she added, feigning indifference over the apparent snub.
However, in a tell-all book, Trump's former senior adviser and BFF, Stephanie Winston Wolkoff, detailed how Trump rejected a Vogue shoot shortly after her husband took office because the magazine couldn't guarantee her a spot on the cover.