Melania Trump Blames Jewish Reporter For 'Provoking' Neo-Nazis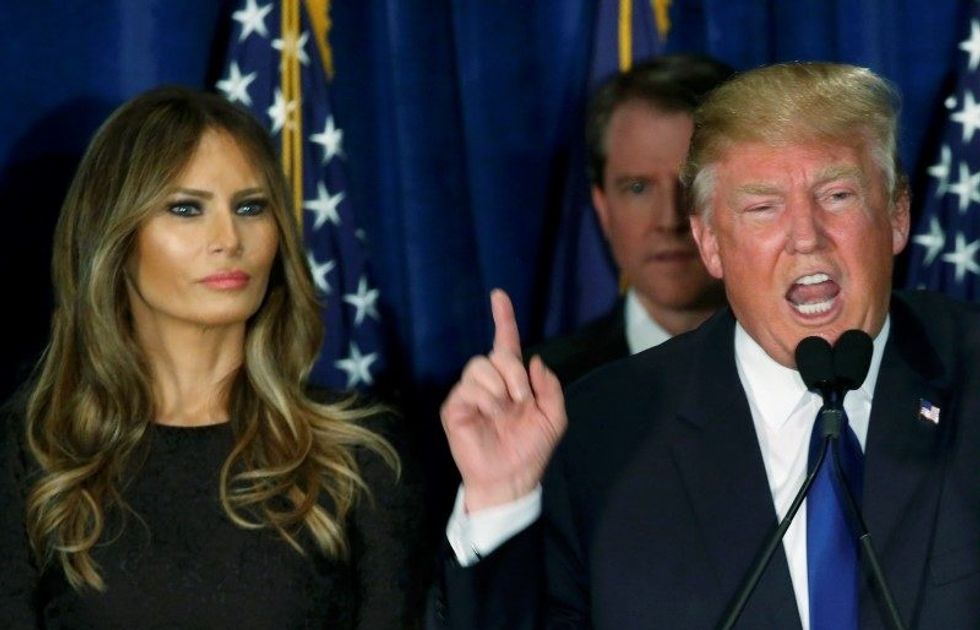 Published with permission from Alternet.
In a recent interview with DuJour magazine, Melania Trump blamed the barrage of antisemitic hate speech piled on a Jewish journalist who had profiled her to inaccurate reporting that "provoked" Trump fans.
It's hard to tell what's worse: the irony of a Trump accusing someone of speaking an untruth (in this instance, a well-regarded and fact-checked reporter from GQ), or that Melania seems to have few qualms including neo-nazis in her fanbase.
The article about Melania Trump was published last month by Julia Ioffe and clearly ruffled Melania's feathers, since it dug into her family's past. Though she tweeted her displeasure, no actual innaccuracies have emerged. Ioffe subsequently filed a police report following dozens of death threats from Trump supporters. Among some of the threats were images of Ioffe's face superimposed on pictures of Auschwitz prisoners.
Melania specifically took umbrage with Ioffe's depiction of her family. In the article, Ioffe presented information suggesting Melania has a 50-year-old half-brother from Slovenia who has never been acknowledged by her father. In turn, Melania said in her DuJour interview, that Ioffe had "an agenda" in reporting this information. She did not specify what the agenda was.
The piece in DuJour is decidely puffy, with sentences like, "This woman is a few months, and swing states, away from becoming our next first lady, but very little is known about her." But the writer does mention the controversy about the GQ piece, asking, "So if people put a swastika on my face once this article comes out, will [Melania] denounce them?"
To this, Melania replied, "I don't control my fans, but I don't agree with what they're doing. I understand what you mean, but there are people out there who maybe went too far. She provoked them."
Of course, Donald took an equally fence-sitting stance in his statement to the press. "I don't have a message to the fans, a woman wrote an article that was inaccurate." He has also admitted that he has not read the article.
Want a definition of secretly having your (white supremacist) cake and eating it too?
Meet the Trumps.
Robin Scher is a freelance writer from South Africa currently based in New York. He tweets infrequently @RobScherHimself.
Photo: Republican U.S. presidential candidate Donald Trump gestures during his victory speech as his wife Melania, looks on at his 2016 New Hampshire presidential primary night rally in Manchester, New Hampshire February 9, 2016.  REUTERS/Jim Bourg