Melania Trump Is Anything But A Typical Immigrant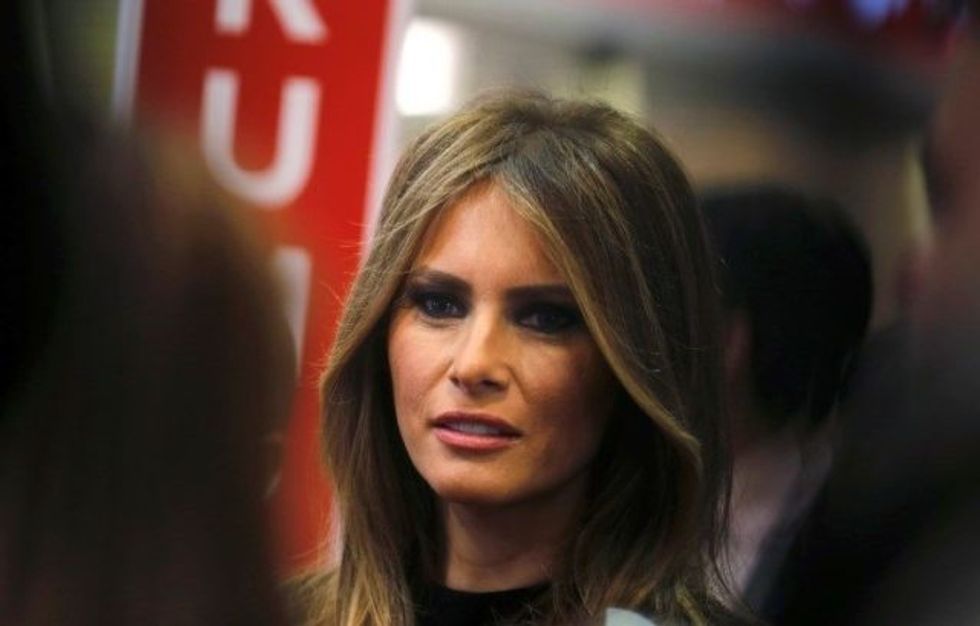 When it comes to immigration policy, Melania Trump is a walking set of paradoxes: She's married to a man whose presidential campaign was built on calls to ban immigration of all sorts, but as an immigrant herself, she could become the country's first immigrant first lady. And yet, she bears little resemblance to most first-generation Americans.
After staying mostly out of the public eye, as presidential campaign standards go, the notoriously apolitical fashion model-turned-trophy wife will be making her most public appearance yet on Monday night to open the Republican National Convention in Cleveland.
A Slovenian who moved to New York in 1996, Melania is expected to address immigration and describe her own personal narrative to support her husband's inflammatory rhetoric on the issue — and perhaps, resolve some of the tension it holds with her own immigrant status.
It's ironic to say the least that a Republican nominee known for his toxic ranting urging bans on even legal immigration, and for his portrayal of Mexican immigrants as "rapists and killers," would also bring the first immigrant spouse into the White House.
(Technically speaking, Louisa Adams already holds that distinction. But she doesn't really count: Adams' American father took the family back and forth between her birthplace in London and the U.S., according to The New Yorker.)
And yet, Melania Trump also occupies an atypically assimilated position as a first-generation U.S. citizen. Slovenians who knew her lament that she is distant from the country of her childhood and has "forgotten her roots." She's brought her parents to come live with her permanently in New York, but she has only taken her jet-setting husband to Slovenia for a few hours, according to a GQ profile.
The same article also noted that Melania refuses to acknowledge that she has a half-brother from her father's side, despite a court case ruling to the contrary.
"I came here for my career, and I did so well, I moved here," she told Harper's Bazaarin January. "It never crossed my mind to stay here without papers. That is just the person you are. You follow the rules. You follow the law. Every few months you need to fly back to Europe and stamp your visa."
Beyond financial assets that made her immigration process easier than most, Melania Trump has also taken advantage of policies unavailable to many of the unskilled workers that her husband has railed against.
According to the New Yorker, the U.S. immigration system admits models like her to the country through the H-1B visa program, which is known mostly for bringing less glamorous (and more educated) professionals like scientists and computer coders.
Trump, ironically, has railed against what he's called "rampant, widespread, H-1B abuse," arguing in March that the visa "is neither high-skilled nor immigration: these are temporary foreign workers, imported from abroad, for the explicit purpose of substituting for American workers at lower pay," the New Yorker reports.
And demographically, she's an exception to the rule too: Over half of immigrants aren't naturalized (she is), and the average income for an immigrant is $14,000 less than the national average, the Pew Research Center says, meaning it's likely a lot less than Melania's. Most prominently, though, the percentage of immigrants coming from Europe has sharply decreased since she arrived twenty years ago, reaching a record low in 2014 at 11.2 percent, according to a study from the Migration Policy Institute.
Together, this means that she's not quite an appropriate spokesperson for the millions of immigrants in the country, as a Vox survey found that just under 20 percent of Americans perceive a negative impact of European immigrants like her, compared to about double that for those from areas like Latin America (at 38 percent) or the Middle East (at 53 percent).
Melania Trump can claim to speak for the immigrant experience, but her own path to the American dream is about as unlikely as her husband's political rise.
Photo: Republican U.S. presidential candidate businessman Donald Trump waits to come into the spin room with his wife Melania after the Republican U.S. presidential candidates debate sponsored by ABC News at Saint Anselm College in Manchester, New Hampshire February 6, 2016.     REUTERS/Rick Wilking