Menendez Joins Debate On Iran, Cuba From Newly Weakened Position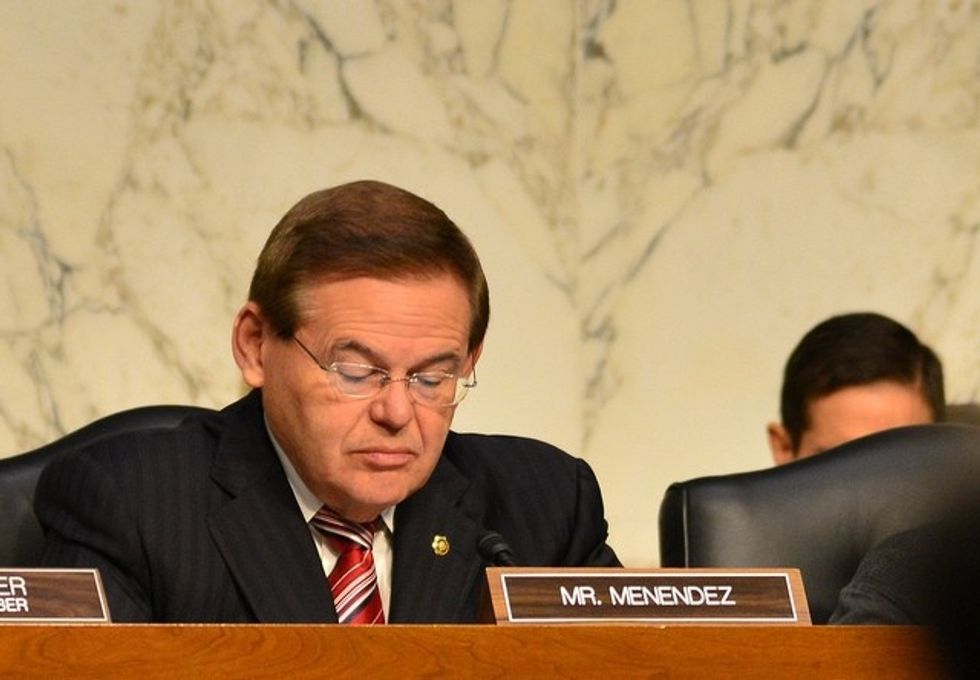 By Jonathan Tamari, The Philadelphia Inquirer (TNS)
WASHINGTON — Tuesday was seemingly made for Sen. Robert Menendez.
Two of the top priorities of his congressional career — U.S. relations with Iran and Cuba — were pushed to the forefront, each reaching a critical decision point.
But after years of leading on both fronts, Menendez, D-N.J., joined the debate Tuesday from a newly weakened position, having given up his seat as the top Democrat on the Foreign Relations Committee as he faces federal corruption charges.
"He's still there, but his wings are clipped," said Peter Feaver, who served in national security posts in the Clinton and George W. Bush administrations.
Menendez has been one of Congress' most influential hawks on Iran and Cuba, bucking the Obama administration on both as he rose to the top of the committee.
"This would have been Menendez's moment," Feaver said. "Those two issues have never before been as prominent at the same time … with the opportunity for policy decisions that would have tremendous consequences and set the agenda for a decade or more to come."
Ironically, key moves involving both countries arrived Tuesday during Menendez's first Foreign Relations hearing since returning to rank-and-file status.
On Iran, the committee voted unanimously to advance a bill with his name on it that would give Congress oversight on any final deal between the United States, international powers, and Iran over Tehran's nuclear program.
While Menendez drafted the measure with the chairman, Sen. Bob Corker, R-Tenn., the final version was negotiated by Corker and Sen. Benjamin Cardin, D-Md., Menendez's replacement.
As the committee voted on that compromise, the Obama administration announced plans to remove Cuba from the list of state sponsors of terrorism, a move Menendez has ferociously opposed.
Menendez still had a say in each debate — and was lavishly praised by his colleagues for his work — but he no longer has the formal clout that comes with a ranking post.
Before, "he had arguably one of the most important Democratic perches outside of the executive branch" on foreign policy, said Feaver, who teaches at Duke University.
Now that perch belongs to Cardin, who is more closely aligned with the White House on Iran and Cuba.
When the committee filed into the room for its meeting, it was Cardin, not Menendez, who sat immediately to Corker's left. Then came Sen. Barbara Boxer, D-Calif., and then Menendez.
The seemingly minor shift visualized the change in a chamber steeped in hierarchy and protocol.
Menendez gave up his post as top Democrat after being charged with accepting lavish gifts in exchange for using his influence to help a campaign donor.
He has said he followed the law and has vowed to be vindicated, but temporarily stepped down so as not to cause a distraction for his party, spokeswoman Patricia Enright wrote in an email.
Menendez, his aides, and other senators said he remains influential.
"I'm playing just about every role I would (have), for all intents and purposes," Menendez said as reporters mobbed him to ask his take on the Iran bill's final compromise.
Menendez spoke with both Corker and Cardin as the compromise was made, Enright said, making his input known. And the staff Menendez hired remains on the committee under Cardin, leaving his team with hands-on influence.
Menendez praised the bill that cleared the committee, and had enough fight to jab, "I've got to believe that the administration, if they were smart, would embrace this bill."
Corker, Cardin and others went out of their way to praise Menendez.
Corker opened Tuesday's meeting by saying, "I can't imagine a member being more constructive," and adding that Menendez's leadership helped make significant legislation possible. (He chaired the Foreign Relations Committee until Republicans took control early this year.)
Cardin said that Menendez deserves "strong thanks" and that he "did not want to become the ranking member under these circumstances."
He added, "I hope that Senator Menendez's issues will be resolved very quickly."
Menendez praised Cardin as a replacement.
Later, the son of Cuban immigrants blasted Obama's decision to remove Cuba from the list of sponsors of terrorism, saying it "sends the wrong message."
Cardin, though, called it "an important step" toward "a more constructive relationship with Cuba."
Earlier, there was a more subtle sign of the shift in standing.
Asked if he would support the compromise Iran bill, Menendez said, "I have to see the final version, but if it's as it was explained to me by Senator Cardin, the answer is yes."
A few weeks ago, the Democrat working out the final version and explaining it to colleagues would have been Menendez.
(c)2015 The Philadelphia Inquirer, Distributed by Tribune Content Agency, LLC
Photo: www.glynnlowe.com via Flickr