Merkel Fumes At U.S. Diplomat's Curse Of EU
@AFP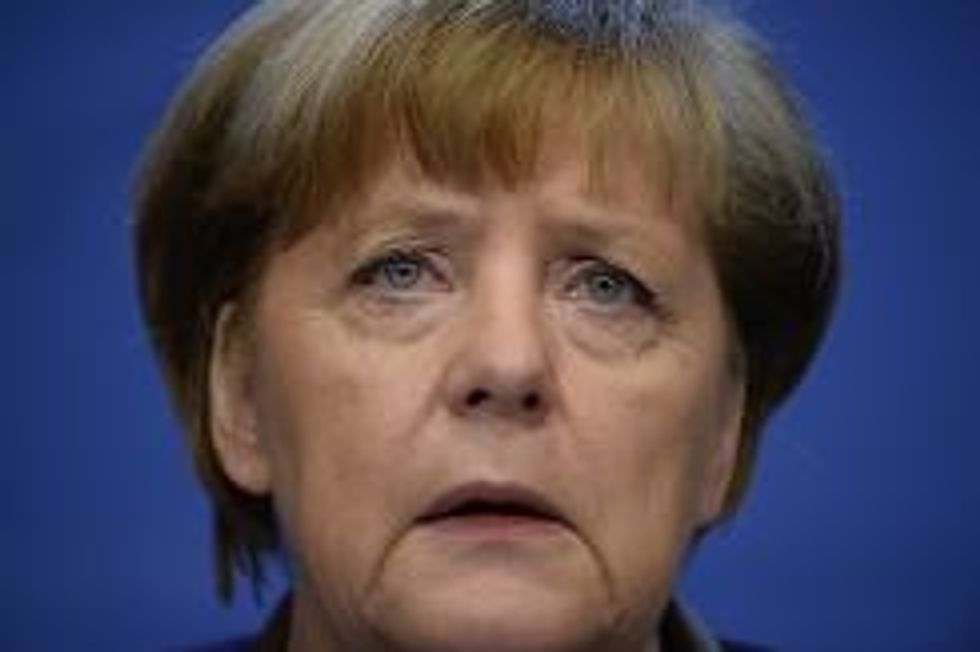 Kiev (AFP) – German Chancellor Angela Merkel expressed outrage on Friday over a leaked phone conversation in which a top U.S. diplomat used the f-word regarding the European Union's handling of the crisis in Ukraine.
The candid remark by the U.S. State Department's most senior European official threatened to drive a dangerous divide between the allies in the midst of one their most high-stakes diplomatic tussles with Moscow since the Cold War.
The embarrassing row came as Ukraine's President Viktor Yanukovych was due to hold crisis talks with his Russian counterpart and ally Vladimir Putin on the sidelines of the opening ceremony of the Winter Olympic Games in Sochi.
Washington and Brussels have engaged in a diplomatic standoff with Kiev and Moscow over deadly mass protests that erupted in Ukraine in November when Yanukovych rejected a pact with the EU in favour of closer ties with old Soviet master Russia.
But the leaked phone call hinted strongly at Washington's mounting frustration with the Europeans' handling of Ukraine's worst political crisis since its independence in 1991.
In the recording, U.S. Assistant Secretary of State Victoria Nuland and U.S. ambassador to Kiev, Geoff Pyatt, discuss frankly which opposition figures should go into the new Ukrainian government.
"That would be great I think to help glue this thing and have the U.N. glue it and you know, fuck the EU," Nuland says.
Nuland herself did not dispute the authenticity of the call while refusing further comment.
"I will not comment on a private diplomatic conversation," Nuland told reporters in Kiev on Friday.
"It was pretty impressive tradecraft," she added in what appeared to be indirect confirmation of the authenticity of the tape. "Audio quality was very good."
'Absolutely unacceptable' remark
An angry U.S. State Department pointed the finger at Russia for allegedly bugging the diplomats' phones.
"Certainly we think this is a new low in Russian tradecraft," U.S. State Department spokeswoman Jen Psaki said.
But the irritation in Europe focused squarely on Washington rather than the Kremlin — a worrying signal for the U.S. administration amid continuing fallout over its controversial phone and Internet surveillance work.
"The chancellor considers this statement absolutely unacceptable … and wants to emphasise again that (EU foreign policy chief Catherine) Ashton is doing an outstanding job," a spokeswoman for Merkel said on Friday, referring to the video.
"The European Union will continue with its intensive efforts to calm the situation in Ukraine."
A spokeswoman for Ukraine's boxer turned opposition leader Vitali Klitschko — whom Nuland appears to suggest would be ill-suited for a senior role in the new government — told AFP that "it does not make sense to comment on conversations whose authenticity has not been confirmed by anyone."

Russia also had no official reaction to the call while the aide who posted it said that he was browsing the Internet when he saw it on his "friend's feed in a social network."
The leak came as tensions between Washington and the Kremlin flared still further when Putin's economic adviser Sergei Glazyev accused the United States of funding the protesters and even supplying them with ammunition.
"According to our information, American sources spend $20 million a week on financing the opposition and rebels, including on weapons," said the Kremlin's hawkish pointman on Ukraine.
Nuland on Friday dismissed Glazyev's charges as "consummate fantasy".
Ukraine imposes currency controls
Yanukovych was expected to discuss with Putin the fate of a $15-billion Russian bailout package whose delivery has been effectively frozen pending his decision on a new government.
The embattled Ukrainian leader flew to Sochi shortly after naming his close ally Sergiy Arbuzov as acting prime minister and is likely to try to convince Moscow that the government is still committed to the terms of the bailout.
The political crisis has seen Ukraine's borrowing costs spike and the currency lose nearly 10 percent of its value amid a rush by frightened consumers to cut their losses by stocking up on dollars and euros.
Several banks have reported dollar shortages and the central bank on Friday was forced to impose temporary currency restrictions while moving the currency's official exchange rate to 8.7 from 7.9 hryvnias — its first shift of the peg since July 2012.
The central bank's new control measures include a $5,500 monthly limit on the amount of foreign currency that can be obtained by individuals.
Companies can buy unrestricted amounts of dollars and euros but have to wait at least six days to receive the foreign currency.
"The decision by Ukraine's central bank to impose targeted capital controls should bring some short-term relief to the hryvnia, but it is unlikely to prevent further falls in the currency over the coming months," Neil Shearing of the Capital Economics consultancy wrote in a research note.
AFP Photo/Lionel Bonaventure