Mexico President Cancels Trump Summit As Wall Taunt Deepens Spat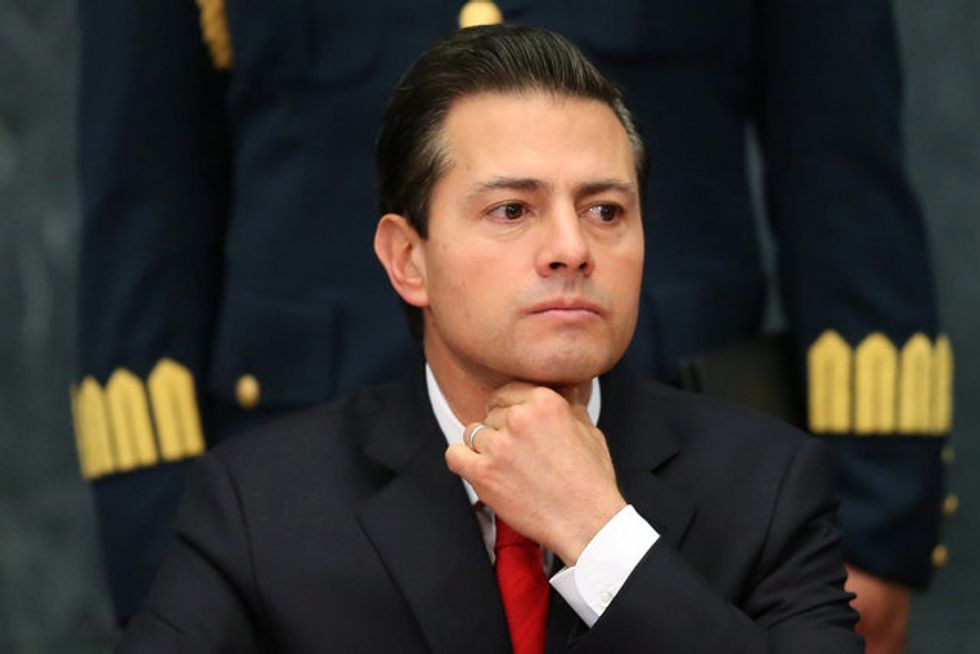 MEXICO CITY/PHILADELPHIA (Reuters) – Mexico's president on Thursday scrapped a planned summit with Donald Trump in the face of insistent tweets from the U.S. president demanding Mexico pay for a border wall, a deepening spat that threatens Mexican efforts to salvage trade ties.
However, the White House left open the door for a possible rapprochement. White House spokesman Sean Spicer said the United States was keeping open lines of communication with Mexico and looking to reschedule the meeting.
Taking a page out of Trump's playbook, President Enrique Pena Nieto fired the salvo on Twitter, after Trump's call for Mexico to foot the bill for his planned wall prompted a groundswell of calls in Mexico for next week's meeting to be called off.
Trump said in a Twitter message earlier on Thursday that his Mexican counterpart should cancel his scheduled visit to Washington if Mexico refuses to pay for the wall that he has ordered constructed along the border. Trump views the wall, a major promise during his election campaign, as part of a package of measures to curb illegal immigration.
Mexico has long insisted it will not pay for the planned wall.
"We have informed the White House that I will not attend the working meeting planned for next Tuesday with @POTUS," Pena Nieto tweeted. "Mexico reiterates its willingness to work with the United States to reach agreements that favor both nations."
Trump, who took office last Friday, signed an executive order for construction of the wall on Wednesday, the same day that Mexico's foreign minister held talks with Trump aides in the White House aimed at healing ties.
Relations have been frayed since Trump launched his campaign in 2015, characterizing Mexican migrants as murderers and rapists, and pledging to build a wall that he said Mexico would pay for.
Trade ties are in the balance after Trump vowed to renegotiate the North American Free Trade Agreement and slap high tariffs on American companies that have moved jobs south of the border.
Mexico's peso, which has fallen sharply against the U.S. dollar in the face of Trump's stances on trade and immigration, extended losses to 1 percent after Pena Nieto fired off his tweet.
"The U.S. has a 60 billion dollar trade deficit with Mexico. It has been a one-sided deal from the beginning of NAFTA with massive numbers… of jobs and companies lost. If Mexico is unwilling to pay for the badly needed wall, then it would be better to cancel the upcoming meeting," Trump said in his Twitter message.
WALL FUNDING
Leaders of the Republican-controlled U.S. Congress said on Thursday they planned to move ahead on funding the border wall, which they projected would cost between $12 billion and $15 billion. Trump said in an interview with ABC News on Wednesday evening that Mexico would eventually reimburse the United States for the wall.
"So we intend to address the wall issue ourselves and the president can deal with his relations with other countries," Senate Majority Leader Mitch McConnell said at a news conference in Philadelphia, where Republicans were holding a retreat.
Trump signed the executive orders, including one authorizing the planned wall, on Wednesday just as a Mexican delegation led by Foreign Minister Luis Videgaray arrived at the White House.
The timing caused outrage in Mexico, with prominent politicians and many on social media seeing at as a deliberate snub to the government's efforts to engage with Trump, who has for months used Mexico as a political punching bag.
House of Representatives Speaker Paul Ryan, asked if lawmakers were worried about the U.S. relationship with Mexico, said, "I think we'll be fine."
Trump ruffled feathers with Mexico from the start of the presidential campaign that led to his election victory on Nov. 8.
Former foreign minister Jorge Castaneda said the Mexican government should have canceled the planned summit earlier in the week, when it became clear that Trump was going to go ahead with measures to build the wall and clamp down on immigration.
"There is an atmosphere of crisis in the United States and it is going to last a long time. We are going to have to get used to living like this," he said on Mexican radio.
(Reporting by Steve Holland in Philadelphia, Roberta Rampton, Doina Chiacu and Susan Heavey in Washington, Anahi Rama and Dave Graham in Mexico City; Editing by Simon Gardner and Frances Kerry)
IMAGE: Mexico's President Enrique Pena Nieto gestures as he delivers a message about foreign affairs at Los Pinos presidential residence in Mexico City, Mexico, January 23, 2017. REUTERS/Edgard Garrido