MH370 Relatives Rage As Malaysia Probes 'Deleted' Data
@AFP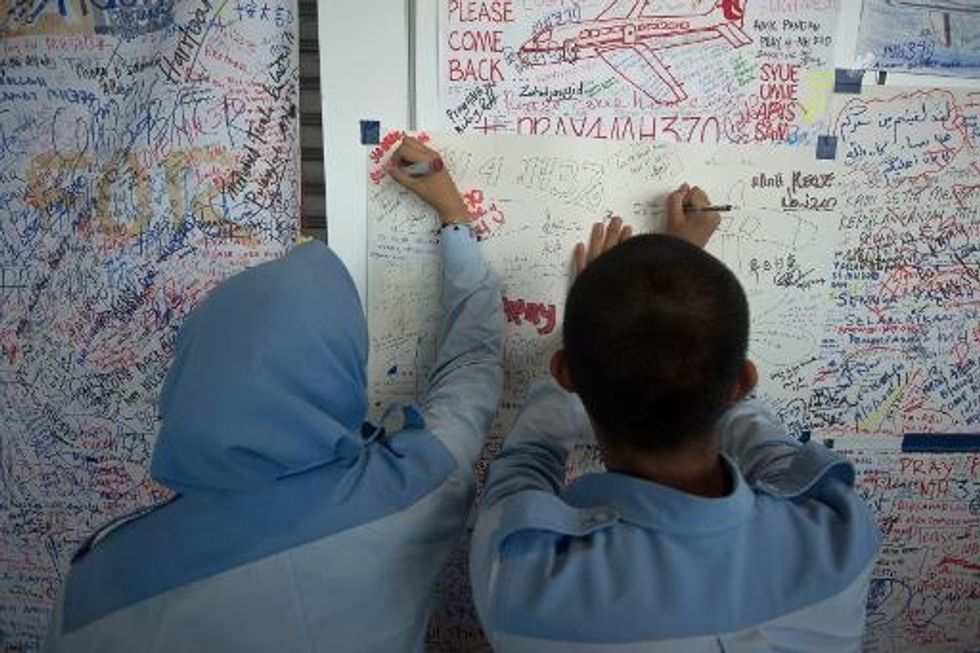 Kuala Lumpur (AFP) – Angry Chinese relatives tried to gatecrash Malaysia's tightly controlled daily media briefing on the missing plane Wednesday in chaotic scenes underlining the frustrations surrounding the 12-day search.
Shouting and crying, a handful of relatives of passengers aboard Malaysia Airlines flight 370 unfurled a protest banner, reading: "Give us back our families." They accused Malaysian authorities of withholding information and doing too little to find the plane.
The dramatic protest unfolded just before Malaysian officials arrived for the briefing, in which they announced no progress in determining what befell the plane.
"They give different messages every day. Where's the flight now? We can't stand it anymore!" one woman wailed as reporters mobbed her and other relatives.
Shortly afterwards, Malaysia staged a shorter-than-usual press conference during which officials indicated the investigation was zooming in closer on the pilot.
Authorities said investigators had discovered that data had been deleted from the home flight simulator of Captain Zaharie Ahmad Shah about one month before the plane vanished early on March 8. But they cautioned against a rush to judgement.
"Some data had been deleted from the simulator, and forensic work to retrieve this data is ongoing," said Transport Minister Hishammuddin Hussein.
Officials gave no details on the simulator data.
Zaharie, a 33-year veteran of the airline, was highly regarded by his peers. But suspicion has clouded him since investigators concluded that the plane's communication systems were manually disabled and the Boeing 777 was deliberately diverted by a skilled aviator.
Hishammuddin said Malaysia's own investigations, and background checks received from other countries, had so far raised no indications that any of the plane's 227 passengers might have been responsible.
"So far, no information of significance on any passengers has been found," he said.
The aircraft also carried 12 crew.
The international quest to find the jet came up empty again, 12 days after it mysteriously vanished, with the Malaysian government acknowledging red tape was slowing a massive search.
Relatives of passengers have become increasingly agitated at the failure of the airline and Malaysian government to explain what happened, especially the families of the 153 Chinese nationals aboard.
Security had to intervene to stop the uproar at the press venue in a hotel near Kuala Lumpur International Airport. Family members were bundled out of the room, with two of them physically carried out, still protesting and shouting.
"I fully understand what they're going through. Emotions are high," Hishammuddin said.
But he had no progress to report from an international search across a huge arc of land and sea the size of Australia.
Indonesia acknowledged earlier on Wednesday it had only just provided clearance for surveillance aircraft from Australia, Japan, the United Arab Emirates and Malaysia to overfly its territory, while saying its own vessels were awaiting instructions from Kuala Lumpur.
India's navy has suspended its search in the Andaman Sea for several days, citing a lack of instructions.
Hishammuddin confirmed that some search resources were "awaiting diplomatic clearance to begin operations."
"Once we receive formal clearance, we can then speed up the deployment of assets along the search corridors," he said.
The clock is ticking down on the 30 days during which the aircraft black box will transmit a signal.
In a further sign of miscommunication, the Thai air force revealed Wednesday that its military radar had picked up what appeared to be Flight MH370 just minutes after it was mysteriously diverted.
It went unreported by the Thai military for nine days and only emerged following a check of radar logs on Monday.
Air Marshal Monthon Suchookornat said the same plane was picked up again later swinging north and disappearing over the Andaman Sea, but Thailand saw no need to notify Malaysia.
Malaysia has been criticized for not responding quickly to radar indications that the plane veered north and west, losing valuable time in tracking it.
Malaysia has sought help including radar and satellite analysis, and surveillance vessels and aircraft, from 26 countries.
The two huge search corridors — based on satellite data that detected the plane more than seven hours after it took off — include one running south in an arc across the Indian Ocean, and another stretching from northern Thailand into South and Central Asia.
But many of the countries involved are not used to such close cooperation — especially when it comes to sharing possibly sensitive data.
Paul Yap, an aviation lecturer at Temasek Polytechnic in Singapore, said Malaysia faced a giant challenge coordinating the search and getting partners to share sensitive data that could divulge a country's radar capabilities.
"I wouldn't like to be in Malaysia's shoes," Yap said.
AFP Photo/Mohd Rasfan