Pardoned Traitor Mike Flynn Urges West To Abandon Ukraine
@CynicalBrandon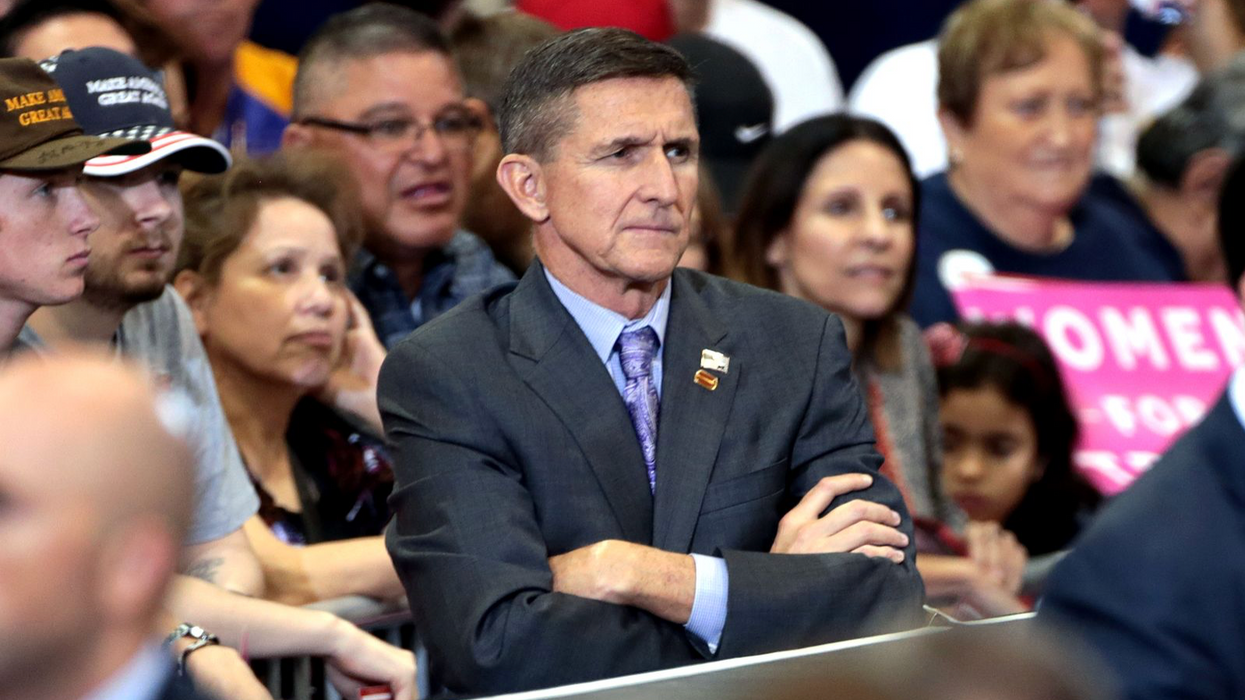 Ex-National Security Adviser and retired Army Lieutenant General Michael Flynn said on Wednesday that the United States, the North Atlantic Treaty Organization, and the European Union should cease supplying Ukraine with military aid to fend off invading Russian forces.
Flynn, whose deep ties to Russian President Vladimir Putin and the Kremlin ultimately sank his career, appeared on the right-wing propaganda show The Absolute Truth with Emerald Robinson and said that arming Ukraine accomplishes nothing except prolonging the conflict that Putin initiated just shy of two months ago.
"If you listen to Western media, it sounds like Ukraine is holding off Russia. But if you listen to not Western media, it sounds like Russia has the upper hand. So which is it?" Robinson asked Flynn.
"Yeah so first of all let me give you my judgment on sorta where we are right now. I think that anybody that continues to put, ya know, fuel on a blazing fire – meaning more weapons, more ammunition, more of the sorta warfare type stuff that's thrown into this fire – is going to keep this fire blazing for a long, long time," Flynn replied, adding that "I think that doesn't benefit anybody."
Watch below via Ron Filipkowski:
Context is critical: Flynn has been a Russian asset for a long time.
Recall that after former President Donald Trump won the 2016 election, outgoing President Barack Obama warned him not to include Flynn in his administration because of Flynn's entanglements with Russia. But Trump hired Flynn to be his national security adviser anyway. Flynn's historically brief stint in Trump's White House ended abruptly when he was fired for lying to then-Vice President Mike Pence about his relationships with Moscow during the 2016 presidential race.
In 2017, Flynn was subsequently charged with and pleaded guilty to lying to the Federal Bureau of Investigation about his secret communications with the Russians and undeclared lobbying work for Turkey when he was questioned in then-Special Counsel Robert Mueller's investigation into the Trump campaign's "synergy" with the Kremlin. Flynn eventually retracted his plea and changed his story, triggering a protracted legal battle.

In February of 2020, the Department of Justice recommended that Flynn serve six months in prison. Trump went on to pardon Flynn on November 25th, 2020 following his reelection loss to President Joe Biden three weeks earlier. That action granted Flynn an opportunity to join Trump's forthcoming efforts to overturn the results of the election, which culminated in the Capitol insurrection on January 6th, 2021.
Since then, Flynn has championed the rubbish put out by Putin and has openly called for armed rebellion against the federal government. He has also been an integral part of the right-wing's seditious efforts to dismantle American democracy.
Thus, Flynn is not urging peace. Rather, he is demanding that the West allow Russia to take over Ukraine unchallenged.
Twitter users noted that abandoning Ukraine would benefit someone – Putin.
And now a word from Flynn's sponsor:
Published with permission from Alternet.