Michelle Obama Arrives In China For 'Soft Power' Visit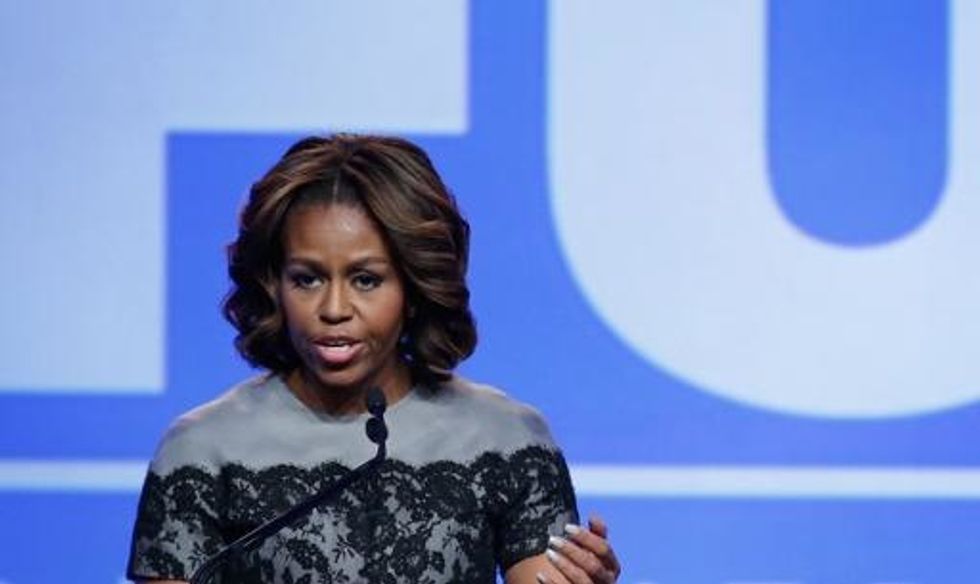 By Stuart Leavenworth, McClatchy Foreign Staff
BEIJING — Landing on an unusually blue-sky Beijing afternoon, Michelle Obama launched a six-day trip to China Thursday, aimed at smoothing Sino-U.S. relations with a carefully orchestrated exercise in soft diplomacy.
Obama, joined by her mother, Marian Robinson, and two daughters, Malia and Sasha, was greeted on the tarmac at Beijing Capital International Airport by Chinese officials and newly installed Ambassador to China Max Baucus and his wife, Melodee Hanes. Also on hand were three busloads of mostly Chinese media, some of whom were there to scrutinize the Obamas' fashion choices, having done so during the past week.
The White House signaled many days ago that this will not be a political trip. No discussion of China's tensions with Japan. No lectures on China's human rights record. The goal is to elevate Michelle Obama's international education agenda and see some of China's great sights, while also developing a relationship with her counterpart, Peng Liyuan, spouse of Chinese President Xi Jinping who shares Obama's interests in education and public health.
Numerous commentators have criticized Obama for not using her international celebrity status to advance a more ambitious agenda. But some say that, in a time of tension, stronger personal connections between the first families could go a long way toward a more productive dialogue between the United States and China.
"It seems like a no-brainer that this kind of one-on-one could produce some positive diplomatic results," Damien Ma, a fellow at the Paulson Institute in Chicago, said in an email exchange with McClatchy.
Ma noted that a meeting between Michelle Obama and Peng has been talked about for some time, partly because Obama was unable to join her husband at the Sunnylands Summit last June, which Xi and Peng attended.
In the United States, Beijing's use of "soft power" is getting increased scrutiny as China pumps money into U.S. universities, including the establishment of dozens of Confucius institutes. Such institutes feature arts and language programs aimed at projecting a benevolent image of Asia's rising superpower.
The United States has its own instruments of "soft power," and the Obama family is a big part of that toolbox. Over the next six days, China's television audience — the largest in the world — will be inundated with images of an attractive multi-generational U.S. family, the feminine influence on the first African American to be elected president. The optics can't help but advance the U.S. image in China, even if the Obama doesn't make speeches about the virtues of democracy.

Marian Robinson's attendance will also surely resonate in a China, where grandmothers play an essential role in child rearing and other family priorities.
During her first day in Beijing on Friday, the Obama and her family will be hosted by Peng, a famous singer in China and a celebrity and a behind-the-scenes political force in her own right. They will visit Beijing Normal School, which prepares Chinese students for study abroad, and also tour the Forbidden City and attend a ceremonial dinner and evening performance.
In the days to follow, the Obamas will visit part of the Great Wall near Beijng, the Terracotta Warriors in Xian and the Chengdu Panda Base, home to about 50 pandas under study. Mixed in will be education roundtables and school visits with students, which will be blogged and broadcast through a White House collaboration with PBS LearningMedia and Discovery Education.
On her opening blog post, Obama said she hopes to hear about the challenges, hopes and dreams of the Chinese learners she meets. "I'll be talking with students about their lives in China and telling them about America and the values and traditions we hold dear," she wrote.
Obama's approach to overseas trips — she's described it as "do no harm" — has been compared to that of Barbara Bush, who avoided overtly political statements, unlike the presidential spouses who succeeded her.
Laura Bush once criticized China for its support of the previous military junta in Myanmar. Hillary Clinton, at a 1995 United Nations conference in Beijing, spoke about mistreatment of women in a set of strong comments that didn't directly name China, but were clearly aimed at it.
In a briefing with reporters early this week, White House officials acknowledged the importance and sensitivity of relations with China on human rights and other issues. But they said such concerns were best expressed by President Barack Obama, rather than his spouse. One of those opportunities will come next week, when Obama and China's top leaders are scheduled to see each other at the Nuclear Security Summit in The Hague.
AFP Photo/Alex Wong