Michelle Obama Book Slamming Trump Is Instant Bestseller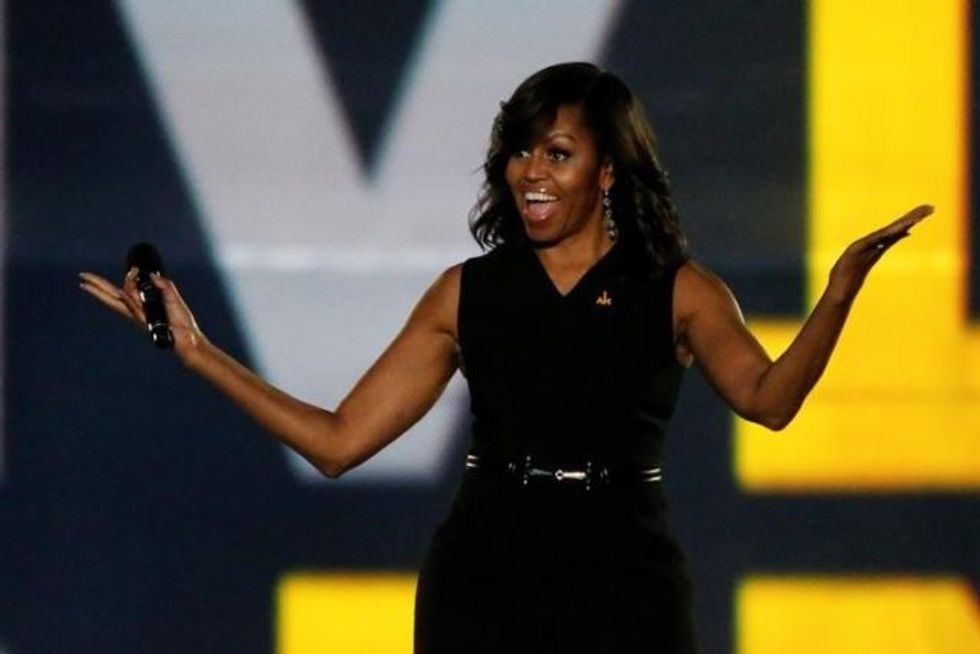 Reprinted with permission from Shareblue.
Michelle Obama's recently released memoir, Becoming, is the bestselling book in America in its first week of release.
Following the midterm election where voters repudiated Republicans and their serial enabling of the Trump presidency, the success of Obama's book is another black eye for the right.
The L.A. Times reports that in its first day on sale, the former first lady's book is "already a bestseller."
Barnes & Noble said it is the most preordered book since Harper Lee's Go Set a Watchman was released in 2015. The book is also the top seller on Amazon.com, the world's largest bookseller, and was Oprah Winfrey's pick for her book club.
Notably, the former first lady's book discusses and slams Trump's promotion and support of the racist and fraudulent "birther" conspiracy movement against her husband. Trump claimed for years that President Barack Obama was not a natural-born U.S. citizen and was thus ineligible for the presidency.
"The whole [birther] thing was crazy and mean-spirited, of course, its underlying bigotry and xenophobia hardly concealed," Obama writes in her book. "But it was also dangerous, deliberately meant to stir up the wingnuts and kooks."
Even after President Obama released his birth certificate showing he was born in Hawaii, Trump continued to spread his ugly racist conspiracy theory.
"Donald Trump, with his loud and reckless innuendos, was putting my family's safety at risk," the former first lady writes. "And for this I'd never forgive him."
She has been consistent in calling out his vulgarity for years.
In 2016, after the audio recording of Trump bragging about sexually assaulting women was released, Obama forcefully condemned him.
"This is disgraceful. It is intolerable. Doesn't matter what party you belong to. No woman deserves to be treated this way. No one deserves this kind of abuse," Obama said. "I know it's a campaign, but this isn't about politics. It's about basic human decency. It's about right and wrong."
Millions of Americans heard her then and agreed with her stance against abuse and misogyny. Her ongoing popularity, now seen in book sales and beyond, shows that her message still resonates.
Trump does not have the floor to himself, and the voice of Michelle Obama and millions of Americans reminds him of that fact every day.
Published with permission of The American Independent.