Michelle Obama Scorches Trump In Historic Convention Speech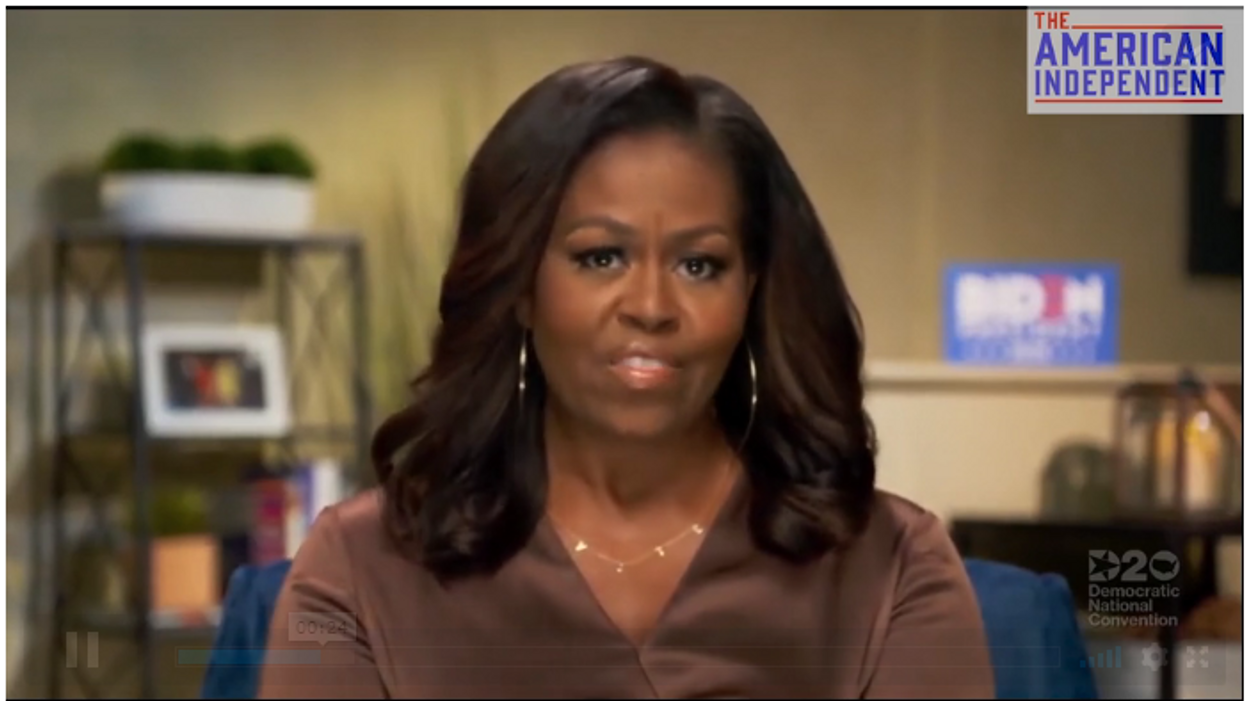 Screenshot from Democratic National Convention/ American Independent
During her Monday night keynote address at the Democratic National Convention, Michelle Obama discussed the moral lessons children are learning from Donald Trump's time in power, noting that he is not up to the task to be president.
Obama criticized Trump for praising white supremacists, putting young immigrant children in cages, and leading without empathy.
---
Like so many of you, Barack and I have tried our best to instill in our girls a strong moral foundation to carry forward the values that our parents and grandparents poured into us. But right now, kids in this country are seeing what happens when we stop requiring empathy of one another. They're looking around wondering if we've been lying to them this whole time about who we are and what we truly value.
They see people shouting in grocery stores, unwilling to wear a mask to keep us all safe. They see people calling the police on folks minding their own business just because of the color of their skin. They see an entitlement that says only certain people belong here, that greed is good, and winning is everything because as long as you come out on top, it doesn't matter what happens to everyone else. And they see what happens when that lack of empathy is ginned up into outright disdain.
They see our leaders labeling fellow citizens enemies of the state while emboldening torch-bearing white supremacists. They watch in horror as children are torn from their families and thrown into cages, and pepper spray and rubber bullets are used on peaceful protestors for a photo-op.
Sadly, this is the America that is on display for the next generation. A nation that's underperforming not simply on matters of policy but on matters of character. And that's not just disappointing; it's downright infuriating, because I know the goodness and the grace that is out there in households and neighborhoods all across this nation.
And I know that regardless of our race, age, religion, or politics, when we close out the noise and the fear and truly open our hearts, we know that what's going on in this country is just not right.
This is not who we want to be.


08-17-2020-michelle-obama-democratic-convention from Shareblue Media on Vimeo
Published with permission of The American Independent Foundation.