Midterm Poll Roundup: Is Crist In Trouble?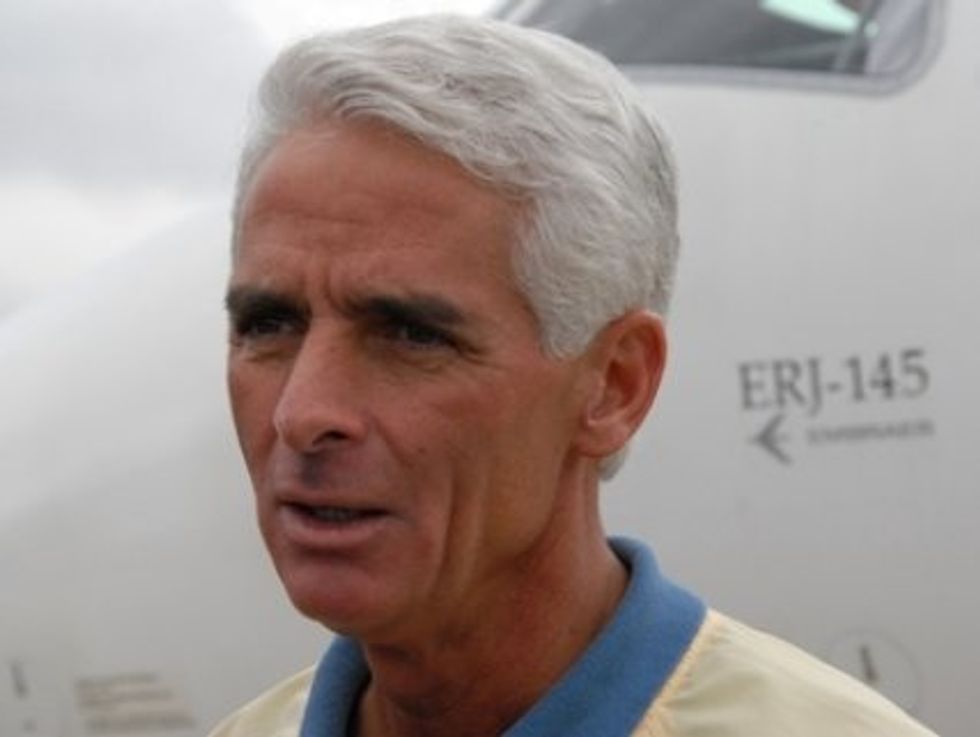 As the 2014 midterm elections draw closer, an avalanche of polling data will emerge on the key races that will decide who controls the House of Representatives, the Senate, and statehouses across the country. What follows is a brief summary of some key polls from the week of April 20:
Florida
Florida's gubernatorial race remains one of the closest in the nation, according to a Mason-Dixon poll released this week.
The poll finds incumbent governor Rick Scott (R) and former governor Charlie Crist (D) deadlocked at 42 percent; 4 percent support Libertarian Adrian Wyllie, and 12 percent are undecided.
Crist has some key underlying advantages; he leads Scott among Hispanic voters by 8 percent, and among women voters by 10 percent. Still, Scott's strong numbers among men, seniors, and Republicans have him running even with the likely Democratic nominee — which has Crist advisor Steve Schale calling foul.
"I don't believe that there's a poll that could show Charlie Crist winning women by 10 points and winning Hispanics and winning the Tampa media market that has the race dead even. I just don't believe that's possible," Schale told the Tampa Bay Times. "All due respect to Mr. Coker [the pollster], he also suggested Mitt Romney was going to win Florida by seven points."
Despite Schale's skepticism, however, the Mason-Dixon poll is not much of an outlier. According to TheHuffington Post'spolling average, Crist leads Scott by 4 percent — just outside the Mason-Dixon poll's +/- 3.8 percent margin of error.
Inaccurate polls may soon be the least of Crist's concerns, however. On Thursday, Senator Bill Nelson (D-FL) told a group of business leaders that he is "tempted" to jump into the race. Were Nelson to run, he would immediately become the favorite to defeat Crist, who was a Republican until 2010, in a Democratic primary.
Colorado
A Quinnipiac Poll released Thursday is the latest in a string of surveys to find that Colorado's Senate race is too close to call.
The poll finds incumbent senator Mark Udall (D) leading U.S. Rep. Cory Gardner (R), 45 to 44 percent — well within the +/- 2.7 percent margin of error; 8 percent are undecided.
Voters have a relatively positive opinion of Udall — 43 percent view him favorably, while 38 percent view him unfavorably — but they rate him negatively on the key issues in the race. When asked which is the most important issue affecting their voting decision, 15 percent said jobs and the economy, and 14 percent said health care (no other issue registered higher than 5 percent).
Gardner is leading Udall among economy-focused voters, 53 to 40 percent. He holds an even greater 57 to 36 percent lead among voters who are focused on health care.
The campaign is likely to remain close throughout the summer; almost every poll of the race has found it to be a virtual tie.
North Carolina
Tar Heel State Republicans could dodge a Tea Party bullet, according to a SurveyUSA/Civitas poll released Thursday. The survey found state House Speaker Thom Tillis with a 19 percent lead over Dr. Greg Brannon in the Republican primary for U.S. Senate—39 percent of Republican primary voters back Tillis, while 20 percent support Brannon, and 15 percent favor pastor Mark Harris.
Tillis' 39 percent leaves him right on the cusp of winning the May 6 primary outright; if no candidate garners 40 percent of the vote, however, the top two finishers will face off in a July 15 primary.
Incumbent Democrat Kay Hagan is clearly hoping for such a scenario. Her campaign has been running ads suggesting that Tillis is not a true opponent of Obamacare, in an attempt to push conservative voters away from Tillis — and towards the erratic, gaffe-prone Brannon.
Kansas
Kansas may be one of the most conservative states in the nation, but its voters appear to be running out of patience with Republican governor Sam Brownback.
According to a Rasmussen poll released Monday, Brownback leads Democratic state Rep. Paul Davis by a 47 to 40 percent margin, with 6 percent supporting some other candidate and 7 percent undecided.
While that 7 percent lead falls far short of the 31 percent margin by which Brownback won in 2010, it actually represents an improvement from previous polls of the race. In February, Democratic-leaning Public Policy Polling found Davis leading Brownback by 2 percent.
Although Rasmussen, a Republican pollster, shows Brownback holding a slight lead, Kansas Republicans are clearly preparing for the possibility that he could lose in November. This week, Governor Brownback signed a law stipulating that any Medicaid expansion must be explicitly approved by the reliably Republican state legislature — meaning that Kansas will not take part in that key aspect of the Affordable Care Act, even if a Democrat becomes governor.
Photo via Wikimedia Commons