Midterm Roundup: An Attack Ad From Beyond The Grave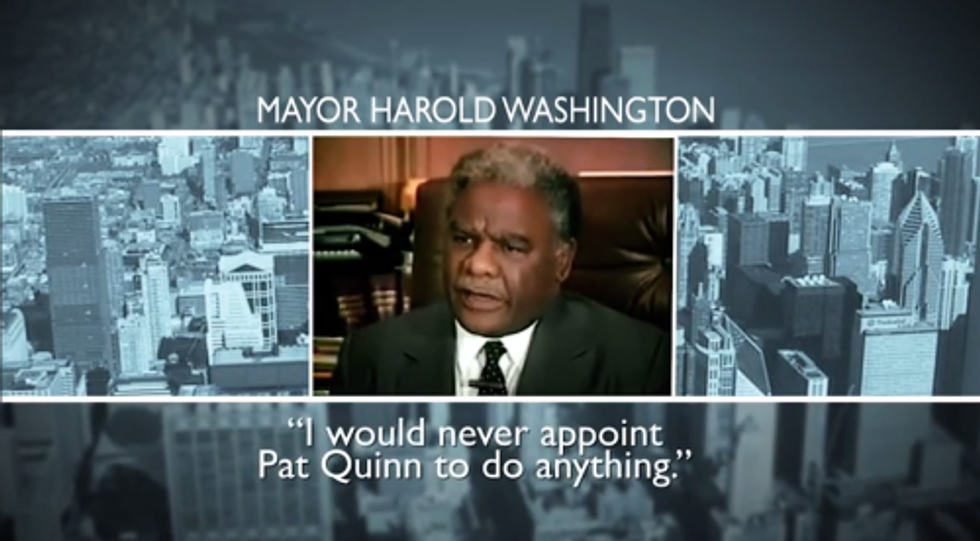 Here are some interesting stories on the midterm campaigns that you may have missed on Wednesday, September 24:
• Illinois governor Pat Quinn's campaign is calling foul on an ad from his Republican opponent Bruce Rauner. The ad uses archival footage of late Chicago mayor Harold Washington to attack Quinn, in a clear effort to turn black voters away from the embattled Democratic incumbent.
• A new USA Today/Suffolk University poll finds Democratic senator Mark Pryor leading Republican Rep. Tom Cotton in Arkansas' Senate race, 45 to 43 percent. Notably, the poll suggests that Obamacare is helping Pryor: 50 percent of voters who consider health care to be their top issue back the incumbent, while just 39 percent support Cotton. Other recent polls have shown Cotton gaining momentum, and he leads by 2.4 percent in the Real Clear Politics poll average.
• According to a new 11Alive poll, both of Georgia's marquee races are tightening. The poll, conducted by Survey USA, finds Republican Senate candidate David Perdue leading Democrat Michelle Nunn by just one point, 46 to 45 percent. In the gubernatorial race, Democrat Jason Carter leads incumbent Republican Nathan Deal, 45 to 44 percent. The poll average has Deal up by less than 1 percent and Perdue up 3.4 percent.
• Florida's gubernatorial race looks like a tossup. The latest poll, from Quinnipiac University, finds Republican incumbent Rick Scott leading Democratic challenger Charlie Crist, 44 to 42 percent; 8 percent support Libertarian Adrian Wyllie, and 17 percent say that they could still change their minds. The candidates are deadlocked at 42.6 percent in the poll average.
• And No Labels, the bipartisan political group that pledged "to move America from the old politics of point scoring toward a new politics of problem solving," still isn't getting much done. Its latest strategy? Endorsing both partisan candidates in Iowa's Senate race.
Screenshot: Bruce Rauner/YouTube
Want more political news and analysis? Sign up for our daily email newsletter!