Midterm Roundup: Democrats Jump Back Into Kentucky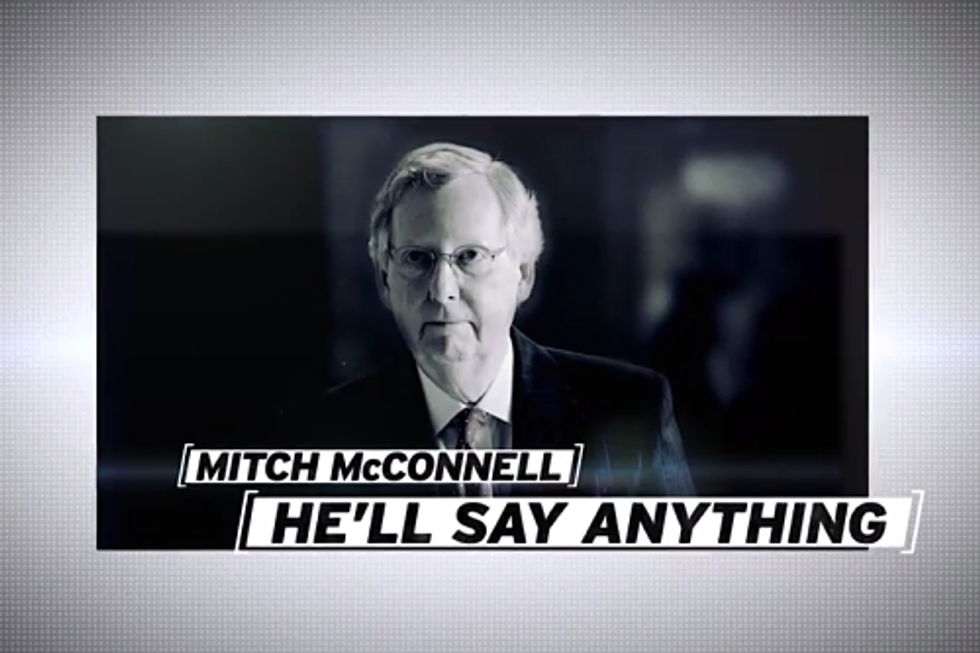 Here are some interesting stories on the midterm campaigns that you may have missed on Wednesday, October 22:
• One week after pulling its TV ad spending on Kentucky's Senate race, the Democratic Senatorial Campaign Committee is jumping back in. According to a Politicoreport, the group has been encouraged by recent polls showing Grimes attracting undecided voters, and has reserved $650,000 in airtime on her behalf. Senate Minority Leader Mitch McConnell still holds a 4.4 percent lead in Real Clear Politics' poll average.
• On Wednesday the Grimes campaign released a vicious TV ad of its own, ripping McConnell as a liar who will "say anything" to get re-elected.
• But when it comes to brutal attack ads, it's hard to beat this devastating 30-second spot from Michigan Democrat Bobby McKenzie. The ad accuses Republican candidate David Trott of being a "foreclosure king," and depicts a crying elderly woman being forcibly removed from her home. Trott is widely perceived as the favorite in Michigan's 11th district, which is presently represented by reindeer rancher/Santa impersonator/truther Kerry Bentivolio.
• Another poll has found Democrat Michelle Nunn leading Republican David Perdue in Georgia's Senate race. The WXIA-TV poll, conducted by Survey USA, finds Nunn ahead 46 to 44 percent, with 7 percent undecided. Perdue still leads the race by less than 1 percent in the poll average, but this is the third consecutive poll to show the race essentially deadlocked. It appears increasingly likely that neither candidate will crack 50 percent on Election Day, forcing a January 6 runoff.
• And a new Rasmussen poll finds Democrat Mary Burke leading Republican incumbent Scott Walker in Wisconsin's gubernatorial race, 49 to 48 percent. Burke now holds a razor-thin 0.6 percent lead in the poll average, and Walker reportedly feels more worried than ever that he could lose in his third election in four years.
Screenshot: Alison for Kentucky/YouTube
Want more political news and analysis? Sign up for our daily email newsletter!