Midterm Roundup: The Worst Attack Ad Of The Year?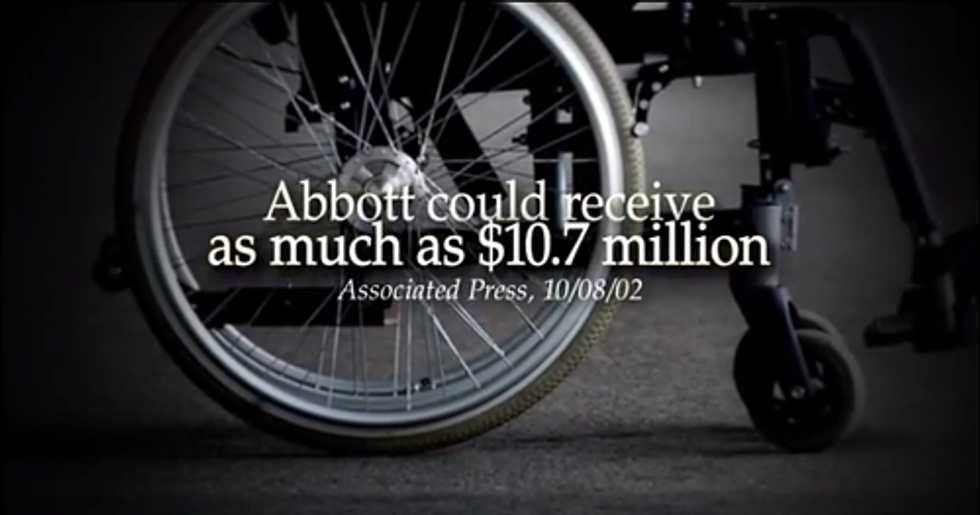 Here are some interesting stories on the midterm campaigns that you may have missed on Thursday, October 9:
• If Democrat Wendy Davis is going to lose Texas' gubernatorial election, she's going to lose ugly. On Friday, her campaign released a vicious ad invoking Republican nominee Greg Abbott's partial paralysis to attack him as a hypocrite, causing Abbott's campaign to angrily accuse Davis of reaching a "historic low." Abbott leads by 11.3 percent in the Real Clear Politics poll average.
• A new set of New York Times/CBS News/YouGov polls finds that Democrats are making gains in gubernatorial races across the country. Democratic candidates now lead the races in Pennsylvania, Michigan, and Maine — all of which currently have Republican governors — and are within striking distance in several other states, including Wisconsin.
• Iowa's Senate race remains one of the closest in the nation. A new Lukens Company poll finds Democrat Bruce Braley barely leading Republican Joni Ernst, 39 to 38 percent; 21 percent remain undecided, suggesting that the race could still tip either way. Ernst leads by 1.5 percent in the poll average.
• For the past week, New Hampshire's Senate race has been dominated by debate over Democratic senator Jeanne Shaheen's claim that her Republican opponent, Scott Brown, "co-sponsored legislation to let employers deny women coverage for birth control." Brown has vociferously denied the charge, leading PolitiFact to weigh in on the claim. Their verdict: True.
• And how can you tell that Independent candidate Larry Pressler is a legitimate force in South Dakota's unpredictable Senate race? Both Democrats and Republicans are suddenly lashing out at his longshot campaign.
Screenshot: YouTube
Want more political news and analysis? Sign up for our daily email newsletter!