Mileage Representative Aaron Schock Billed For Personal SUV Adds To Legal Woes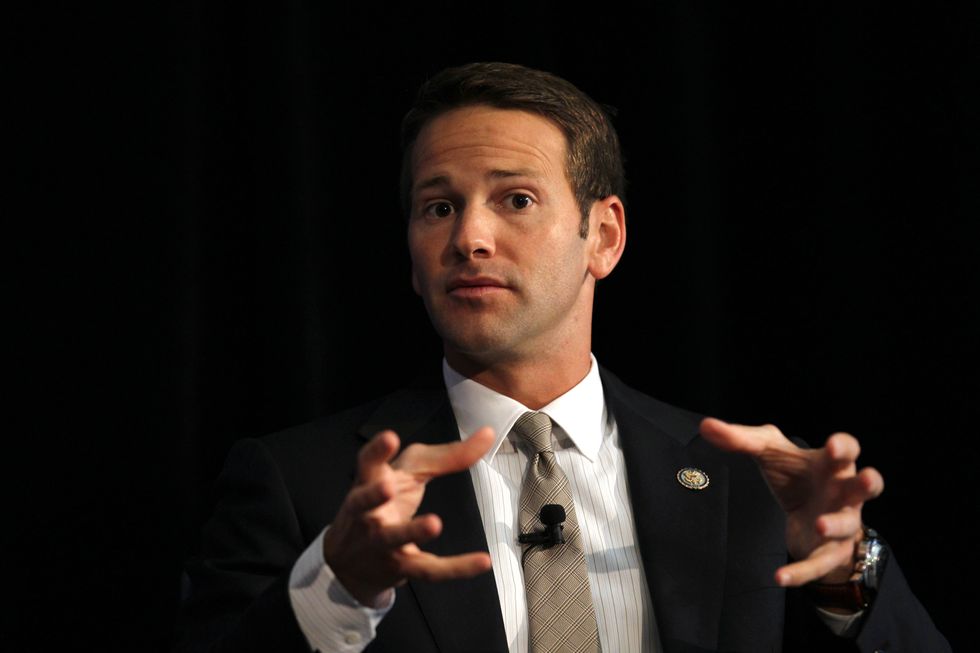 By Katherine Skiba, Angela Caputo, and Todd Lighty, Chicago Tribune (TNS)
CHICAGO — Representative Aaron Schock's world travels have been well-chronicled by him on Instagram, and to his dismay, more recently by news reporters.
There are photos of Schock dancing the tango with a long-legged woman in Buenos Aires, parasailing in the Andes and surfing the waves off Hawaii.
But what is less known about Schock, and less publicly chronicled, is the number of miles supposedly racked up in the mundane task of driving his Chevrolet Tahoe, much of it presumably around his central Illinois district.
An analysis of government documents and Schock campaign finance records shows that from January first, 2010, through June 30, 2014, Schock was reimbursed by taxpayers and his political funds roughly $90,000 for putting about 171,000 miles on his personal vehicle.
The news outlet Politico first reported on Schock's mileage peculiarities. It found that when Schock sold his Tahoe in July 2014, it actually had a total of about 81,000 miles on it, far less than the miles for which Schock was reimbursed. Illinois secretary of state records show that the Tahoe was the only vehicle registered to Schock at the time.
His driving habits, global travels, and business dealings have now drawn the attention of the Justice Department. Prosecutors are moving to subpoena potential witnesses as an FBI investigation gets underway in Springfield and Washington, according to sources.
Schock, 33, once a rising star seen as a fresh face for the Republican Party, abruptly announced last week he was resigning from Congress effective March 31.
A spokesman said Schock has "reimbursed all the monies received for official mileage since his election to Congress." Schock earlier repaid $40,000 for controversial redecorating work he had done on his Capitol Hill office. He admitted no wrongdoing in his resignation statement, saying only that the constant questions were a "great distraction." Schock was in his fourth term in the House.
Those who follow such matters told the Chicago Tribune that one of the biggest problems Schock faces is explaining to federal authorities why there is a discrepancy in the miles driven and miles paid.
Erroneous billing for mileage is easily proved, hard to refute, and a wrong that a jury can easily understand, said Paul Rothstein, a Georgetown University law professor who specializes in public corruption cases.
"There aren't a lot of legal or factual ambiguities about it," Rothstein said. "It's not susceptible to saying it was an unintentional, accidental mistake."
Charles Tiefer, former acting general counsel for the U.S. House, praised Schock for repaying the money. "It's not an admission of guilt, but it shows a desire to obey the law as much as you can," Tiefer said. "Always a good idea."
Over the years, automobiles and mileage reimbursement have been ripe for abuse by lawmakers, in part, because the records are seldom scrutinized.
The late Representative Dan Rostenkowski, a Democratic power broker from Chicago, was indicted in 1994 for multiple crimes, some based on personal use of autos paid for by taxpayers and by his campaign. Rostenkowski ultimately pleaded guilty to two counts of mail fraud for misuse of public funds to buy gifts and to pay employees who did little or no official work.
The Federal Election Commission in 2008 found that Representative Gregory Meeks (D-NY), improperly used $9,812 in campaign funds for vehicle lease payments and repairs that were personal expenses.
Meeks admitted violating federal elections laws, paid a $63,000 penalty and refunded to his campaign committee money used for personal expenses, which also included $6,230 for a personal trainer.
___
Dr. Richard Schock told the Tribune on Thursday that the news media have been "like cockroaches" and have unfairly attacked his son, whom he called brilliant, conservative, and moral.
Asked about the apparent overcharging for mileage, Dr. Schock replied, "I have no idea what that's about. I didn't keep the books. He'll have to explain that to whoever he has to explain it to."
According to House rules, representatives who use a privately owned vehicle for "official and representational business" can be reimbursed for transportation costs. They are reimbursed on a rate-per-mile basis. During the time Aaron Schock owned the Tahoe the maximum rates ranged from 50 to 56.5 cents per mile.
Schock was first elected to Congress in 2008 to represent the Peoria and Springfield areas. The following year, in November 2009, he bought a black 2010 Chevrolet Tahoe from Green Chevrolet in Peoria, according to Illinois secretary of state records.
The vehicle apparently served him well.
On July 19, 2014, Schock was back at Green Chevrolet. He got a new 2015 Tahoe, black, just like the old one, which he traded in. In what experts called an uncommon move, his campaign paid for the vehicle, according to records. Records show Schock's campaign paid $74,000 for the SUV.
Federal and state law require the owner report the mileage when transferring ownership. Failing to disclose the true mileage can result in fines or criminal charges. Schock's 2010 Tahoe, according to records, had 81,860 miles on it.
A week later, Schock's father bought the used Tahoe from the dealership. Dr. Schock said he paid "28,000 something" for it.
Dr. Schock said he did not buy the used Tahoe directly from his son because he was unaware his son was getting rid of it. Dr. Schock said that when his son picked him up for church, that's when he learned that his son bought a new car.
Why didn't the congressman keep the old Tahoe? "He said it had too many miles on it," Dr. Schock recalled.
The owner of the car dealership, Jeff Green, did not respond to messages seeking comment.
Green has contributed to Schock's political campaigns, giving him more than $12,000 since 2008. Green's name recently surfaced in news accounts about him flying the congressman around on his private plane. In addition, associates of both men said, Green often flew the congressman around Illinois in a helicopter that Green owns.
Schock also bought property from Green that was financed under terms that have raised questions.
Local tax and county land records obtained by the Peoria Journal Star and reviewed by The Associated Press show that a company managed by Schock paid $300,000 last May to buy a commercial property owned by Green, who retained a larger parcel next door. The lawmaker then signed a mortgage application with a local Peoria bank for twice the sale price.
A spokesman for Schock declined to comment about the 2014 land deal.
Questions about how Schock paid for his jet-setting lifestyle have swirled around him for years.
Under federal election laws, expenditures are legal as long as they are used for a political or campaign purpose. The FEC is charged with examining campaign finance reports to determine if the expenses are allowed but has been criticized for lax oversight and has not audited a campaign committee since 2012. However, a complaint can trigger an audit.
However, a complaint can trigger an audit.
The FEC has confirmed it is reviewing a new complaint filed against Schock by the liberal-leaning watchdog group Citizens for Responsibility and Ethics in Washington.
The group in 2012 complained about Schock spending $1,136 at a luxury hotel in Greece. Schock paid his campaign back, acknowledging that the hotel bill was not a campaign expense.
The Tribune in 2013 reported that Schock was one of the Illinois delegation's heaviest spenders on meals and travel. His campaign spent more than $2,600 on cuff links, paid $390 to a seaplane company based in the British Virgin Islands and spent more than $1,500 on concert tickets.
Despite questions raised about his spending, Schock's penchant for travel did not taper off.
The Tribune recently found that from 2012 to 2014, campaign money spent for travel, including private planes, commercial airfare, stays at luxury hotels, and limousine service, nearly doubled.
All told, from 2008 through 2014, more than $500,000 was spent on travel for Schock and others, according to his publicly filed campaign financial reports. That does not include other travel expenses billed to his taxpayer-funded congressional account. Schock spent freely from both his congressional office budget and his campaign funds. His troubles appear to stem from both.
Nearly half of the money went toward hotel stays at places such as Miami's high-end Fontainebleau resort and the Bohemian Club in Northern California, which Vanity Fair magazine described as an "ultra-exclusive" club for "America's richest, most conservative men."
Another $156,000 was spent on private airport access and chartered flights on top of $117,000 for commercial airfare.
Over the past two years, all of the travel charges were paid directly through the campaign accounts, rather than being reimbursed to Schock, and could have covered expenses for guests at fundraising events or other official business. When the Tribune earlier this month chronicled the adventures of the globe-trotting congressman, his aides declined to explain whether his trips — from the Greek Isles to the glaciers of Patagonia — were for business purposes or recreational.
Schock earned a reputation for being a gifted fundraiser and amassed a political fund that campaign finance experts say was unusual given that he was a shoo-in for re-election in a bedrock Republican district. He's leaving office with more than three million in his campaign fund.
Under federal law, Schock cannot keep the money for himself. He may give it to the Republican Party, other candidates, and charities, or use it to pay legal bills that might arise from investigations into his spending practices. He also could let the money sit there in the event someday he returns to politics.
Most of Schock's political donations were spent through his official Schock for Congress campaign fund. That fund, governed by stricter rules than his other political committees, would likely be "subject to more scrutiny" from investigators, said Brett Kappel, a Washington lawyer who specializes in campaign finance law.
Kappel also said having a car bought by the campaign can present another set of problems.
"If you have a campaign car and you're using it for personal use, you have to keep a log and reimburse the campaign," Kappel said.
Records show that as of the end of 2014, Schock had not made any direct payments to any of his funds for personal use of the 2015 Tahoe.
Kappel said the ironclad rule is "a congressman can't take campaign funds and convert them to personal use.
"For people who get caught up in these drip, drip, drip scandals, it's not a comfortable place to be in," he said. "There's also the prospect of the other shoe — or more shoes dropping."
Photo: Nancy Stone via Chicago Tribune/TNS