Militants Quickly Adjust Tactics To Blunt Airstrikes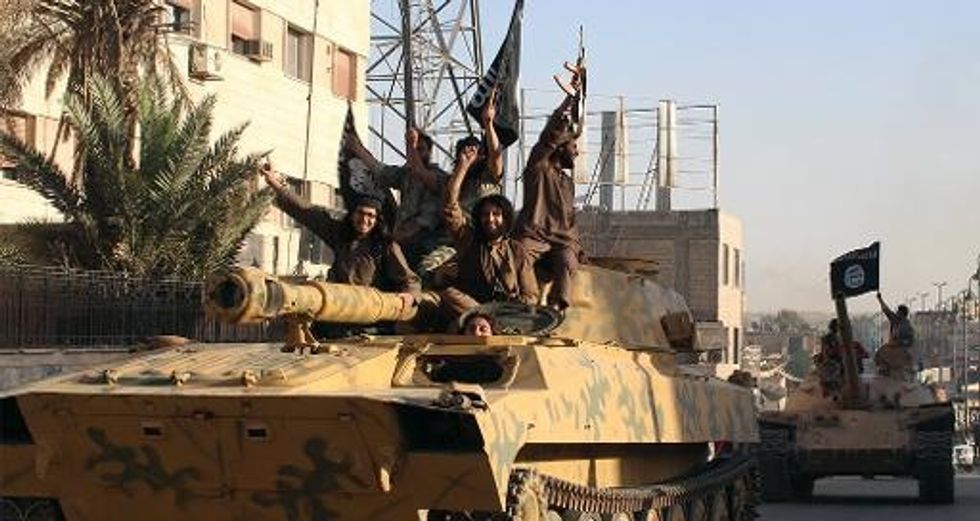 By David S. Cloud, Los Angeles Times
Militants in Iraq are seeking to blunt the effectiveness of U.S. airstrikes by dispersing their forces into urban areas and increasingly adopting terror tactics such as suicide attacks and bombings, says a senior American military officer.
"What we've seen so far is a lot of the black flags have come down, a lot of the convoys have dispersed, a lot of the assembly areas have been moved into urban areas," Gen. Martin Dempsey, the chairman of the Joint Chiefs of Staff, told a small group of reporters Tuesday. "We've seen an increase in the number of improvised explosive devices and suicide attacks."
The shift in tactics by Islamic State militants in Iraq comes less than a month after the United States began airstrikes. Iraqi and Kurdish troops with backing from U.S. advisers are seeking to eject an increasingly shadowy enemy from towns and cities while defending against attacks.
Dempsey said the dispersal of militants into urban areas will make it "a little tougher" for U.S. warplanes to target them. In more than 160 airstrikes, U.S. aircraft and armed drones have attacked large convoys of vehicles and groups of fighters displaying black flags that made them easily identifiable from the air.
Dempsey spoke to reporters as he headed to Paris for talks about Iraq with French officials. France has said it would consider joining the United States in carrying out airstrikes in Iraq.
As hundreds of additional U.S. troops move in to advise and train Iraqi forces, the Pentagon is planning to widen the types of targets it hits from the air, focusing on Islamic State leaders, he said.
"I think you'll see the aperture open a little bit … whether it's fixed facilities, whether it's high-value individuals. That is the next step," Dempsey said, referring to broader targets the Pentagon will be allowed to strike once President Obama and Iraq approve the war plan.
Obama is expected to sign off on that plan Wednesday during a visit to the U.S. Central Command headquarters in Tampa, Florida, he said. The blueprint will be presented to Iraqi officials in Baghdad, who will be given a chance to suggest changes, he said.
The United States is also hoping to nail down specific contributions to the military effort from Iraq's neighbors, which have promised to join the fight against Islamic State.
How far the Obama administration is prepared to go in Syria remains murky. It may take several years to defeat Islamic State in Iraq and "several more years than that" to defeat the group in Syria, Dempsey said. If the United States launches airstrikes in Syria, he said, it will be "to put pressure on" Islamic State militants until the United States and Saudi Arabia can train moderate rebels who can fight them on the ground.
U.S. officials are still waiting for Iraq's newly installed and Shiite Muslim-led government to take additional steps to reassure Sunnis Muslims and Kurds that it intends to share power. Without a government that enjoys broad support in Iraq, the military effort isn't likely to be adequate to defeat the militants, Dempsey said.
"I wouldn't say it is functioning in a way yet that has convinced the Sunnis and the Kurds that it will live up to the promises it has made," he said of the new government, "but we're in a much better place than we were six months ago."
"If that doesn't happen," he added, "then it's time for Plan B."
The Pentagon assessment ordered last month concluded that the special forces troops that will serve as advisers can only work with 26 out of Iraq's 50 combat brigades, Dempsey said. The other 24 are considered too sectarian to be considered reliable, Dempsey said.
Under former Prime Minister Nouri Maliki, the units were purged of Sunni and Kurd commanders and were effectively turned into Shiite militias.
"The question for the government of Iraq to answer is what are they going to do about that," said Dempsey. "You actually can't have parts of the federal national service be single sect."
As part of a broad assistance effort, the Pentagon is preparing to give Iraqi and Kurdish troops equipment for combating hidden bombs and is planning to train them in use of the gear at secure facilities north and west of Baghdad, Dempsey said.
"We expect ISIL to begin to rely far more on IEDs," he said, referring to the Islamic State by one of its acronyms and to improvised explosive devices. "As they retreat, my guess is they will litter, literally litter … areas that they abandon with IEDs. So we need a serious counter-IED effort with the ISF (Iraqi forces) so they don't stumble in and take unnecessary casualties."
The Iraqi army and police forces have more experience at dealing with militants who attempt to blend into the population in towns and cities than at fighting a conventional-style war, Dempsey said, noting that they have battled such a shadowy foe for years.
AFP Photo
Interested in world news? Sign up for our daily email newsletter!