Millions Of Tons Of Toxic Coal Ash Are Piled At Power Plants Across The Nation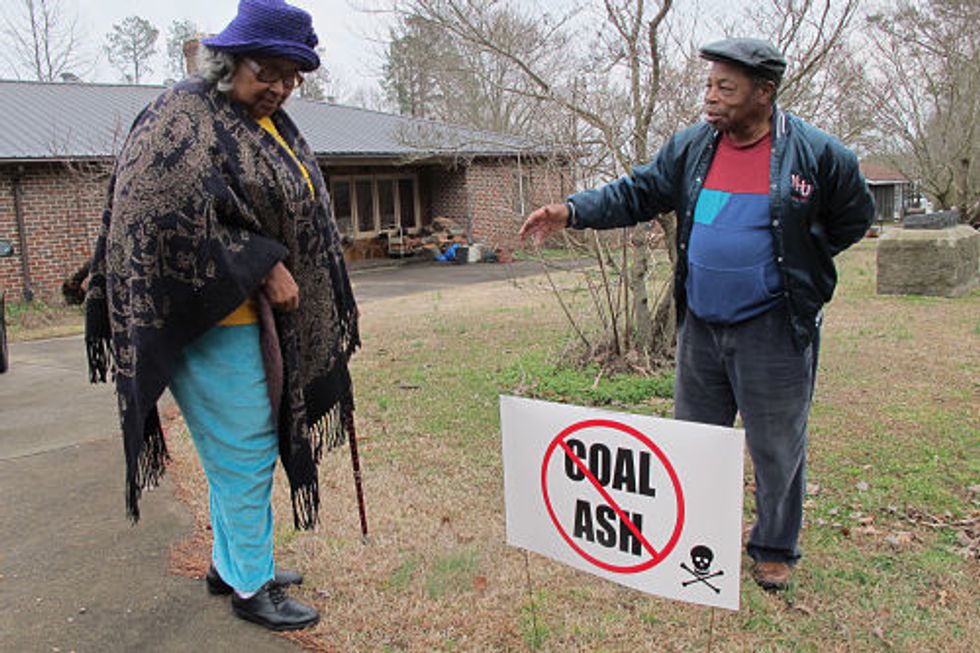 By David Zucchino, Los Angeles Times (TNS)
COLON, N.C. — After a massive coal ash spill coated the Dan River in North Carolina with 70 miles of toxic gunk a year ago, state lawmakers required coal ash stored at four Duke Energy plants in North Carolina to be moved to safer locations.
Now tons of coal ash may end up across the road from Joe Bray's tidy little home and vegetable garden in the piney woods of central North Carolina.
"It's going to pollute this whole area, I guarantee you," Bray, a mustachioed glass blower, said of Duke Energy's plan to dump up to 8 million tons of coal ash in an abandoned clay mine in rural Lee County.
Duke has proposed moving tons of coal ash from leaky basins more than a hundred miles away to a rural county free of coal ash headaches. Bray and his neighbors, along with outraged county commissioners, are asking Duke: Why us?
"Duke wants to make us the coal ash dump site for the whole state," said John Crumpton, the Lee County manager.
County commissioners issued a resolution Jan. 5 accusing Duke of springing the plan on the county without notice. It said the dumping would create "environmental risks" and impose a "stigma" on the county.
For years, coal ash has been the toxic waste that nobody wants. Millions of tons of coal ash are piled at coal-fired power plants across the nation, with 140 million tons generated each year.
Coal ash, waste left over from burning coal to produce electricity, contains mercury, lead, arsenic, selenium and cadmium. Exposure to high levels can cause cancer and neurological problems.
Two recent spills — a 2008 release in Tennessee that dumped toxic sludge 6 feet deep and the Feb. 2, 2014, spill on the Dan River — have forced utilities to find safer ways to store the waste.
In North Carolina, Duke Energy is storing 130 million tons of coal ash at 32 sites at 14 power plants. The new state law requires Duke to safely move all of it by 2029, and from four leaking ash ponds by 2019.
"This community is not willing to stand by and be dumped on — it's a toxic mess, and we don't want it," said Therese Vick of the Blue Ridge Environmental Defense League, which has organized hundreds of local residents opposed to Duke's plan.
The utility says abandoned clay pits in Lee County and 15 miles away in neighboring Chatham County are ideal to safely store ash in dry, lined, covered pits as "structural fill" to be monitored for 30 years for leaks or "leachate" — liquid that has dissolved harmful substances.
Mike Hughes, Duke Energy's vice president for community relations, said the ash will be encased in several layers of impermeable, high-density plastic. Hughes said there isn't enough room at all of its plants to build new ash storage sites. Lee and Chatham were chosen for their central locations, high capacity and proximity to rail lines, he said.
Hughes said Duke Energy regretted the late notice, in mid-November, to the counties, which he attributed to time constraints.
Like utilities nationwide, Hughes said, Duke has to find a better way to store waste from coal-fired plants that provided cheap energy for decades. "And there aren't that many communities saying, 'Bring it here,'" he said.
Duke has contracted with Charah Inc., a Louisville, Ky.-based waste management company that bought the two clay mines and filed coal ash permit applications with state regulators. Charah plans to store the ash on 118 acres at the former Colon Mine.
A mammoth loading effort would transport ash by rail more than a hundred miles from each of two Duke plants — near Charlotte to the west and Wilmington, N.C., to the east. Critics say that would drastically alter the rural character around the tiny, former brick-making community of Colon.
"Duke is hitting the poorest rural neighborhoods, where they think people won't be able to fight back against a big corporation," said Donna Bray, Joe's Bray's wife, who's worried about contamination of the vegetable garden that provides 50 percent of the couple's food.
More than 100 alarmed residents packed Mount Calvary Baptist Church in Colon one cold January night to fight the plan.
They were evenly split between black and white, many of them elderly. Others were homemakers or middle-aged men wearing ball caps, hunting jackets and abundant facial hair.
Organizers passed out "No Coal Ash" yard signs and yellow stickers that read "Duke: Don't Dump Coal Ash On Our Communities" — to be attached to utility payments mailed to Duke Energy.
Vick, the organizer, displayed a map showing nearly 100 clay mine pits in the state, including three near Duke Energy's corporate headquarters in Charlotte. That prompted several people to ask, loudly, why Duke doesn't dump its coal ash there.
Crumpton, the county manager, said Duke proposes paying Lee County nothing in fees to store ash. He said the best way for the utility to dispose of its ash is to keep it right where it is — in counties where Duke has paid millions in local taxes.
Hughes said the law does not require fees for coal ash stored in clay pits. But he said Duke is willing to discuss possible payments with county officials.
Lee County is conservative, with little tradition of environmental activism. But residents are also hunters, fishers and backyard gardeners wary of big corporate outsiders who might threaten their air, water and wildlife.
"They're wanting to dump poison right where we live and eat," said Barbara Wood, an elderly hat maker and local resident who walked into the church meeting with the help of a cane.
Her husband, Major Wood, a retired postal worker, worries that the graves of his grandparents — buried behind the church — would be threatened by any leak of coal ash stored just down the road.
Duke, the country's largest electric utility, has an unlikely ally: the Southern Environmental Law Center in nearby Chapel Hill. The center has lambasted Duke for years over its handling of coal ash, and has fought the utility in court.
Frank Holleman, a senior attorney at the center, said storing coal ash in dry, lined pits away from waterways is exactly what the center has been demanding of Duke for years.
"On the face of it, the permit application meets the criteria we've been pushing for," Holleman said. "You can't just dump coal ash in a hole."
But Holleman criticized Duke for failing to clean up the Dan River spill. He said 92 percent of the 39,000 tons of coal ash dumped a year ago still has not been removed. State regulators say river water has been restored to pre-spill quality.
The permit applications will be reviewed by the North Carolina Department of Environment and Natural Resources. The agency and Duke Energy are being investigated by a federal grand jury in Raleigh for possible criminal violations over the handling of the Dan River spill.
Jamie Kritzer, a spokesman for the agency, said regulators are reviewing the applications and will submit the plans for public comment.
The day after the church meeting, Joe Bray, 56, and his neighbor, Shawn Moore, stomped through the woods to inspect the old Colon Mine site. Bray carried a shotgun, having spotted an aggressive coyote on a previous jaunt.
Moore, 26, a college student born and raised next to the mine, recalled fishing for bass and crappie in the water-filled clay pits. They are home to ducks, geese, beavers, otters and an occasional bald eagle.
"Coal ash is toxic," Moore said as he stood next to a pit the size of two football fields. "It's going to seep out or get blown out by wind. Then what?"
Bray said lining the pits with heavy plastic is like lining them with a plastic bag — it will eventually deteriorate and allow ash to escape.
"And nobody is going to be able to sell their house with a coal ash dump next door," he said.
Photo: Barbara and Major Wood on January 26, 2015, at their home near a clay mine pit in Lee County, N.C., that Duke Energy wants to fill with eight tons of coal ash. The Wood family and hundreds of other local residents have protested a proposal by Duke to dump coal ash waste in the rural county in central North Carolina. (David Zucchino/Los Angeles Times/TNS)