Minnesota Town Caught In 'Frac Sand' Mining Rush Wants Answers On Pollution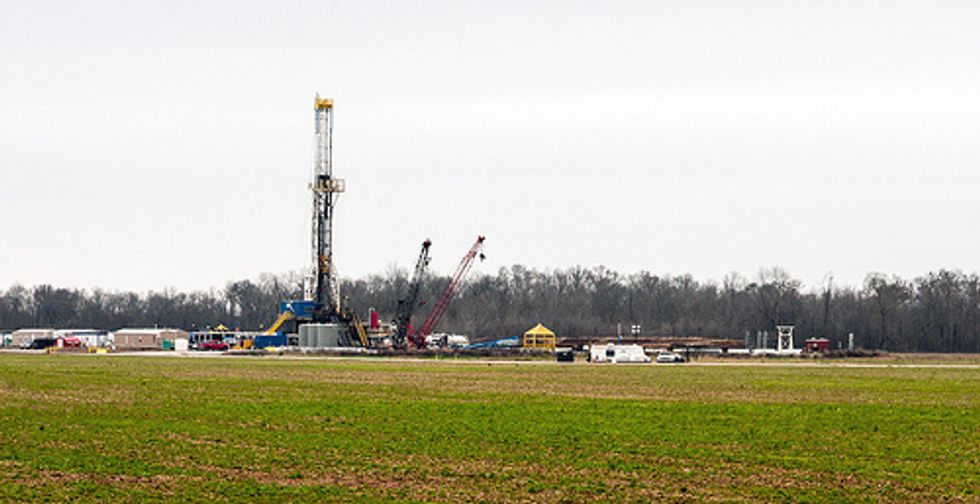 By Zahra Hirji, InsideClimate News
How much dangerous dust is being kicked into the air from the mounds of frac sand hauled daily across the southern Minnesota town of Winona?
Looking for answers, the community got the state to install in January a pollution monitor for crystalline silica, or frac sand — the first in Minnesota not financed by industry. Located on a building above a major intersection for sand trucks bound for fracking fields, it's been collecting data ever since.
The state Pollution Control Agency (PCA) said the data would be released in March.
But because of delays in finding a lab to process all of it, Winonans aren't any closer to answering their question.
"It's really frustrating," said Jane Cowgill, co-founder of the Winona-based grass-roots group Citizens Against Silica Mining. "You can see sand blowing around in the air."
A main problem is that there are no labs in Minnesota that handle this type of analysis — a sign of how quickly the Midwest frac sand industry has exploded in recent years to serve America's oil and gas drilling boom.
Instead, the PCA must choose from a handful of labs that offer to take on the project. There are only about a dozen capable in the United States. "We're going to push to get moving quickly. … I don't have a firm timeline," said Frank Kohlasch, manager of the air assessment section of the PCA, which paid for the monitors and is charged with data collection and analysis.
Minnesota and its neighbor Wisconsin hold vast reservoirs of pure silica sand, a necessary ingredient in the fracking process that has been implicated in silicosis, a lung disease. The blasted sand creates and holds open cracks in dense rock formations to releases oil or gas. It can take up to 10,000 tons of sand to frack a single well during its lifetime, and there are roughly 50 new wells being drilled in the United States every day.
The number of sand mines, processing, and transport facilities between the two states has swelled in recent years to more than 100, from less than 20 in 2010. In Winona each day about 100 trucks carry thousands of tons of sand across the college town. The sand is then loaded onto rail or barge and sent to North Dakota and other states.
"The demand for sand is going up and up and up. It's a gold rush," Cowgill said.
Silica dust exposure kills hundreds of industrial sand workers a year, according to federal data, but there is little data tracking the threat it poses to nearby communities. What data there is comes from industry.
In Wisconsin, local governments tried to monitor airborne silica sand, but they've sustained several setbacks due to government and industry pushback.
Winona is the first local government in the nation to monitor air pollution that may be escaping from the sand piles trucked through town. Approved by Winona's City Council last fall after concerns were raised about unknown health effects, the vote was hailed as a victory for activists regionally.
Two air pollution sensors were installed. The most critical one measures concentrations of particulate matter up to 4 micrometers in diameter, or PM 4, 20 times smaller than a grain of beach sand and small enough to penetrate lung tissue and enter the bloodstream. The dust accumulates in the monitor's filter and samples get collected over a 24-hour period every six days. Eventually, they'll be sent to a special lab for what is called "speciation" analysis to determine how much of the material is frac sand.
The other monitor measures finer PM 2.5 particles emitted not just from frac sand but car emissions and other industries. This data is collected hourly and requires little extra analysis. It's already available on the MPCA's Air Quality Index website. According to Kohlasch of the state pollution control agency, Winona's hourly 2.5 PM data does not appear abnormal.
Photo: danielfoster437 via Flickr
Interested in national news? Sign up for our daily email newsletter!