Minorities Not Buying Trump's Bogus Kumbaya Chorus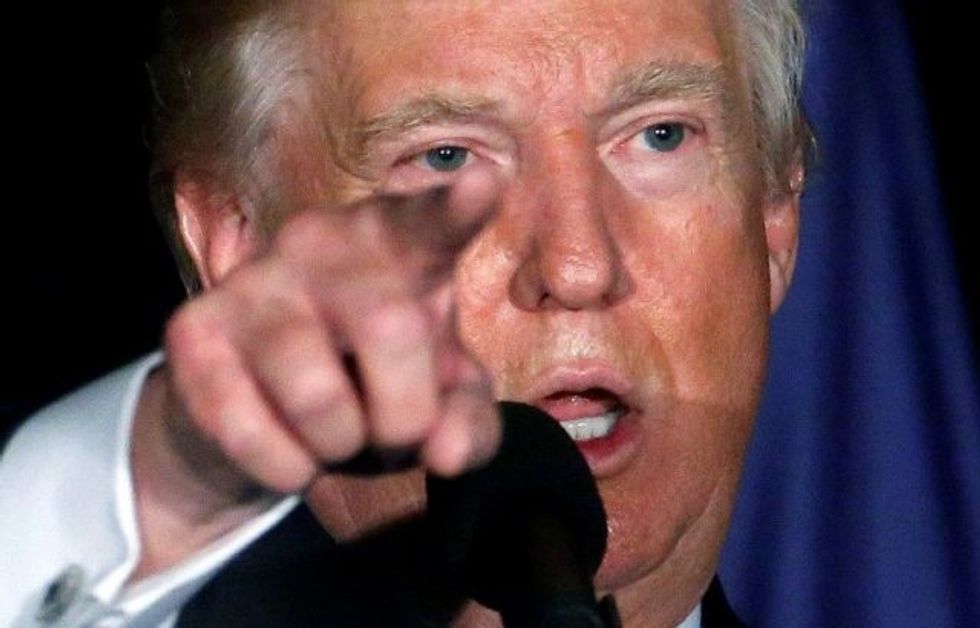 Americans love to blame the media for bias, for presenting a slanted view of reality.
And in at least one case, I'll concur: They have done a terrible job of representing to the broader public what life is like for black and brown America.
The inaccurate impressions created by "if it bleeds, it leads" news coverage were amply evident in Donald Trump's recent "outreach" effort to African-American voters. He sought to enumerate the various unfair afflictions blacks suffer in America — problems supposedly only he can fix — but exaggerated them to a point that was insulting.
Trump's messaging style is blunt and simplistic. And he is clearly ignorant of what life is like outside the bubble of wealth he has floated in all of his 70 years. So it's no surprise that his appeal to black voters would be both naive and offensive.
But it's worth considering how American news coverage has inspired and supported Trump's assumption that African-Americans and Latinos are overwhelmingly mired in poverty, can't get jobs, dodge bullets every day and struggle to graduate high school.
Trump is taking cues from headlines and breaking news bulletins. Last weekend's murder tally, the latest poverty statistics, reports of public school systems struggling to educate poor urban children: those stories are familiar. They have an impact, they address problems and they deserve attention. I'm not apologizing for covering a murder in lieu of a high school fundraiser.
But the usual news coverage does not tell the whole story of any community; nor does it even relate the most prevalent life stories. A headline will not read, "One black male killed in shooting: Everyone else in a two-block radius went to work or school, mowed their lawn, did some grocery shopping and ate dinner with their family as usual."
So when Trump addressed African-Americans from a white Michigan exurb to ask for their votes, he cited a litany of woes most black voters don't face and asked, "What the hell do you have to lose?" The implicit answer would seem to be: the same things most American voters have to lose — quite a bit.
Now Trump is trying this shtick on Latinos.
To a crowd in Tampa, Fla., he said, "To the Hispanic parent, you have a right to walk outside without being shot."
Then he added: "What do you have to lose? I'll fix it."
Let's be clear: Disproportionately, Latinos and African-Americans do fare worse than white households in many areas, such as employment, measures of health and educational attainment. They are disproportionately likely to be victims of violent crime. They have far less wealth and suffered much more in the housing crash and recession of the last eight years.
But that doesn't mean that all members of these communities are in dire straits and in need of salvation by a politician making promises. The majority of black households, like white ones, are considered middle class. Black college enrollment rates now equal those of whites (but not graduation rates). Many of the most pressing issues to black and Latino voters are — guess what! — the very ones that are pressing to white voters.
By getting this wrong, Trump is broadcasting how little he knows about the communities he's pretending to court.
Nor does he get that the demographic cleavages that persist are tied to the continuing impact of racist attitudes and once legal segregation and institutional racism. To black and Latino listeners, the omission screams volumes.
Trump's outreach smacks of being contrived. If it were sincere, he'd be acting differently. I'd recommend that he sit silently among minorities in their own communities. Be the only white face in a church filled with African-Americans. Attend a Sunday service and a funeral of a beloved community member. Hang for another hour as people mingle upon leaving the sanctuary.
Sit around with a bunch of women making tamales and watch the interaction as members of different generations parade in and out of the kitchen. Talk to fourth-generation American with a Latino surname who doesn't speak a lick of Spanish. Really hear his or her story.
People develop familiarity and comfort levels outside of their normal circles only through sustained interactions. Even very adept politicians can't fake it. And Trump's level of emotional intelligence is as low as his polling numbers with black and Latino voters.
In case it isn't obvious, Trump isn't really directing these appeals to African-Americans and Latinos. He is talking to white audiences, trying to dispel the air of racism that has hung around his campaign from the very start. The pity is that many of them don't know any better.
(Mary Sanchez is an opinion-page columnist for The Kansas City Star. Readers may write to her at: Kansas City Star, 1729 Grand Blvd., Kansas City, Mo. 64108-1413, or via e-mail at msanchez@kcstar.com.)
(c) 2016, THE KANSAS CITY STAR. DISTRIBUTED BY TRIBUNE CONTENT AGENCY, LLC
Photo: Republican presidential nominee Donald Trump speaks at a campaign rally in Manchester, New Hampshire, U.S., August 25, 2016. REUTERS/Carlo Allegri