In Mississippi Race, Cochran Must Defend His Conservatism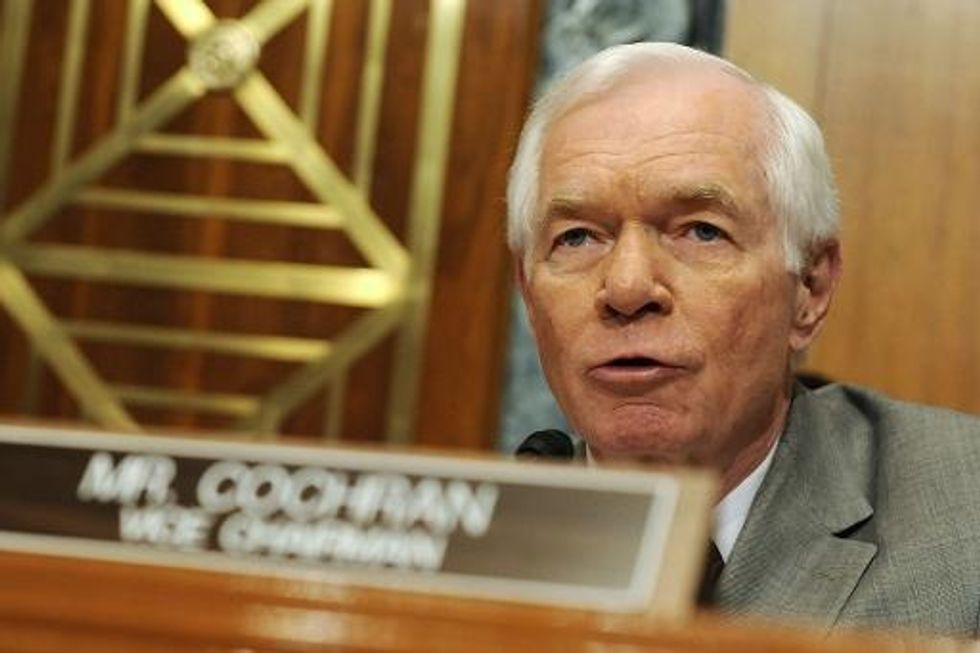 By David Lightman, McClatchy Washington Bureau
ACKERMAN, MS. — In Washington, Sen. Thad Cochran is regarded as a reliable conservative.
In Mississippi, angry Republicans brand him a liberal.
As Cochran fights to win renomination in a June 24 Republican runoff against a Tea Party challenger, the race is hinging on a brutal battle over whether he's conservative enough.
Challenger Chris McDaniel, as well as groups based outside Mississippi, are pounding away at the notion Cochran shares the political philosophy of President Barack Obama.
"In Washington, he votes with the liberals on spending, on judges, even on funding Obamacare," charges an ad by the conservative Club for Growth Action. The group has made what it calls a "large, six-figure buy" to run the spot on state television.
On the campaign trail, McDaniel hammers away at the same theme. "For 42 years Sen. Cochran has not been the voice of conservative Mississippi," McDaniel told a crowd at Harvey's Restaurant in this small town near the Alabama border.
Cochran seems incredulous when discussing such charges. "It's up to them to choose who they want to vote for," he said of his critics. "If they think I haven't voted conservative enough, pick out somebody who has and vote for them."
Cut through the noise and the the question is not so much whether Cochran is conservative, but whether he's in tune with this state's Republicans in one of the nation's most conservative states.
Numbers tell different stories. The American Conservative Union gives him a 78.9 lifetime rating, meaning he has voted their way roughly four out of five times since he came to the Senate in 1979.
But he's averaged 63 since Obama took office in 2009.
Cochran's recent scores have been "abysmal," said Dan Schneider, ACU executive director. "It's not just one vote, it's a pattern," he said, with Cochran's fiscal votes topping the list of outrages.
The ACU's political arm endorsed McDaniel in the June 24 Senate runoff election.
Even a 63, though, is well above liberal. The Democratic conservative average last year was 6.78.
Americans for Democratic Action, which tracks liberal voting, gave Cochran a 20 percent "liberal quotient" in 2012, its most recent rating.
Cochran said he's operated as best he can in a Senate where getting it all is impossible. He defended his spending decisions as crucial to his impoverished state, and makes his defense of that spending the linchpin of his campaign.
To many fed up with Washington, such talk is little more than making excuses.
"I'm looking at this massive debt, and Cochran voted to increase the debt," said Dannie Reed, an Ackerman activist. "It seems like he's not even trying to cut the budget."
McDaniel relishes igniting that spark.
"It's extreme that he would pander to liberal Democrats in a Republican primary because he knows he cannot count on the votes of conservatives," McDaniel told supporters in Starkville last week.
Cochran and his backers scoff at such talk.
"Conservative leaders in Mississippi are standing beside Senator Cochran," said Lt. Gov. Tate Reeves. He ticked off a long list, including Gov. Phil Bryant and former Gov. Haley Barbour.
But to staunch conservatives, Cochran's record has two big shortcomings.
One involves his long ago votes on judges. Cochran in 1993 and 1994 voted to confirm Ruth Bader Ginsburg and Stephen Breyer, President Bill Clinton's Supreme Court nominees. He was hardly alone; Ginsburg got 96 votes and Breyer, 87.
Cochran did vote against both Obama Supreme Court nominees.
His opponents' other complaint involve recent spending and debt votes.
Cochran backed the 2011 deal that raised the debt ceiling and the 2013 pact to end the government shutdown. In December, he opposed the two-year budget compromise, which lifted some spending restrictions, but a month later voted, along with many other Republicans, for a current year spending plan that adhered to those levels.
Republican Party leaders argue that in each instance they won concessions. The 2011 agreement cut anticipated spending $917 billion over 10 years, and triggered automatic spending cuts, or sequester, if a special congressional committee could not agree on further reductions. The plan got 74 votes.
To end last year's federal government shutdown, Republicans had demanded an end to the Affordable Care Act. They got a small concession, that the government confirm eligibility of those getting federal aid under the health-care law.
Schneider thought Cochran's seeming moderation evolved because of his status as a senior member of the Senate Appropriations Committee, which has a big role in crafting federal spending plans. If Cochran returns to the Senate next year, and Republicans control the Senate, he's likely to chair the committee.
Cochran is unapologetic about his fiscal record. His campaign is a daily tour of projects whose funding he helped secure. When asked about his debt ceiling votes, he and his backers say matter of factly that he did the best he could.
"Just look at the record, and you'll see what he's done for this state," said State Rep. Rita Martinson, a Madison Republican.
Few dispute that. But they also see all that debt, and all that gridlock, and are in no mood for nuances.
"I like small government," said Phyllis Guysinger, a Hattiesburg retiree, "and I don't like that he's voted for things I can't support."
AFP Photo/Jonathan Ernst