Missouri Governor: No Curfew Monday Night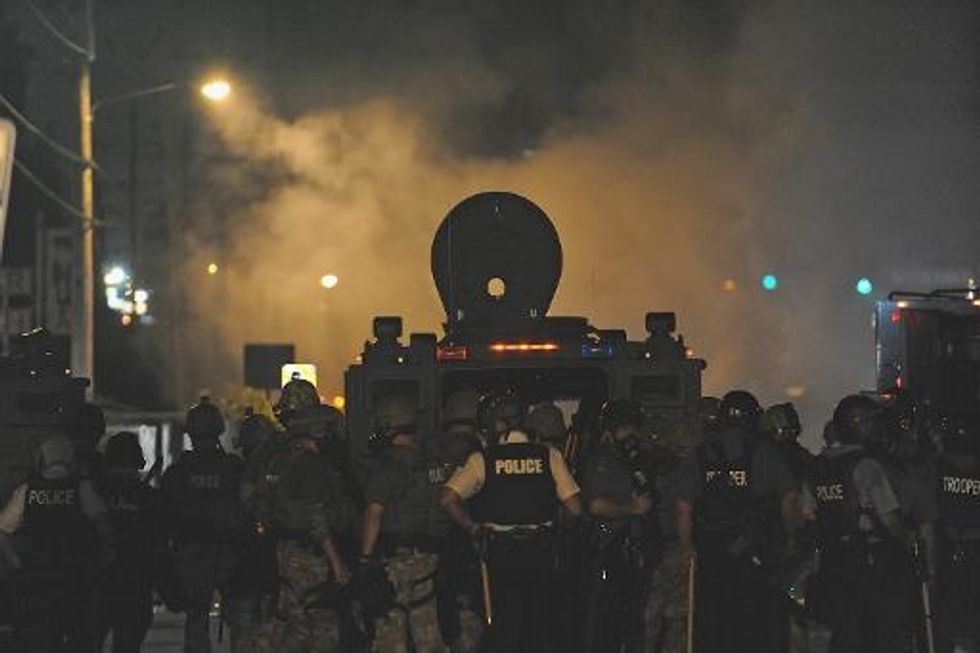 St. Louis Post-Dispatch
FERGUSON, Mo. — Missouri Gov. Jay Nixon said there will be no curfew Monday night in Ferguson, where a rotating series of official responses to protests have failed to end looting and violence late at night.
The Missouri National Guard, called in early Monday morning by Nixon to help keep order in Ferguson, will be used to protect the police command center, according to the governor's office. Police officials said the command center was the destination of protesters who were met with tear gas Sunday evening.
"The Guard will concentrate its resources on carrying out this limited mission," Nixon said in a statement.
He also said, "I join the people of Ferguson, and all Missourians, in strongly condemning the violent acts we saw (Sunday) night, including the firing upon law enforcement officers, the shooting of a civilian, the throwing of Molotov cocktails, looting, and a coordinated attempt to overrun the unified Command Center.
"We are all frustrated and looking for justice to be achieved regarding the shooting death of Michael Brown. As the dual investigations continue into what happened nine days ago at Canfield Green, we must defend Ferguson from these violent interlopers so that the peaceful protests can operate in peace and the search for answers and justice can continue."
Earlier Monday, Nixon announced that he was activating the National Guard to help restore order in Ferguson after a week of protests that have resulted in looting and violence some nights.
Missouri governors have mustered National Guard soldiers to the St. Louis area for floods, heat waves and even a heavy snowstorm, but not street violence, at least not since World War II. In April 1968, then-Gov. Warren E. Hearnes sent more than 1,500 National Guard soldiers to Kansas City to assist police during a riot that broke out shortly after the murder of the Rev. Dr. Martin Luther King.
AFP Photo/Michael B. Thomas
Interested in national news? Sign up for our daily email newsletter!