Missouri Governor Pledges 'Different Tone' For Authorities As Highway Patrol Takes Over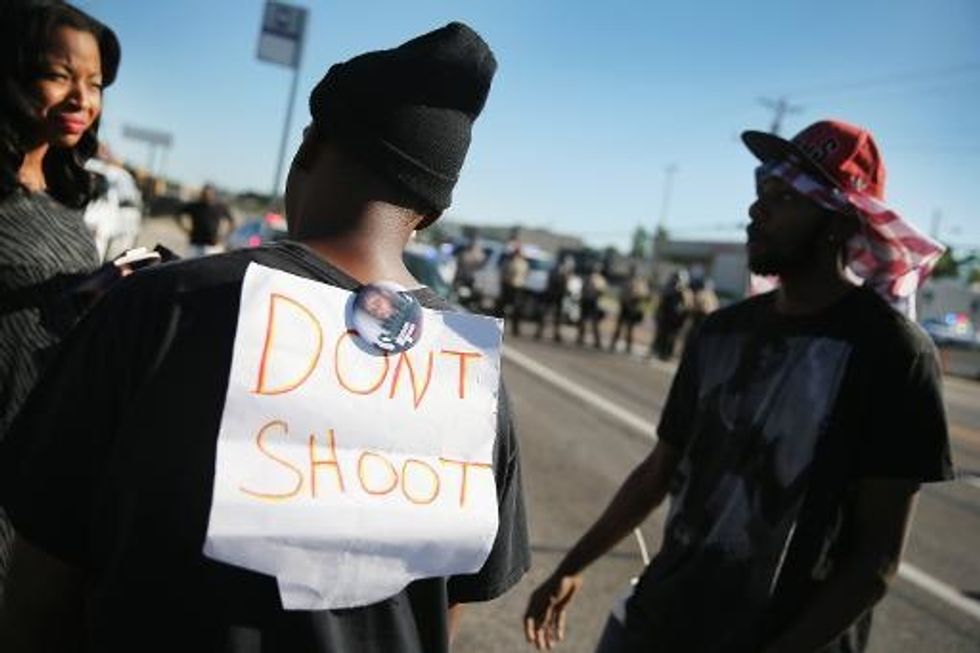 By Kevin McDermott, St. Louis Post-Dispatch
FERGUSON, Mo. — Facing a withering national judgment that a community in his state had come to look like "a war zone," Missouri Gov. Jay Nixon ordered on Thursday that the Missouri State Highway Patrol take over security of Ferguson from St. Louis County police and vowed "a different tone" to that police presence.
"What's gone on here over the last few days is not what Missouri's about, it's not what Ferguson's about," said Nixon, referring to imagery of tear gas, police in body armor, automatic weapons pointed at unarmed civilians, and questionable arrests.
"(It's) a Missouri community, but lately it's looked a little bit more like a war zone, and that's unacceptable," Nixon said.
The move appeared to calm the situation along West Florissant Avenue, the Ferguson thoroughfare marked by looting and clashes with police earlier this week.
Tear gas, smoke bombs, and riot police were absent Thursday night as nearly 1,000 people gathered peacefully on the sidewalk chanting "Hands Up! Don't Shoot!" when they weren't responding to the cacophony of car horns honking to support their efforts to protest the death of 18-year-old Michael Brown at the hands of a Ferguson police officer.
The new face of security in the racially tense conflict is Capt. Ronald S. Johnson, a native of the region who is black. Appearing with Nixon at a north county news conference, Johnson said his command will employ "a different approach."
"I understand the anger and fear that the citizens of Ferguson are feeling, and our police officers will respect both of those," Johnson said. He later made good on that vow by marching with a procession of peaceful demonstrators in Ferguson.
Part of the new approach, Johnson said, will be "making sure we're not taking resources out there that we don't need."
That is a response to criticism from across the country of police confronting protesters with weapons and vehicles that look like they belong on a battlefield rather than a suburban street.
While Nixon clearly was cautious not to say it, the move is likely to be interpreted as a criticism of the way St. Louis County police have handled security in the north county community since nightly violence erupted after Michael Brown, an unarmed 18-year-old, was shot to death by a police officer on Saturday.
Police also came under blistering criticism Wednesday night when two national journalists were arrested and tear gas was fired on a television crew.
"All of us have seen some level of escalation, and we've certainly seen some level of escalation of the arms that have been used to deter as well as some of the conduct," said Nixon. That was as close as he came to outright criticism of county police.
When pressed on the issue, he said only: "I'm not looking backward, I'm looking forward."
St. Louis County Police Chief Jon Belmar declined to comment on the change in command over Ferguson.
But St. Louis County Prosecuting Attorney Robert McCulloch blasted Nixon's decision.
"It's shameful what he did today, he had no legal authority to do that. To denigrate the men and women of the county police department is shameful," McCulloch said. "For Nixon to never talk to the commanders in the field and come in here and take this action is disgraceful.
"I hope I'm wrong, but I think what Nixon did may put a lot of people in danger."
Also Thursday, GOP House Majority Leader Tom Diehl said Nixon should declare a state of emergency and put Ferguson under a curfew.
Earlier in the day, Ferguson Police Chief Tom Jackson signaled a change of strategy, describing a plan to try to reduce tensions by allowing protesters to use sidewalks while keeping streets open to traffic.
Jackson said officials want to tone down the confrontations and will talk about "not only the tactics but the appearance" of police in riot gear. He said tactical units would remain on standby in case of trouble.
But when pressed about use of tear gas on non-violent demonstrators, Jackson suggested that people need to distance themselves from those who provoke police with aggressive acts or threats.
"There is gunfire. There are fire bombs being thrown at the police," he said.
The issue of the militaristic police response has become almost as central to the Ferguson story as the racial tension. Pundits and public officials have been holding up the conflict here as an example of what they say is a national trend toward militaristic weapons and tactics among civilian police.
U.S. Sen. Claire McCaskill (D-MO), speaking to area residents at Christ the King United Church of Christ in Florissant on Thursday, stressed the need to "demilitarize the police response." The comment drew a standing ovation.
Nixon acknowledged the racial component to the strife, and the community's history of police-resident tensions. "This feels a little like an old wound that has been hit again."
As state attorney general for 16 years, Nixon alienated black leaders when he tried to end court involvement in St. Louis public schools and phase out the voluntary busing program. While he moved to patch those relationships when he first ran for governor in 2008, they are still somewhat strained.
Nixon began Thursday with a phone conversation with President Barack Obama.
"He wanted me specifically to thank the faith leaders and other community leaders who are leading with vigor but with peace," Nixon said of Obama during remarks to community organizers and clergy gathered at Christ the King United Church of Christ in Florissant.
In a short address Thursday, Obama called for "peace and calm on the streets of Ferguson" while expressing his concern for the violent turn of events.
"Let us remember we are all part of one American family," Obama said. "We are united in common values and that includes belief in equality under the law, basic respect for public order, and the right of peaceful protest."
Obama said he was briefed Thursday on the situation by U.S. Attorney General Eric Holder. He criticized the arrest of journalists, said there is no excuse for police use of force against peaceful protesters, and that there is "never an excuse for violence against police or those who would use this as a cover for vandalism or looting."
AFP Photo/Scott Olson
Interested in national news? Sign up for our daily email newsletter!