Mitch McConnell Didn't Just Steal A Supreme Court Seat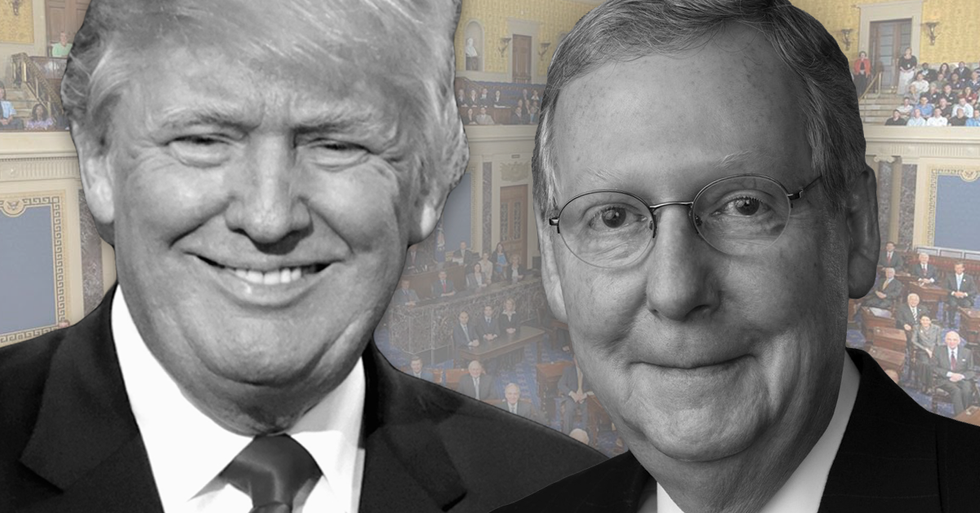 When history gathers the men who made the presidency of Donald Trump possible, lingering in a corner behind the blinding glare of Julian Assange and the massive 6'8" frame of James Comey will be Mitch McConnell, his corners mouth shaped into a smile that resembles a twisted mustache.
McConnell will want you to believe that history owes him credit for his strategic brilliance. And it's undeniable that his campaign of massive obstruction topped off by the historic robbery of a Supreme Court seat, helped unite a GOP that was fracturing like a fissured fibula and make Trump's improbable rise to the White House possible.
The Senate Majority Leader calls not allowing the appointment of Merrick Garland, President Obama's pick to replace Antonin Scalia on the Supreme Court, a fair hearing "the most consequential decision I've ever been involved in." And as usual, he's being both self-congratulatory and deceptive.
Yes, Trump did better with white evangelical voters than Mitt Romney, John McCain and even an actual evangelical George W. Bush, according to an analysis from Pew.
This is a result so unlikely that it's almost unmistakable from satire.
Trump is a thrice married accumulator of failed casinos, stolen valor from other people's charity and sexual harassment allegations. For him to even be nearly as competitive with the religious right as devout believers like Romney and Bush or even McCain, the poster boy for the Reagan Revolution, is a monumental victory for both hypocrisy and tactical politics. Trump proved that the right's feigned concerns for other people's marriages was absolutely negotiable as long what it was offered in return was up to four revanchist Supreme Court Justices who will reshape and regress America for as long as half a century.
McConnell understands that since Brown v. Board of Education, the Court has been the defining issue for a conservative movement that fully comprehends our justice system's power to remake or restore old biases. Holding a seat as a lure for the right was an opportunity Trump seized by putting out a list of Heritage Foundation-approved Justices and picking Mike Pence, a walking proof point for the argument that his agenda could be captured by the religious right.
It was a brilliant strategy from a man who has led a movement that recognizing the dusk of its demographic advantages decided to drop all pretenses of pomp and statesmanship for the pure embrace of power politics.
The Senate minority led by McConnell used the filibuster to block 79 of Obama's nominees by 2013. That's 79 in less than five five years, "compared with 68 in the entire previous history of the Republic," Dana Milbank notes. When Senate Republicans refused to confirm anyone to the D.C. appeals court just after President Obama became the first president elected with 51 percent of the popular vote twice, Senate Democrats went nuclear and ended the filibuster for all appointments, except the Supreme Court. McConnell completed the nuclear fallout he made inevitable last week by denying the minority the right to block a young far right Justice selected by a man who lost the popular vote by 3 million usurping an older compromise pick from a genuinely popular president.
McConnell sees shredding of tradition as no vice in the pursuit of preserving privilege.
Nothing was going to stop him from taking Garland's seat — not even the interference of a foreign government in our election.
This takes us to what Brian Beutler reveals as the real "most consequential decision of McConnell's career" and that's the decision to shut down any attempt to make the public aware of Russia's interference into our elections, which had been invited and embraced by Trump himself.
Beutler notes that "leaders of the U.S. intelligence community sought a united front ahead of the fall against Russian election interference—whatever its nature—and McConnell shot it down." And not only shot it down, promised to impugn any effort to expose Putin's efforts as false and partisan. This was threat that the Obama Administration calculated would harm both the Clinton campaign and the fabric of our democracy.
"The upshot is that McConnell drew a protective fence around Russian efforts to sabotage Clinton's candidacy, by characterizing any effort to stop it as partisan politicization of intelligence at Trump's expense," Beutler wrote.
So as the FBI investigated a presidential campaign for possible collusion with foreign power, the public only learned of the possible existence, in the days just before the election, of some emails that may have validated the hazy, wild accusations being flung at Hillary Clinton by Donald Trump and his foreign allies.
Rather than broaden its message or revamp its failed policies, the GOP has declared war on democracy. And when history notes who made this strategy and unchecked madman it elected possible, much of the credit should go to Mitch McConnell.
That will be one thing he didn't steal.