New Reports Reinforce Trump's Pattern Of Lying About Charity Donations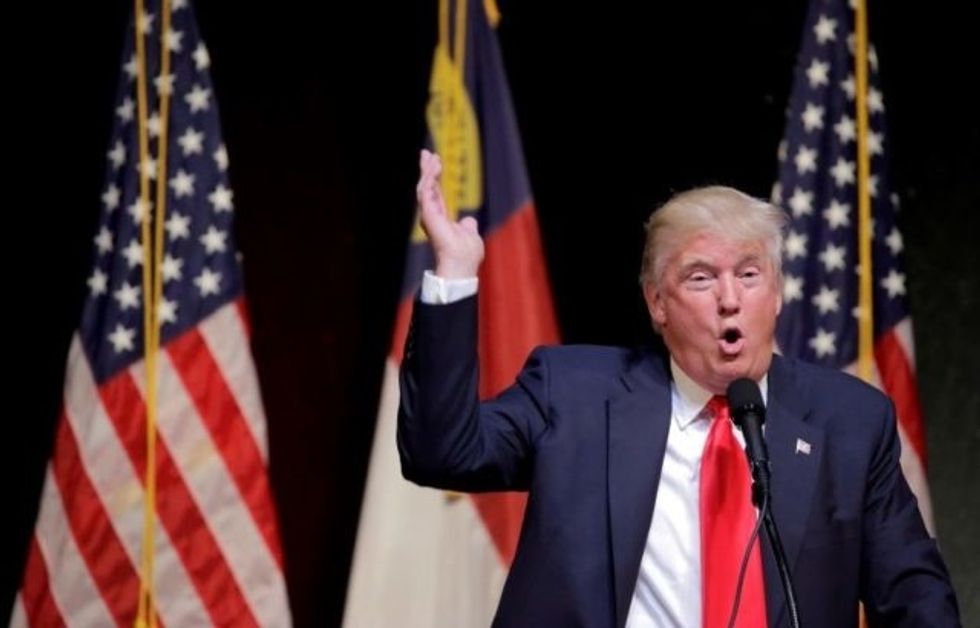 Investigations into Donald Trump's alleged charity donations show that the has a pattern of breaking promises.
According to a recent Mother Jones report, that's just what Trump did to the city of Gary, Indiana in 1993.
Trump wanted to open a riverboat casino, but the city wasn't receptive. What did Trump do? What he usually does in order to get a green light for his sketchy business ventures — he vowed to donate millions of dollars to local charities.
Charles Hughes, who was on the Gary city council during negotiations with Trump, said Trump "promised everything."
"He was going to build these magnificent edifices in Gary. He was going to build giant hotels, he was going to hire all these people. He was going to change our world, until it came time to put it in writing." Hughes told Mother Jones.
After Gary officials recommended the state award licenses to other applicants, Trump proposed allocating a 7.5 percent of the company in a foundation that would donate money to Indiana charities. A group of eight investors handpicked by Trump, who also would receive 7.5 interest, would be the trustees and administrators.
Trump's camp estimated that this arrangement would provide about $11.5 million for the foundation. By December 1994, Trump had gotten the Gary gaming license.
Almost immediately, Trump broke his agreement with the investors. One of them, lawyer Buddy Yosha, said that after Trump won the casino license, his lawyers told investors that nothing promised in the negotiations was legally binding, because "everything had been oral."
The investors sued Trump in 1996 for breach of contract. Against allegations that he never settles a case, Trump's company, Trump Indiana, settled with four of the plaintiffs for more than $1.4 million, and two other plaintiffs later received more than $800,000 combined.
Yosha and another investor, William Mays, refused to settle and took the case to trial. The jury found that Trump's firm breached the contract with Mays and Yosha to create a charitable foundation. However, the judge decided that Trump did not have to put the promised 7.5 percent of the riverboat ownership into a charitable foundation because… surprise! He had created a different charity. Mother Jones reports:
Unbeknown to Mays or Yosha, Trump, before dumping them and the other investors, had cut a deal with the new mayor of Gary, Scott King, who had been elected in November 1995, the first white person to hold the job in nearly three decades. As part of Trump Indiana's casino license, his firm was required to have a development agreement with the city of Gary. During negotiations with the city, Trump's lawyers persuaded the mayor to support the creation of a different foundation. This nonprofit would not be controlled by local investors. Rather, Trump himself would be president, and the other directors would be New Jersey-based employees of his firm. The mayor would be a trustee.

This foundation would not be funded by transferring valuable shares in the riverboat. Instead, Trump Indiana would give it an initial $1 million, followed by $100,000 annual donations. This money would fund a handful of $5,000 scholarships to Gary high school graduates every year.
But according to its most recent available tax filings, from 2012-2014, the foundation had donated no money to the city of Gary, Indiana.
Lying about charity donations must be a family thing: Eric Trump called the Washington Post last week in an attempt to defend his father's claims that he's so charitable. The younger Trump said his father had personally donated "hundreds of thousands of dollars" to his charity, the Eric Trump Foundation. A few days later, when reached by the Post to elaborate on this statement, he couldn't name a single time when his father had given a personal gift donation to the charity.
"I'm sure there have been but without going back through 10 years, I wouldn't remember check for check off the top of my head," the younger Trump told the Washington Post in an email.
When pushed further about why he would say his father had given hundreds of dollars to his charity but now can't mention any instance when this happened, he said he was too busy. "I have a lot going on — I just don't have the time. Good luck with the story," he wrote in another email.
The Post has been investigating Donald Trump's allegations that he has given countless donations privately over the years. They have so far found that Trump's promises " add up to more than $8.5 million. But public records show little evidence that Trump made good on those promises. He has given away only $2.8 million through his Donald J. Trump Foundation, and public records show no gifts at all from Trump to his namesake foundation since 2008."
Photo: Republican U.S. presidential candidate Donald Trump speaks at a campaign rally in Raleigh, North Carolina, U.S., July 5, 2016.      REUTERS/Joshua Roberts