'Morning Joe' Issues A Warning Jeff Sessions Can't Ignore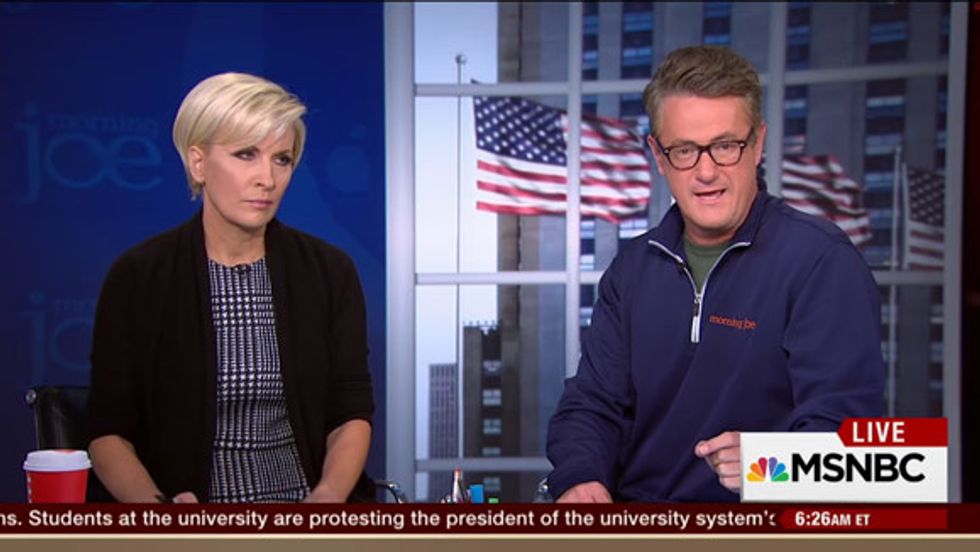 Reprinted with permission fromAlterNet.
For the Morning Joe team, the only thing more bizarre than Jeff Sessions' press conference Thursday recusing himself from an ongoing White House investigation was its timing.
"You think we're going to be talking all this week about the president's [first] speech [to Congress], then yesterday morning I got the sense we're going to be spending the next few days talking about an administration stonewalling and not getting it," co-host Joe Scarborough remarked.
"Now, of course, Jeff Sessions moves out pretty quickly and follows the advice a lot of us had around the set, which is, get out there, recuse yourself, try to get that part of the story behind us," he continued. "But as we're saying, still a lot of unanswered questions."
Sen. Al Franken (D-MN) had told MSNBC's Morning Joe the day prior that recusal was the least Sessions could do after a Washington Postreport revealed Sessions' repeated contacts with Russian Ambassador, Sergey Kislyak. Sessions, who is a member of the Senate Armed Services Committee, had previously denied communications with the Russian government during his confirmation hearing.
Since Wednesday, House Minority Leader Nancy Pelosi (D-CA), Rep. Elijah Cummings (D-MD), and Senate Minority Leader Chuck Schumer (D-NY) have all called for Sessions to resign.
"For me, they're just still too many tough questions about how you don't answer that question with a simple 'yes I have' [had contact with Russian officials]. That's what I just don't get… and I haven't heard anything to really explain that," Scarborough hammered.
"I totally agree," said MSNBC political analyst John Heilemann. "If I had been advising [Sessions] as his attorney… I would have advised not to give that performance at all, given that perjury is still a question for him and he raised a lot of questions with this performance yesterday."
Watch:
Alexandra Rosenmann is an AlterNet associate editor. Follow her @alexpreditor.