'Moscow Mitch' Relents, Approving $250M For New Election Security Measures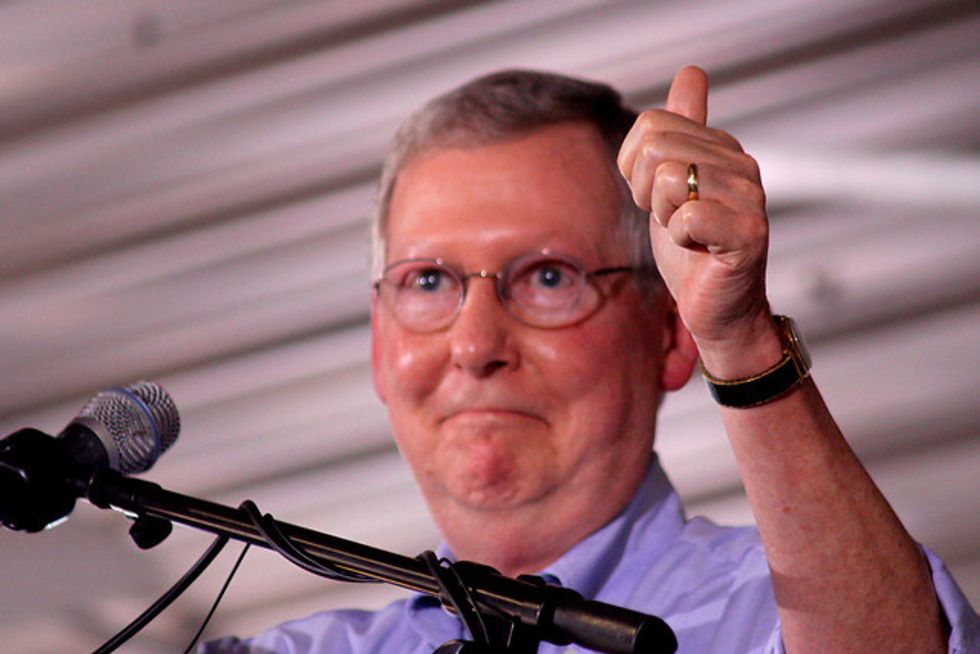 On Thursday, Senate Majority Leader Mitch McConnell finally caved to months of pressure from Democrats and members of his own party, and agreed to add $250 million in election security funding, the Washington Post reported.
"I'm proud the financial services and the general government bill included a bipartisan amendment providing another $250 million … to help states improve their defenses and shore up their voting systems," McConnell said on the Senate floor.
McConnell may try to claim credit, but he led Republican opposition to the same amount of money when Democrats demanded it last year. Only after a year of relentless pressure by Democrats — and even some Republicans — to protect democracy has McConnell finally given in.
"It is not all the money we requested, and it doesn't include a single solitary reform that virtually everyone knows we need, but it's a start," Minority Leader Chuck Schumer said after McConnell relented.
Schumer noted that McConnell still has not committed to legislative reforms many see as necessary to ensure free and fair elections across the country.
"While this funding is important, it's not the only thing we must do to secure our elections from Russian, Chinese, Iranian or any other foreign country interfering. There are multiple, bipartisan pieces of legislation awaiting action on the floor that would counter foreign influence operations against our democracy, safeguard our elections, and deter foreign adversaries from even attempting to interfere."
In July, Schumer asked for unanimous consent for the Senate to pass the Securing America's Federal Elections Act, a bill to provide $600 million in election assistance to states and require paper ballot backups. McConnell objected at the time.
A few days later, McConnell complained on the Senate floor about widespread media criticism of his nonstop efforts to block any and all attempts to make elections more secure.
McConnell's objects were so omnipresent that those in favor of election security dubbed him "Moscow Mitch," alluding to Russian interference in the 2016 election on behalf of Donald Trump and the country's continued efforts to undermine U.S. democracy. Rather than protect America's interests, McConnell seemed willing to allow Russia to interfere unimpeded.
While McConnell has blocked any other election security effort from moving through the Senate, the House is determined to ensure fair elections. Over unified Republican objection, the House passed an election security and voting rights bill in March.
Now that McConnell has relented on election security funding, Schumer called on McConnell to bring up legislation that would further protect elections.
"Otherwise," Schumer said, "the job will remain incomplete, and our democracy vulnerable."
Published with permission of The American Independent.