Mourdock Collapses In Polls In Indiana Senate Race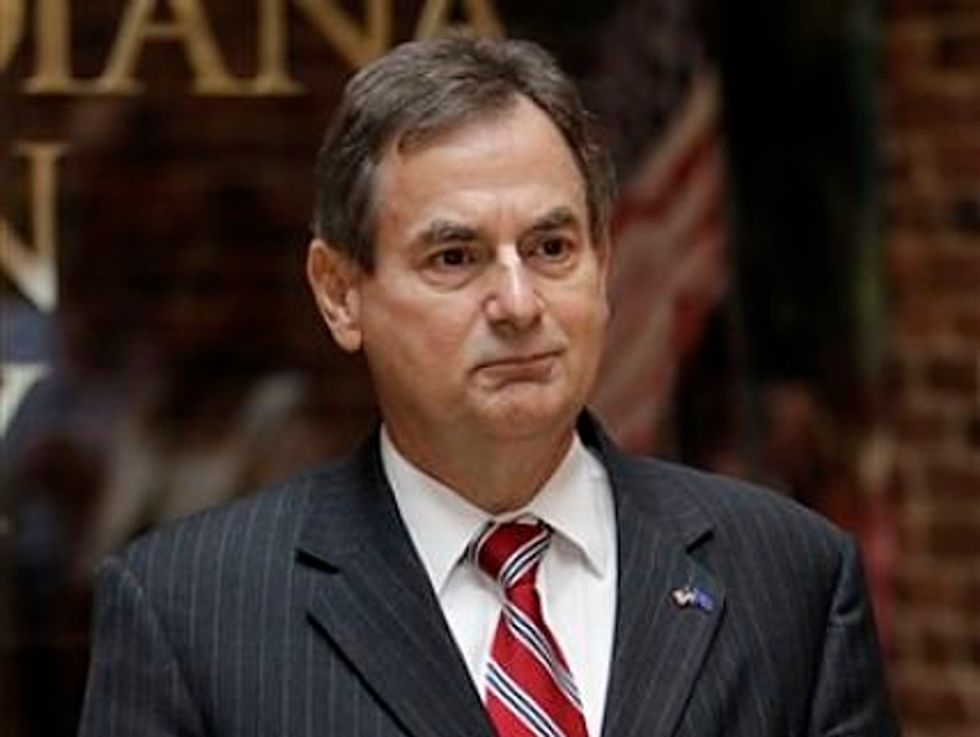 According to a new Howey/DePauw Indiana Battleground poll, Republican Richard Mourdock's infamous remarks about rape have doomed his chances of winning Indiana's Senate election.
The poll shows Democrat Joe Donnelly leading Mourdock by a 47 to 36 percent margin. 11 percent are undecided, and 6 percent support Libertarian Andrew Horning.
Mourdock and Donnelly were statistically tied in nearly every survey of the race, until the candidates met for a debate on October 23rd. There, Mourdock explained his total opposition to abortion by saying "even when life begins in that horrible situation of rape… it is something that God intended to happen."
According to the Howey/DePauw poll, those fateful words all but ended Mourdock's campaign, as 87 percent of respondents were aware of Mourdock's remark, and 40 percent said that it made them less likely to vote for the Republican state treasurer. Additionally, Mourdock's favorable/unfavorable rating has cratered to 30/49 percent, down from 26/32 in Howey/DePauw's previous survey in September. And among the crucial independent vote, his favorable/unfavorable numbers stand at a distinctly unimpressive 12/48 with women and 23/51with men.
The poll, which was conducted by Democratic pollster Fred Yang and Republican pollster Christine Matthews, surveyed 800 likely voters with a partisan split of 45 percent Republican, 34 percent Democrat, and 21 percent independent.
If these results hold, then the Republican Party would essentially have no hope of winning a Senate majority. The GOP needs to gain a net of four seats to claim control of Congress' upper chamber, a challenge that has become much more difficult due Republican candidates' inability to stop talking about rape. In Missouri, Senator Claire McCaskill — who was once considered to be the most vulnerable incumbent Democrat — is on track to win re-election with the help of Rep. Todd Akin's startling comments that a woman cannot become pregnant as a result of a "legitimate rape." Now Mourdock's "gift from God" comments appear likely to cost Republicans a seat in Indiana. Depending on how competitive races play out in Arizona, Massachusetts, North Dakota, Virginia, and Wisconsin, the Democrats may actually increase their Senate majority — something that seemed impossible just a few months ago.
If Mourdock and Akin lose, then this would be the second straight election cycle in which erratic candidates cost the GOP a chance at a majority. In 2010, right-wing candidates Sharron Angle, Ken Buck, and Christine O'Donnell defeated more mainstream opponents, and went on to lose to vulnerable Democrats.
Photo credit: AP/Michael Conroy