Movie Review: '13 Hours' Is A Lot Of Blood And Guts, But Little Politics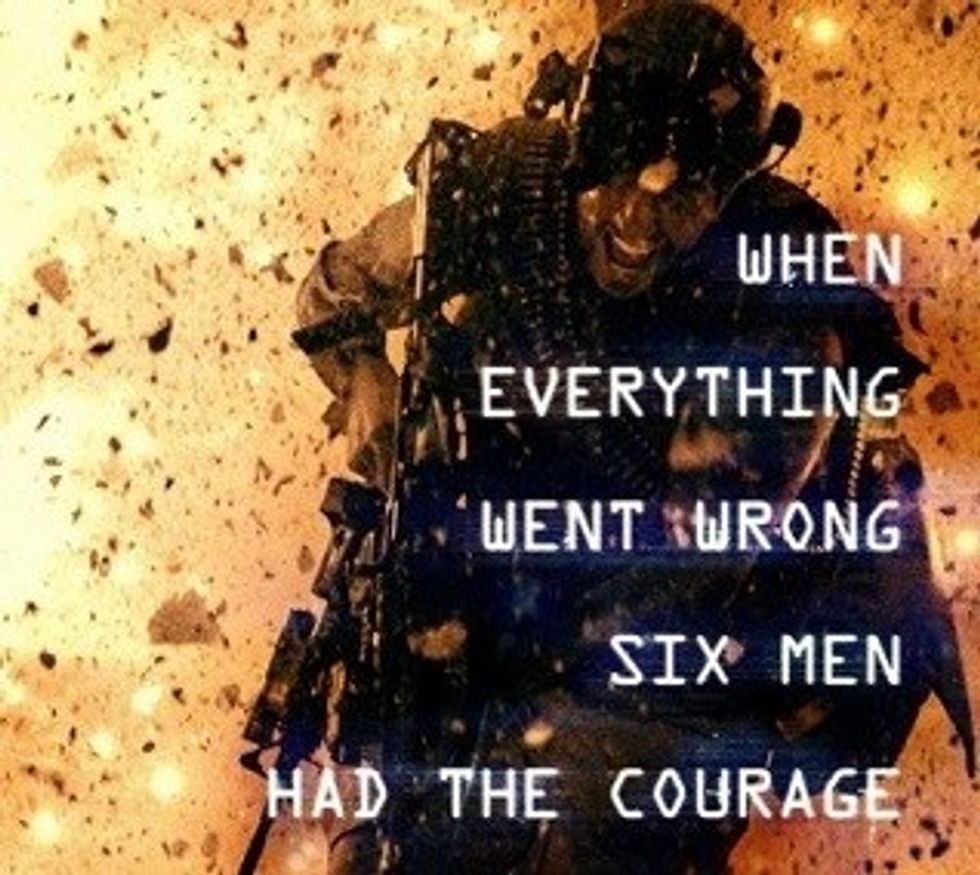 By Colin Covert, Star Tribune (Minneapolis) (TNS)
There's no kill like overkill. If sheer film combat bloodshed were an antiwar commentary, 13 Hours: The Secret Soldiers of Benghazi would win the Nobel Peace Prize. Watching Michael Bay's 2½-hour exercise in machismo porn is like experiencing the death of 1,000 cuts, except that the hemorrhaging is inflicted by bullets and mortar fire. It turns the armed militant attack against the U.S. diplomatic compound in Benghazi, Libya, on Sept. 11, 2012, and the weaponized crossfire from its hired security team, into an endless loop of The Shining elevators' blood flood.
The film's limited focus is in some ways a good thing. All it looks at is the fog of war. No one in Washington is blamed for the deaths of Ambassador J. Christopher Stevens, State Department communications specialist Sean Smith, or security operators Glen Doherty and Tyrone Woods. The film doesn't dwell on complexities of U.S. foreign policy in the increasingly volatile Middle East. It doesn't pander to those still stirring controversy about the events, beyond noting several lapses in security. There's no reference to what the region might be like if the U.S. had not invaded Iraq. Bay sees the point of the story as intensely, aggressively violent chaos, and he delivers it almost nonstop.
Adapted from the nonfiction account 13 Hours by Boston University journalism professor Mitchell Zuckoff, the film is a pure Special Ops genre action thriller. Bay is largely apolitical here. His attention is laser-focused on swarthy menacing natives, Harvard and Yale dweebs collecting Mideast intelligence, and the half-dozen professional security men fighting the barbarians at the gates. This is a classic story of 21st-century tragedy told by a guy who loves to play Call of Duty on his Xbox.
Bay, whose fetish for big, buff dudes is boundless, is much more excited about the scrappy thick-necked defense team than the CIA squad inside the compound, and more interested in their brothers-in-arms camaraderie than character development. John Krasinski and James Badge Dale play a pair of the security contractors, a new arrival in Libya and a veteran, roughly sharing the low rank of the film's protagonist. As in most action video games, the character's identity is really in the eye of the player. The virile defense crew members speak tech almost exclusively, and their family connections get the sort of bored, faraway attention that a spy drone gives to a one-horse village.
A juicier, disagreeable role goes to David Costabile as the compound's CIA chief, an overweight bureaucrat with the personality of a reptilian vampire. Matt Letscher, as the visiting Ambassador Stevens, offers a respectful presentation of a good diplomat trying to piece together the rapidly disintegrating map of the Middle East, but it's little more than a walk-on part.
As Krasinski's inexperienced Libyan bodyguard quickly learns, it's a place where people unable to tell enemies from allies will not be viable long-term. Everyone there has loaded weapons, demands American cash and speaks gibberish. Quoting Joseph Campbell's The Power of Myth, one of the security crew offers the insight that life is an endless learning experience: "All the gods, all the heavens, all the hells, are within you." It's a sentence others repeat twice between scenes where forearms are blown apart with visual snap, bodies are bisected and fallen bodies are run over by speeding cars in close-up.
In the right hands, a battle film can make seemingly accidental events like those into a sort of consistent order or cosmic plan. Here the carnage seems of so little moment — until matched scenes at the end showing locals weeping over their fallen militia and 100,000 of Libya's 6 million citizens taking to the streets to condemn the attack — that the horror scarcely matters.
'13 HOURS'
2 out of 4 stars
Rating: R for strong combat violence throughout, bloody images and language. In English and Arabic.
©2016 Star Tribune (Minneapolis). Distributed by Tribune Content Agency, LLC.
Photo: Theatrical release poster via Wikipedia