Movie Review: Rousing 'Creed' Goes The Distance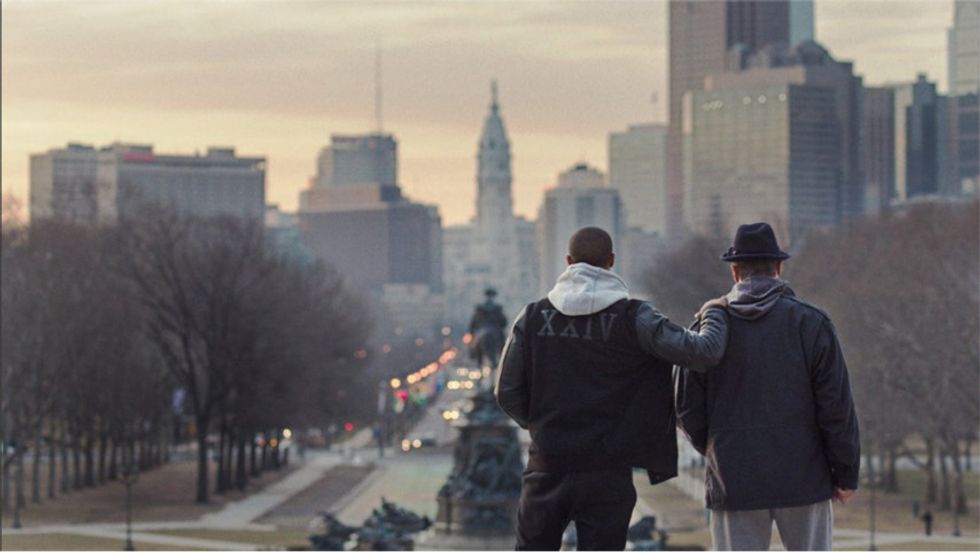 By Cary Darling, Fort Worth Star-Telegram (TNS)
Creed, the latest installment in the Rocky saga, is like that aging fighter on the undercard who you hope can just hold his own and escape the ring with his life but you fear will get his lights knocked out. After all, this is the seventh film in a franchise that seemed to have run its course.
It doesn't matter that it's directed and co-written by Ryan Coogler, whose 2013 feature debut, Fruitvale Station, was one of the best films of that year. He wouldn't be the first celebrated indie director to slip and fall off the Hollywood ladder when reaching for the mainstream.
But Creed, much like Rocky himself, leaves all doubts flat on the mat. It's a rousing, crowd-pleasing blast of entertainment that is not only a well-made sports movie but is also a soulful, cinematic love letter to Philadelphia, the city that has become synonymous with Rocky Balboa.
A bulked-up Michael B. Jordan (Fruitvale Station, the Friday Night Lights TV series) is Adonis Johnson, a self-taught, wanna-be fighter in L.A. who has a white-collar job by day but boxes in underground brawls in Tijuana by night.
Raised in foster homes and then adopted by a well-heeled woman (Phylicia Rashad) who had an affair with his father, he has never come to terms with the fact that he's the son of the late, great boxer Apollo Creed. He doesn't even want to use his last name.
But he respects his dad's legacy and shares his passion for the sport. So Johnson quits his job and moves to Philly, determined to track down a retired Balboa (Sylvester Stallone) and use him to get in real fighting shape. Then, as movie luck would have it, Johnson ends up being offered the chance to take on the light heavyweight champ, the invincible "Pretty" Ricky Conlan (real-life British fighter Tony Bellew).
If that all seems contrived, the plot machinations matter less than the convincing performances and Coogler's style. This is Jordan's best work by far (his appearance in one of the year's worst movies, Fantastic Four, is now officially forgiven) and Stallone is tough yet surprisingly nuanced as a man in his twilight years.
Of course, Johnson has his version of Rocky's Adrian in Bianca (an impressive Tessa Thompson, Dear White People), a singer who is facing a twilight of her own that will cut short her career.
Coogler shoots the fight scenes in tight close-up, lending them an intensity that puts viewers right in the middle of the action. The climactic battle is a real knockdown head-ringer.
Yet he balances this aggression with a celebratory sense of the city that inspired Balboa. The cheese steaks, the long-running music club the Electric Factory, classic Philly soul (Harold Melvin & the Blue Notes' sweeping "Wake Up, Everybody") and, of course, those famous steps at the Philadelphia Museum of Art all root the story with a sense of place.
It all makes for a film that will please longtime Rocky fans and newcomers to the story line. Creed doesn't just go the distance, it's a surprising and stunning TKO.
___
'CREED'
4 out of 5 stars
Director: Ryan Coogler
Cast: Michael B. Jordan, Sylvester Stallone
Rated: PG-13 (violence, strong language and some sensuality)
Running time: 132 min.
___
(c)2015 Fort Worth Star-Telegram. Distributed by Tribune Content Agency, LLC.