Murdoch's Boot-Licking Of Trump Pays Off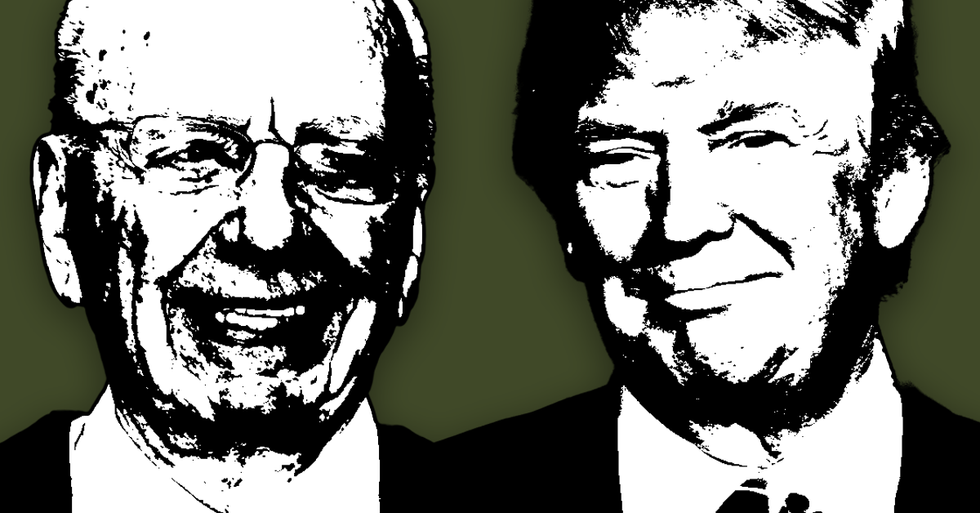 Reprinted with permission from MediaMatters.

Rupert Murdoch, the 86-year-old conservative mogul who heads Fox News and The Wall Street Journal, is attempting to reshape his sprawling media empire in a way that could vastly expand his role in U.S. political life.
Murdoch's greatest asset in that endeavor is President Donald Trump, whom Murdoch has cultivated by serving as his informal adviser and giving him fawning coverage through his news outlets. That effort now appears to be bearing fruit.
Yesterday, the White House publicly signed off on a deal that would allow Murdoch to refocus his holdings on news programming, while Trump's Federal Communications Commission (FCC) took a step that would allow Murdoch to dramatically expand those holdings.
Together, those steps could lead to a future where Fox's pro-Trump commentary is piped into local broadcast news stations across the country.
Over the last 65 years, Murdoch turned a newspaper he inherited from his father into a news and entertainment goliath on four continents, with his News Corp and 21st Century Fox companies controlling substantial holdings in newspapers, publishing, and television and film production and distribution.
But Murdoch's efforts at expansion have been stymied in recent years, while rival media companies consolidated and new threats arose from technology companies. Most recently, British regulators wary of Fox's news practices stalled Murdoch's bid to purchase the European broadcaster Sky PLC due to pressure from media experts and advocates, including Media Matters and Avaaz, placing in jeopardy a deal he has sought for years.
With his buying options restricted, Murdoch chose to sell instead. On Wednesday morning, The Walt Disney Co. announced a $52.4 billion acquisition of 21st Century Fox assets, including its prized movie studio and television production arm, regional sports networks, cable channels FX and National Geographic, and its stakes in Hulu and Sky, among others. The move is a shocking retreat from the entertainment world, where Murdoch has been a major player for decades.
But Murdoch would retain the news companies that have helped make him a fixture in U.S. politics — Fox Broadcasting network, its local broadcast televisions stations, Fox News, and Fox Business — which, along with Fox Sports, will be spun off into a new company.
"The new Fox will draw upon the powerful live news and sports businesses of Fox, as well as the strength of our Broadcast network," Murdoch said in a statement. He will also come away with a sizable cash hoard and what he's said is a $2 billion annual cash flow, which will allow for dramatic expansion of that company, if the deal goes through.
Analysts say the corporate megamerger is similar to AT&T's proposed acquisition of CNN corporate parent Time Warner, which Trump savaged on the campaign trail and the Justice Department has sued to block.
But Trump loves Fox News' often sycophantic coverage of his administration and hates CNN's more critical reporting, and so his view of this deal seems very different. Trump reportedly called Murdoch for assurance that he wasn't planning to sell Fox, and yesterday White House press secretary Sarah Sanders publicly laudedthe deal.
These shockingly inappropriate moves suggest that the administration may apply different standards to proposed mergers based on whether the president approves of the companies involved.
There's good reason for the White House to be pleased: Murdoch now appears focused on growing the conservative news apparatus that helped make Trump president.
Reports suggest that he plans to purchase more local television stations and use Fox News to provide them with programming. This will require additional help that the Trump administration seems eager to provide.
Murdoch currently owns 28 television stations in 17 markets, including several of the nation's largest, but was constrained from further purchases by the FCC regulations intended to preserve competition in media ownership. Murdoch has raged against the commission's limitations for decades.
But Trump's pick for FCC chair, Ajit Pai, has moved quickly to strip away the regulations holding moguls like Murdoch in check. In party-line votes this year, the Republican commissioners have eliminated several restrictions preventing further media consolidation.
And yesterday, the FCC voted to review the cap that currently prevents a single company from reaching more than 39 percent of U.S. television households.
If the cap is raised or eliminated altogether, Murdoch would be able to snap up television broadcast stations — perhaps by purchasing ownership chains like Gannett or Hearst — and drastically expand his reach.
But what will those new stations air? Fox's stations currently benefit from programming provided by its scripted television production arm, 20th Century Fox TV. With that company sold to Disney, Fox stations will need to find a new, cheaper source of programming.
One way to do that, analysts suggest, will be to take advantage of Murdoch's news companies, beaming Fox News content onto the broadcast airwaves.
"They obviously have a strong news product which they haven't really cross pollinated with their broadcast network that much," Katz Media Group's Stacey Schulman told Variety. "In light of that and the fact that they're losing a big content library and production arm, you might see more news production coming from the Fox News side showing up on the network."
Increasing the scale of the broadcast network company would have financial benefits for Murdoch. But buying more stations in crucial swing states would also give him more political power, allowing him, in turn, to continue to pay back the Trump administration for its deregulatory zeal.
Murdoch's stations already use Fox News' personalities to push its conservative viewpoint to some extent. The company's reshaping — and potential expansion — will dramatically drive up the demand for that content.
Fox's model could come to resemble that of Sinclair Broadcast Group, the conservative network of stations owned by the conservative mogul David Smith and his family, with must-run news packages pushing right-wing views produced by a central news programming office and sent out to stations across the country.
Murdoch has feuded with Smith for decades, and Sinclair, already the nation's largest local news provider, has also sought to dramatically expand its station holdings amid Pai's deregulatory frenzy
The next few years could see a battle for dominance between two right-wing billionaires who use their news apparatuses to promote their conservative politics, overlapping with a presidential re-election campaign featuring the man who made their expansions possible.


Header image by Sarah Wasko / Media Matters