Murray Energy, Top US Coal Producer, Files For Bankruptcy
@jeisrael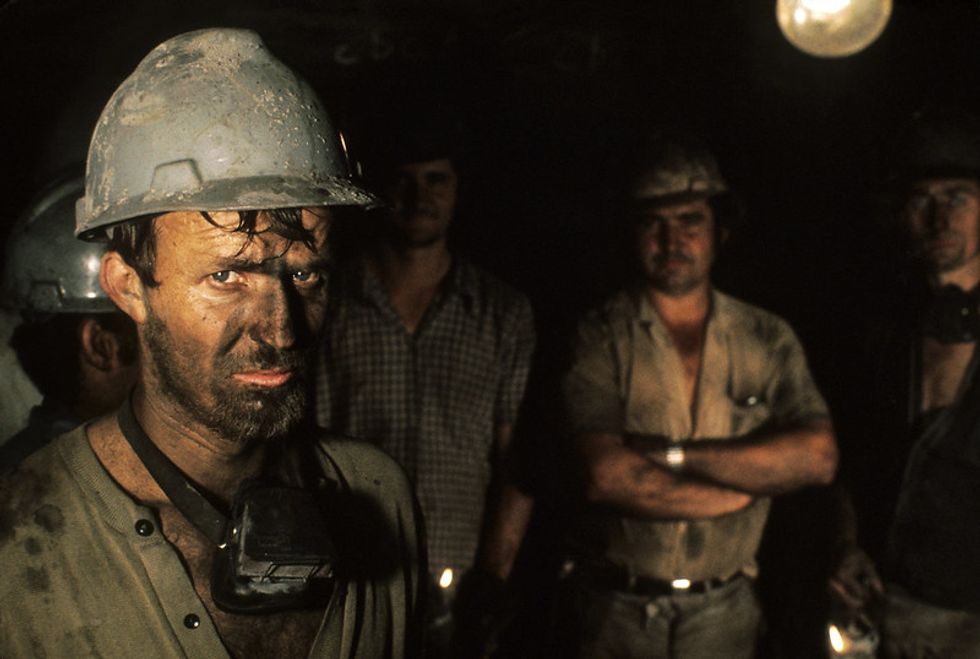 Donald Trump ran for president in 2016 on an ironclad promise to save America's flagging coal industry.
On Tuesday, Murray Energy — the nation's largest private coal producer — filed for Chapter 11 bankruptcy protection.
According to the Wall Street Journal, Murray Energy is is the eighth coal company to go bankrupt in the past year alone. The company employs more than 5,000 full-time employees.
"As the company neared bankruptcy, the price for some of its bonds tumbled to the point of being nearly worthless, reflecting the coal industry's dimming prospects as the U.S. turns to abundant natural gas and renewable sources such as solar and wind," the Journal reported Tuesday.
The newspaper noted Murray Energy had "engaged law firm Kirkland & Ellis LLP to advise on balance-sheet restructuring" but said the company had "missed payments to creditors late last month."
Murray is also facing "about $8 billion 'in actual or potential legacy liability obligations' under various pension and benefit plans" according to court documents, the Journal reported.
"Those liabilities included at the end of last year $1.9 billion of unfunded retirement benefits and $152.5 million of obligations for workers' compensation and health benefits related to pneumoconiosis, also known as black lung, a condition commonly developed by coal miners, according to a financial report reviewed by the Journal," according to the paper.
Trump made his commitment to coal workers and his denial of climate science a major part of his 2016 campaign. He pledged to do away with the Obama administration's carbon emissions limits and to save the failing fossil fuel industry.
"Coal is coming back. Clean coal is coming back, 100 percent," Trump told supporters at a February 2016 rally in Radford, Virginia. "…What [Obama] and what the EPA [have] done to our energy and done to our coal industry is ridiculous. We sell coal, the coal mines are dying but the only coal we give is coal to China. Do you think they clean the coal? Believe me, they don't. We're going to bring the coal industry back 100 percent."
That May, he explained at a Bismarck, North Dakota, event that he would do this by getting rid of health and safety regulations. "Well, the market forces are going to be whatever they are. All I can do is free up the coal which I'm going to totally do. Get the companies back to work," he explained.
And in October 2016, Trump told a crowd of supporters in Ambridge, Pennsylvania, "Let me tell you folks, we're gonna take care of our mines we're gonna take care of our miners we're going to have clean coal. Clean coal we're going to have them but we're going to bring back our industry."
Despite those remarks and Trump's efforts to do away with emissions limits designed to combat climate change, coal has not come back.
At the two year point of the Trump administration, West Virginia Public Broadcasting reported, mining employment was at a record low. Still, Trump claimed last November at a Huntington, West Virginia rally, that he had "ended the war on beautiful, clean coal and we're putting our coal miners back to work."
Coal production has dropped 27 percent in the past five years and government forecasts expect another 10 percent reduction in 2019. And as a result, thousands of coal mine employees have lost their jobs already this year.
Trump has notably collected a huge amount of financial support from the coal industry over the years. And he received significant support from Murray Energy's ownership even as the company struggled to pay its bills.
The company and its political action committee spent $200,000 on pro-Trump 2016 efforts, and Murray Energy's chair and then-CEO Robert E. Murray hosted a West Virginia fundraiser for Trump's campaign. Last year, Murray donated $1 million to a pro-Trump super PAC — four days after he unsuccessfully begged the Trump administration to bail out a struggling electrical company that bought much of Murray's coal.
As recently as July, Murray hosted another private fundraiser for Trump's re-election at the WesBanco Arena in Wheeling, West Virginia. And in August he gave the legal maximum donation of $106,500 to Trump's Republican National Committee.
Published with permission of The American Independent.