Must We Go Here Again? Birthers, Neo-Birthers, And Right-Wing Sleaze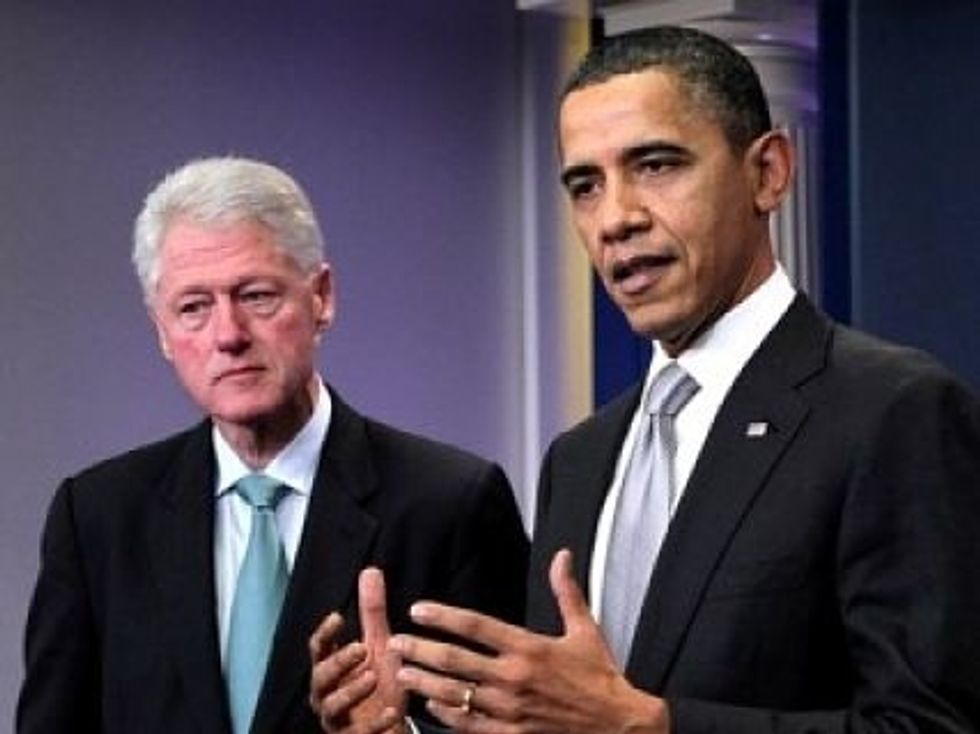 As the Obama years unfold, observers who lived through the Clinton era sometimes have the eerie feeling that they have been here before – particularly when directing their gaze toward the far right. The roiling paranoia and hatred that marred American politics when Bill and Hillary Clinton were in the White House has resurfaced in attacks on Barack and Michelle Obama who, like the Clintons, have been maligned repeatedly as communist, subversive, Satanic, and above all, illegitimate.
Speaking of illegitimate, the latest assault on the Obama family is a new movie purporting to show that the President's father was not Barack Hussein Obama, Sr., but an African-American radical and poet named Frank Marshall Davis. There is no more substance to this claim than that the President was actually born in Kenya and educated in an Islamist madrassa.
Taken seriously, this "neo-birther" fable would tend to erode the original "birther" claims. But logic and proof have no impact on such speculations, whose aim is to profit from prejudice and extremism.
Consider the source – in this instance, an individual named Cliff Kincaid, who runs an old extreme-right outfit called Accuracy in Media and, appropriately, venerates the likes of Richard Nixon and Joe McCarthy. The last big plot promoted by Kincaid was the "bipartisan" scheme to portray the "murder" of Clinton White House counsel Vince Foster as a suicide. Among the conspirators fingered by Kincaid in this alleged cover-up was the Republican independent counsel Kenneth Starr, best known for his dogged, intemperate, $50 million effort to remove President Clinton from office.
Now Kincaid is insinuating that Davis was not merely a left-wing mentor who somehow transformed Barack Obama into a Communist – an old theory that first surfaced in 2004 – but Obama's actual father, too. To Kincaid, the influence of Davis, who died 25 years ago, explains why Obama has pursued policies such as universal health coverage (although AIM has yet to investigate how the Communists duped Romney into that Massachusetts health plan).
Kincaid recently appeared on Secure Freedom Radio to promote a movie and book based on these claims, hosted by Fred Grandy, a former Republican Congressman who played Gopher on The Love Boat. (I couldn't make this up and neither did People for The American Way.)
In a revealing exchange, the sophisticated Grandy says: "I've heard this rumor before—that Frank Marshall Davis was more than just a surrogate father to Barack Obama, he may well have been this guy's real father, and Barack Hussein Obama, Sr., to some degree, is merely a minor influence in this kid's life. How much credibility do you put into that?"
Kincaid replies: "I put a lot into it now that I've seen Joel Gilbert's film, it's called Dreams from My Real Father. It's an incredible film. He's going to show excerpts, he's going to talk about his research. He's expanded upon what we and [author] Paul Kengor have done and I think it deserves a fair hearing. Now, whether or not he was a real father or not, the fact is Frank Marshall Davis has an influence over our President and that's the critical issue but if indeed if he was Obama's real father and the comparison's photos are striking then we've got even more of a mystery behind this guy in the Oval Office."
The key phrase? "Whether or not he was a real father or not."  The malaprop-prone Kincaid doesn't really care whether his filmmaker or his author can cite an iota of proof to support these speculations. They want to smear the President as an illegitimate Marxist – and in unconscious mimicry of the most dedicated Communists, they behave as if the end justifies the means.
Like the "Clinton Chronicles" video that portrayed the then-President and First Lady as murderous drug-runners (distributed by such respectable figures as the late Jerry Falwell), the current crop of right-wing propaganda embraces whatever wild fantasy might provoke fear and rage. And as with what became known as "Clinton Derangement Syndrome," the insane accusations eventually infected mainstream discourse, with supposedly sane politicians and pundits endorsing or simply alluding to the maddest conspiracy theories.
Should Obama win a second term, don't be too surprised when they demand impeachment.