N.Y. Gubernatorial Candidate Demands Christie Quit GOP Duty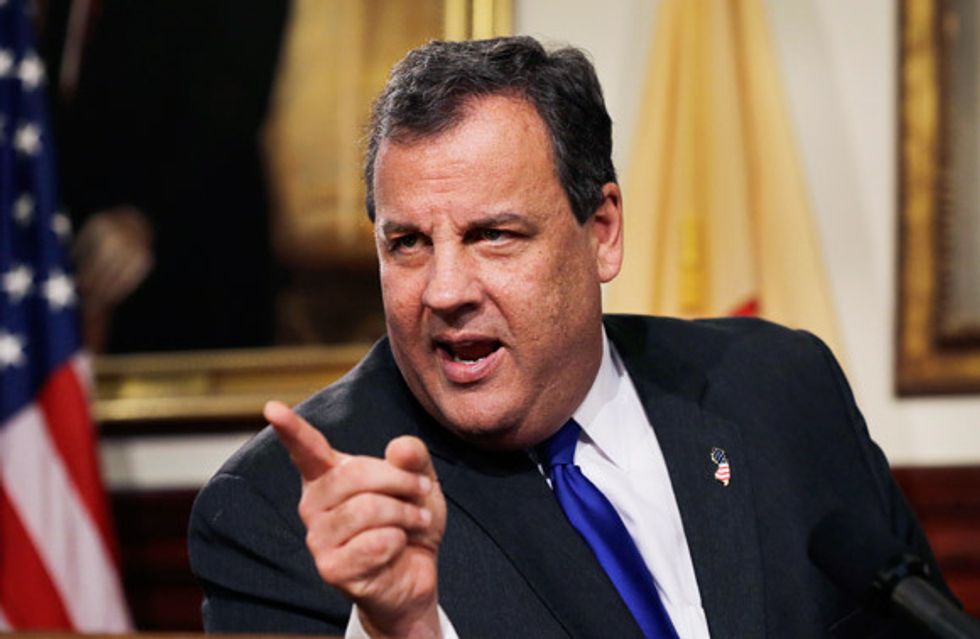 By Melissa Hayes, The Record
TRENTON, N.J. — A GOP candidate for governor in New York said New Jersey Governor Chris Christie should resign as chairman of the Republican Governors Association after Christie said he wouldn't campaign across the Hudson River unless the race tightens.
Christie was asked directly if he would campaign for Westchester County Executive Rob Astorino, who is running against Democratic Governor Andrew Cuomo, but Christie wouldn't commit his support.
"I will spend time in places where we have a chance to win; I said that right from the beginning," Christie said Monday at a campaign stop in Connecticut. "I said all around the start to candidates all around the country: We don't pay for landslides and we don't invest in lost causes."
Astorino noted Tuesday that Christie has traveled as far as California to support a GOP gubernatorial candidate who is 20 points behind in polls, and he questioned whether Christie's lack of support for him was linked to the George Washington Bridge lane closure scandal and Christie's relationship with Cuomo.
"Clearly he can come across the bridge and not just to raise money for himself but raise money for the Republican candidate here unless he is unable or unwilling because of an issue we don't know about with Andrew Cuomo and the 'Bridgegate' scandal," Astorino said on Fred Dicker Live from the State Capitol.
Christie's office declined to respond. The Republican Governors Association and Cuomo's campaign also did not respond to requests for comment.
Former New York governor David Paterson, chairman of his state's Democratic committee, said Astorino is not being taken seriously because of comments like those.
"That is a reckless, irresponsible accusation to make with no basis whatsoever and not fitting for a qualified gubernatorial candidate," Paterson said.
Astorino's remarks mirror those of Barbara Buono, the Democratic state senator from Middlesex County who tried to unseat Christie but trailed him in the polls and had little success raising money.
The Democratic Governors Association spent a few thousand dollars on Buono while it poured $6 million into the Virginia race, winning that state, which had been under GOP control.
The RGA spent millions in the 2009 race against former New Jersey governor Jon Corzine, helping level the playing field for Christie against a wealthy Democrat who was self-financing his reelection bid.
Although Christie is a Republican and Cuomo is a Democrat, they have a working relationship that includes overseeing the Port Authority of New York and New Jersey. The unlikely pair met for dinner a week before the Port Authority released its toll hike proposal in 2011. The Record, citing sources, reported in March that the governors' top aides were involved in orchestrating a scheme to float a higher toll hike so Christie and Cuomo could propose a smaller increase, which they did in a joint statement.
Bill O'Reilly, a spokesman for Astorino, said the campaign doesn't have any evidence that Christie has stayed out of the race at the behest of Cuomo, but he added that Christie's relationship with Astorino changed after the bridge scandal broke this year.
Astorino first met with Christie at the Republican Governors Association meeting in Arizona last November, where Christie was named chairman of the RGA going into an election cycle with 36 gubernatorial races, O'Reilly said.
"We've just been perplexed," O'Reilly said. "At the meeting in Arizona, Governor Christie seemed very welcoming of Rob Astorino as a candidate for governor of New York, and then following the Bridgegate scandal he just can't be found, and that culminated with his remarks yesterday."
When he was asked about it at a news conference in December, Christie noted that Astorino wasn't yet a declared candidate.
"Our meeting was essentially me and Mary Pat with Rob and his wife asking us about what it was like to run for governor with young children and to serve as governor with young children," Christie said in December, adding he didn't pledge to support Astorino.
On Monday Christie didn't entirely rule out campaigning in New York but said he's focusing his energy on closer races for now.
Photo: Peter Stevens via Flickr